Nevada's Legislative Counsel Says Marijuana Lounges Are Already Legal
The governor, who worries that pot-friendly businesses could provoke a federal crackdown, disagrees.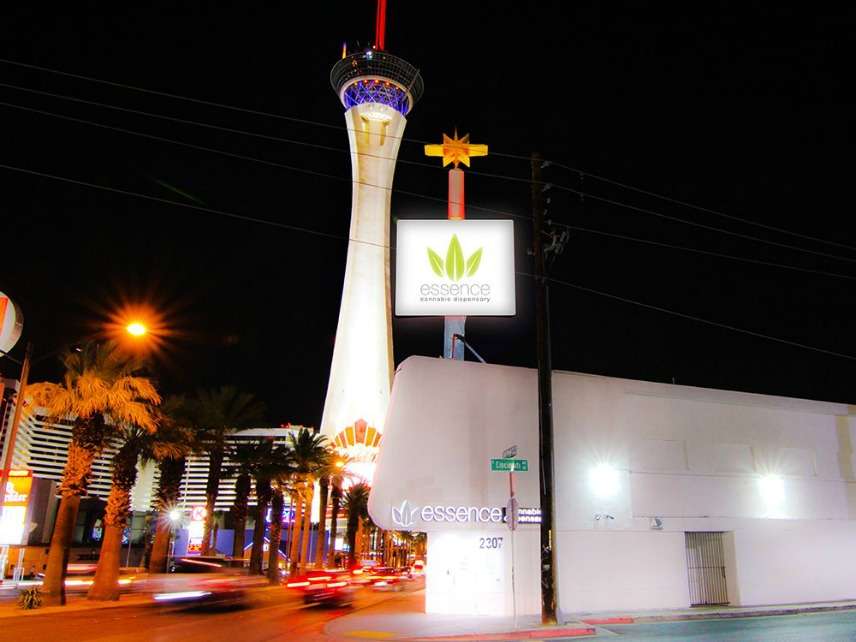 The owner of Essence Cannabis Dispensary, a pot shop on the Las Vegas Strip, complains that there's "no other industry in the world" where "you can you buy a product and then not use it anywhere." A solution to that problem may be closer than commonly thought. According to a recent opinion from Nevada's Legislative Counsel Bureau (LCB), it is already legal for businesses to allow cannabis consumption, as long as they do not also sell it.
Question 2, the legalization initiative that Nevada voters approved last November, makes it a misdemeanor, punishable by a $600 fine, to consume marijuana in a store that sells it or in any "public place," defined as "an area to which the public is invited or in which the public is permitted regardless of age." According to the Las Vegas Police Department, that means "marijuana consumption is only allowed at private residences" and "can never be consumed inside a business." But the definition of "public place" is ambiguous and can be read to allow cannabis consumption in businesses that exclude people younger than 21, the state's minimum marijuana purchase and possession age.
That is how Nevada Legislative Counsel Brenda Erdoes interprets the law. "It is the opinion of this office that a business may establish and operate a lounge or other facility or special event at which patrons of the business are allowed to use marijuana," Erdoes says in a letter she sent state Sen. Tick Segerblom (D-Las Vegas) on Sunday. Her reasoning hinges on the definition of "public place":
This language would not prohibit the possession or use of marijuana at a place to which the public is not invited or permitted, including a person's home or a lounge or other facility with restricted access, such as a private lounge or other facility, which is closed to the public and only allows entry to persons who are 21 years of age or older, so long as the possession or consumption of marijuana at such a location is not exposed to public view. Similarly, possession or consumption of marijuana would not be prohibited at an event which imposes restrictions for entry on the basis of age so long as the possession or consumption of marijuana is not exposed to public view during the event. However, while a retail marijuana store would fall into this category of businesses which impose restrictions for entry on the basis of age, consumption of marijuana within a retail marijuana store is specifically prohibited.
Erdoes adds that pot-friendly businesses would be subject to local regulation. "This basically says local governments can license these businesses if they want to," Segerblom told the Las Vegas Sun.
Clark County, which includes Las Vegas, could exercise that option soon. The Clark County Commissioners plan to discuss the issue at a meeting next week. "I do feel it is very important for the people who are coming from out of town, the tourists, which are a big contributor to the industry's business, I'm told, to have a place where they can legally and safely consume the product," Steve Sisolak, who chairs the board of county commissioners, told the Las Vegas Review-Journal. Nevada dispensaries have been serving recreational consumers, many of them tourists, since the beginning of July.
Gov. Brian Sandoval, who warns that marijuana lounges could invite a federal crackdown, is not pleased. "I think it's way too early to be doing something like that," Sandoval told the Review-Journal. "I think it's important that we continue to see how the sale of recreational marijuana evolves." The governor thinks Erdoes is wrong about what current law allows. "I do not agree with the LCB opinion and believe that statutory authority is necessary to establish local marijuana smoking shops," he told the Sun. "I am concerned with these establishments popping up piecemeal throughout the state with differing rules and regulatory structure."
Sandoval noted that Segerblom introduced a bill that would have explicitly allowed local governments to license cannabis-friendly businesses and events. The bill passed the Senate but never got a floor vote in the Assembly, partly due to Sandoval's opposition. If Erdoes is right, Sandoval said, Segerblom's bill was superfluous.
Segerblom does not seem to have considered the possibility that age-restricted businesses fall outside Question 2's definition of a public place. When I raised that point with him in an email last month, he replied, "Good argument. Talk to police and local elected officials."
Meanwhile, the Marijuana Policy Project, which backed Question 2, says the initiative deliberately left the question of where cannabis could be consumed (aside from private residences) for state and local legislators to resolve. "It became clear early on that the initiative could not win if it included public consumption," MPP Communications Manager Morgan Fox told me last month, "and it was decided that the better course would be to try to improve the system after the initiative passed."