Alaska Finalizes Rules for the Country's First State-Licensed Cannabis Lounges
In states where you can legally buy pot, finding places where you can legally use it is still a challenge.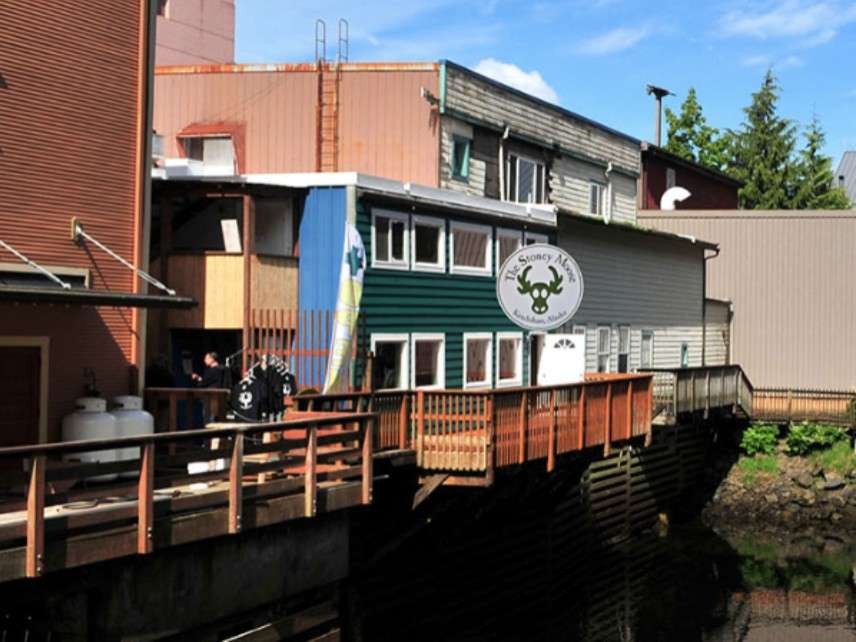 Alaska could become the first state to license cannabis consumption sites as soon as this summer under regulations that received final approval this week. The regulations, which allow licensed pot shops to seek a special endorsement that permits on-site consumption in a segregated room or outdoor space, address a longstanding problem that is especially acute for visitors from other states and tenants with weed-unfriendly landlords: After you legally purchase marijuana, where can you legally use it?
Since every state where recreational marijuana use is legal prohibits public consumption, there are few options aside from private residences. Even in Las Vegas, which sees 43 million visitors a year and is home to the world's largest cannabis emporium, tourists have to furtively consume the marijuana they openly buy.
Denver, where marijuana merchants have been legally serving recreational customers since 2014, interprets the state's ban on "open and public" consumption very broadly. Last summer the city suddenly cracked down on marijuana tour buses that had been one of the few officially tolerated alternatives. Under a local ballot initiative approved by voters in 2016, the city is beginning to experiment with strictly regulated "cannabis consumption establishments," but they cannot also sell cannabis, and so far only one such license has been issued.
California's 2016 legalization initiative allowed locally licensed on-site consumption, and there several places in San Francisco where you can both buy and use marijuana. But Alaska is the first place where the state government will issue licenses for that purpose. The regulations allow local governments to ban cannabis lounges within their borders or restrict the forms of consumption.
"This is something that's not happening anywhere else in the U.S. yet," Cary Carrigan, executive director of the Alaska Marijuana Industry Association, told the Associated Press. "As we start to develop this, people are really looking at us, so I know that everybody wants to get it right."
Eric Riemer, co-owner of the Stoney Moose, a pot shop in Ketchikan, a popular tourist destination, told A.P. he cannot allow indoor consumption because state rules require a detached structure for that but is hoping to create an outdoor space that will be shielded from public view (and smell). "Our whole plan is to be courteous to the people that are around us, to the visitors to town, be respectful of the area and our neighbors," he said. "And the way to do that is to just design the heck out of this place so that it's absolutely as close to minimal impact as possible on our neighborhood."
Maine's 2016 legalization initiative envisioned "retail marijuana social clubs," but the state still has not created a system for licensing and regulating retailers, and approval of clubs has been postponed until 2023. In Massachusetts, which also legalized recreational use in 2016, pot shops began to open last fall, but legislators there, like their counterparts in Maine, are delaying approval of on-site consumption. Nevada, another state where voters approved legalization in 2016, does not allow on-site consumption, but cannabis lounges that do not sell marijuana seem to be legal, and Las Vegas may finally start licensing them later this year.