Kim Kardashian and the FIRST STEP Act Freed Another Person From Prison
Jeffrey Stringer was sentenced to life in prison for a drug offense.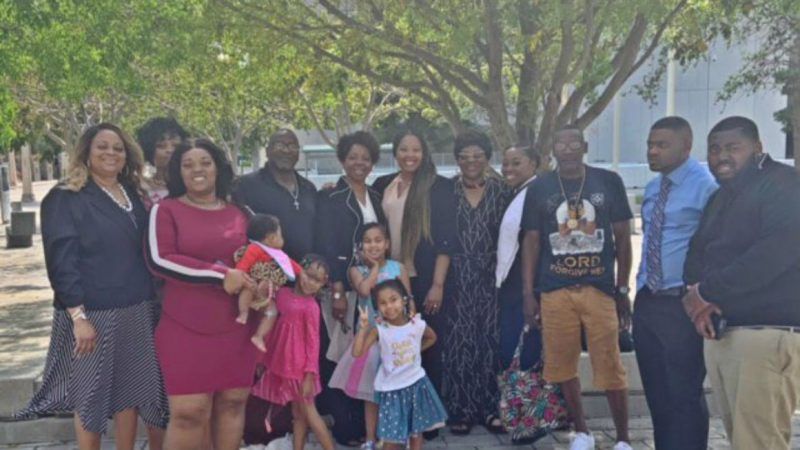 Yet another drug war prisoner is set to head home from federal prison thanks to the FIRST STEP Act and the advocacy of reality TV star Kim Kardashian. 
Jeffrey Stringer was sentenced to life in prison in 1998 following his arrest in Florida for manufacturing and possessing cocaine with the intent to distribute. Stringer's sentence was so extreme because he had two prior convictions on his record, making him a "career offender" under federal law. His lawyers have sought to overturn his life sentence for years. 
On Friday, a federal judge ruled that Stringer can go home due to a good behavior provision of the FIRST STEP Act. His case first drew national attention thanks to the advocacy of reality TV star Kim Kardashian and attorney Brittany K. Barnett of the Buried Alive Project
Kardashian and Barnett recently tweeted pictures of Stringer reunited with his family in Miami.
We did it again! Had the best call w/this lovely family & my attorney @msbkb who just won release for their loved one Jeffrey in Miami - he served 22 years of life sentence for low level drug case. He served too much time but it gives me so much joy to fund this life saving work. pic.twitter.com/pbYicKmFpJ

— Kim Kardashian West (@KimKardashian) May 3, 2019
Such an amazing day!! Jeffrey should never have been sentenced to life in this case. Period. America's addiction to incarceration devastates entire families. So happy Jeffrey will be reunited with his family after 22 years!! His life was saved today!! @BuriedAliveProj https://t.co/fHCdzM7bMG

— Brittany K. Barnett (@MsBKB) May 3, 2019
Barnett's Buried Alive Project aims to reduce drug-related life without parole sentences "through transformative litigation, legislation, and humanization."
Kardashian, meanwhile, has become a major advocate for criminal justice reform. In May 2018, she met with President Trump on behalf of Alice Marie Johnson, a woman in her 60s who was serving a disproportionately long sentence for a cocaine trafficking conspiracy. Kardashian hired her own lawyer to work on Johnson's case. Thanks, in part, to Kardashian's celebrity advocacy, Trump commuted Johnson's sentence in June that year.
Since that time, Kardashian has also helped elevate the story of Matthew Charles, a man who was sent back to prison after his sentence was reduced in error. Following a personal appeal from Kardashian, Charles became one of the first Americans freed under the FIRST STEP Act.
Thanks to these efforts, Stringer will now be free to spend his days with his family, including his adult daughter. For years, Jacaria Stringer has known very little about her father beyond his birthday and the location of his prison.
Related: Why Kim Kardashian is currently one of the greatest hopes for criminal justice reform.