Prison Guards Are '#FeelingCute' About Threatening To Assault Inmates for No Reason
"Feeling cute, might just gas some inmates today, IDK."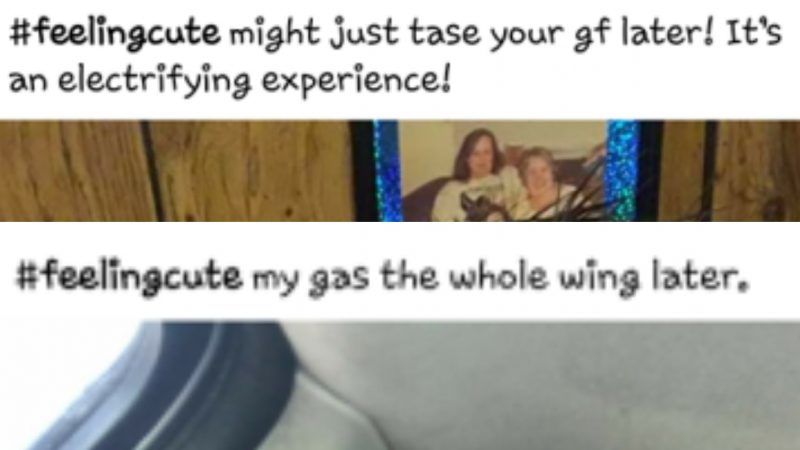 (Facebook screenshots via America's Police Problem)
Regular Reason readers know that we're regular critics of police activity on social media. It's not that we want to censor them, it's just that their attempts to be witty or brag about confiscating a bit of weed and a $2 bill usually fall flat.
There's a big difference, though, between posting a cringeworthy joke and actually threatening to use your power to hurt people for no reason. It's the latter that's sparked multiple investigations in law enforcement agencies around the country.
It all started with the #FeelingCute challenge, a social media craze in which users post selfies of themselves suggesting something they may—or may not—do later. I suppose it can be funny, if you're into that sort of thing.
Apparently, the viral challenge was particularly popular among members of a (now-private) Facebook group called Correctional Officer Life. But the actions some of the group's nearly 30,000 members claimed to be considering can only be described as cruel.
"Feeling cute, might just gas some inmates today, IDK," one user posted, along with a selfie of what appeared to be the Texas Department of Criminal Justice (TDCJ) employee, according to the Houston Chronicle's Keri Blakinger. A photo of a different person in TDCJ uniform included the caption: "#feelingcute my gas the whole wing later."
"Gassing" is a prison slang term referring to when inmates throw human waste products at guards or fellow inmates. The posts from alleged TDCJ employees could be suggesting that they be the ones to throw feces or urine at inmates.
"The Texas Department of Criminal Justice is aware of the so-called feel cute challenge currently on social media," TDCJ communications director Jeremy Desel told the Chronicle. "A handful of correctional officers employed by this agency are under investigation for on and off-duty conduct violations as a result of the alleged posting of inappropriate photographs on social media."
"If any of these allegations prove correct then swift disciplinary action as severe as termination of involved employees will occur," an agency spokesperson added to yc.news.
It's not just Texas. A woman who identifies herself on Facebook as a correctional officer at Wheeler Correctional facility in Georgia wrote: "Feeling cute; might put your baby daddy in the shower for 6 hours, since we aint got no beds in Seg. But I don't know yet."
Another alleged Wheeler employee wrote: "Feeling cute, might shoot your baby daddy today…Idk," according to The Atlanta Journal-Constitution.
"The alleged actions of these individuals do not reflect the conduct expected of any GDC employee, and will not be tolerated," Georgia Department of Corrections spokesperson Joan Heath told the newspaper.
Another user, who KOMU identified as a corrections officer in Jefferson City, Missouri, wrote: "Feeling Cute. Might take your homeboy to the hole later." Missouri Department of Corrections Director Karen Pojmann told the outlet that prison employees "are expected to help ensure that interactions with offenders and fellow employees are professional and respectful."
The police accountability website America's Police Problem took screenshots of many of the posts. Some of the more noteworthy examples can be seen below:
"Feeling cute, may find drugs on your Baby Mama that 'isn't hers' later but idk yet."
"Feeling cute: might take your baby daddy to the box later."
"#feelingcute might take the hot pots and TV cords out the dorms today idk."
"Feeling kinda cute, might take your BM to the hole tonight."
"#feelingcute might just tase your gf later! It's an electrifying experience!"
"Feeling kinda Cute Tonight!!! Might search your boyfriend Cell and Mess it up!!! Idk yet still thinking."
The best way to read these posts would be as jokes that are in very, very poor taste. The problem is, there's no guarantee they're just jokes.
Abuse of inmates in prisons and jails around the country is a very real problem. Reason has documented egregious cases from Texas and Georgia, for instance, where inmates died after spending months in jail because they couldn't afford to make bail. (The Marshall Project also has a useful page linking to stories about inmate deaths nationwide.)
There's no evidence any of the corrections officers who posted about mistreating inmates actually did so. But it leaves a bad taste when prison guards joke about it, given how often it ends up happening and how little accountability there is when it does.