Brave Cops Pose With Drugs, 'Paraphernalia,' and a Single Confiscated $2 Bill
In a now-deleted Facebook post, Loudoun County deputies brag about a drug bust, get dragged, and likely don't learn any lessons.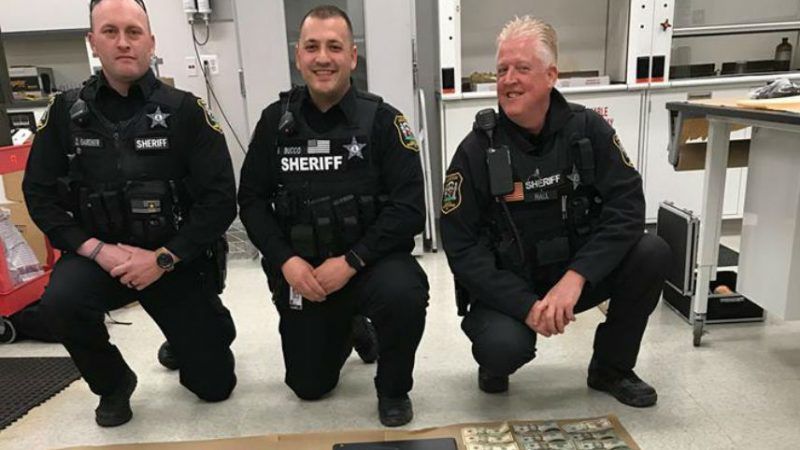 (Screenshot via Facebook/Loudoun County Sheriff's Office)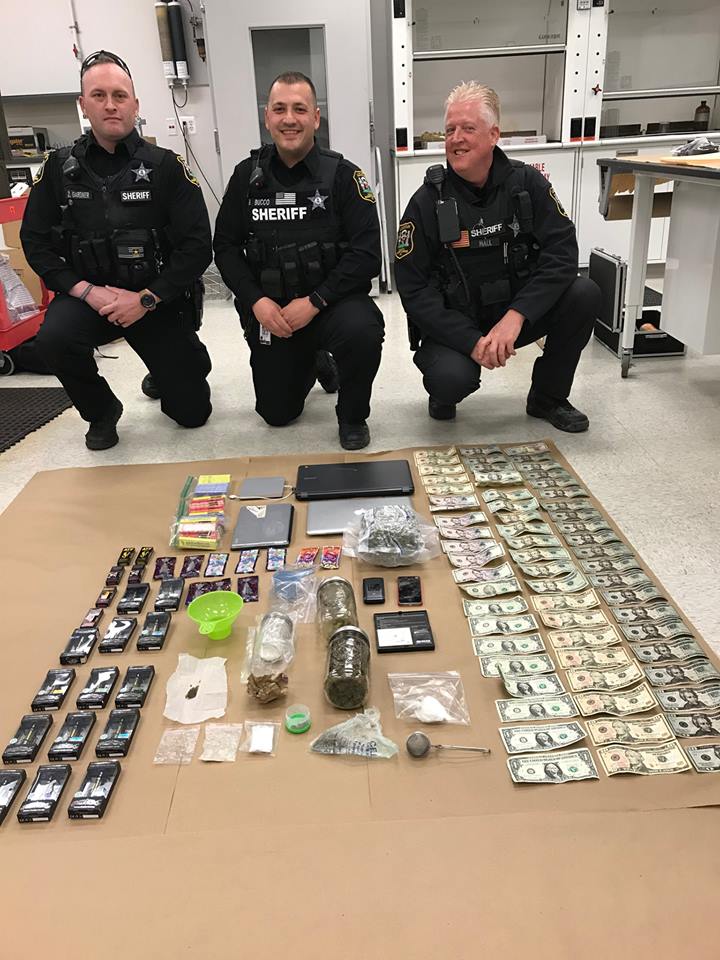 If there is one thing worse than a drug bust, it is, undoubtedly, the corny social media posting that follows. It is not uncommon nowadays for local law enforcement to celebrate a haul of a few pounds of drugs with enthusiasm similar to the Colombian authorities who shot and killed Pablo Escobar. This week, the Loudoun County Sheriff's Office in Virginia was the latest to learn that the public is largely tired of seeing these lame brags.
"Kudos to Deputies Gardner, Bucco and Hall for helping get illegal drugs, money and other paraphernalia off the streets last month," read a now-deleted Facebook post from Tuesday. (No worries, there are screenshots.) The Virginia deputies proudly posed in front of their haul of weed, cocaine, and other drugs, kneeling as one would in a junior varsity football picture for a school yearbook.
What's so terrible about this picture? Let's start with the cash.
Per the unofficial Rap Video and Strip Club Code of Conduct, there is a universal understanding that displaying bills of a value lesser than $10 makes one a certified broke boy. If the Loudoun County deputies want to feel like big shots, then what is with all of the $1 bills in this picture? And the random $2 bill makes for an even stranger flex. The only bills we should see are the "ten, twenties and them fifties," and, of course, the "hundreds."
This egregious display is fixable with one simple trick: Stack the bills so that the hundreds are prominently displayed at the top and the ones are neatly hidden in the middle.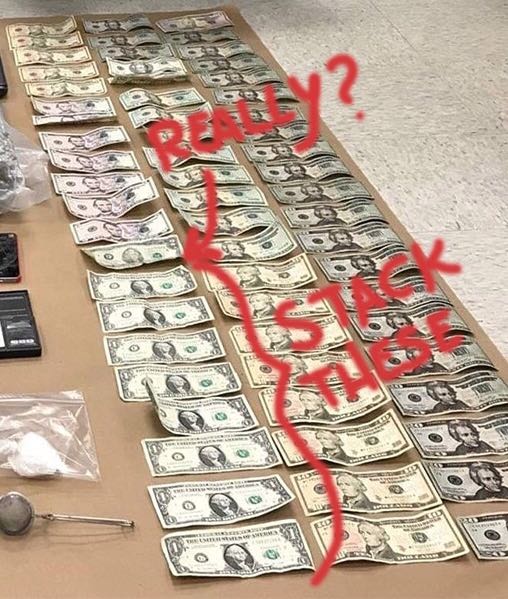 Another solution would be to end asset seizure altogether, but what would the county use to justify spending money that doesn't actually belong to them? After all, "legal" asset forfeiture is now more lucrative than burglary.
Perhaps even more embarrassing than the unimpressive cash display is the "paraphernalia" in the photo. A few zoom-ins and observers can see that the bar for what counts as "paraphernalia" is quite low.
This is a measuring cup: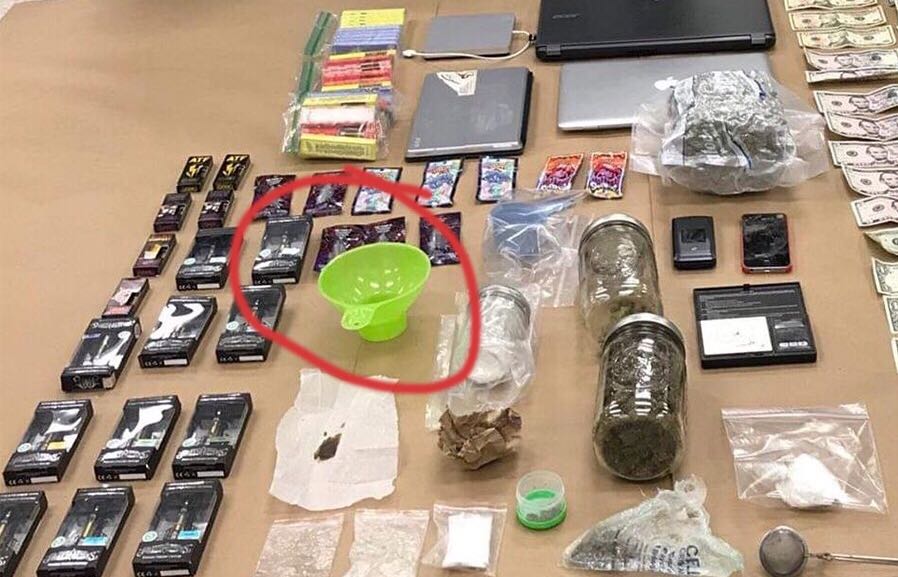 This is a tea infuser: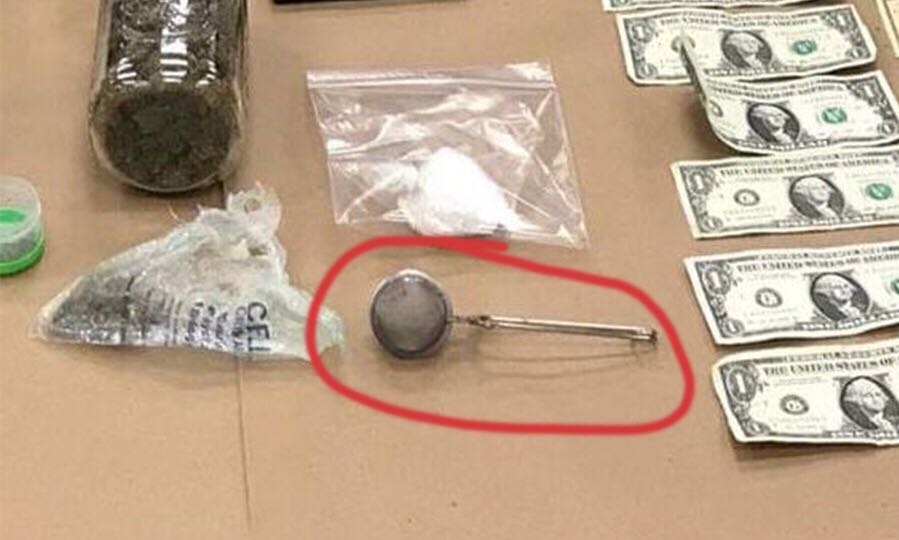 While the "paraphernalia" label could certainly apply to some of the other items on the table, it truly makes no sense to include simple household items in this categorization. Though used in the process of this drug operation, the items were not specifically created for the manufacture and sale of drugs.
But semantics be damned. States have long abided by legal precedents that allow otherwise harmless items to be considered drug paraphernalia. Because of this nice little stretch, an apple could be paraphernalia. So could baby formula!
After social media users responded negatively to the underwhelming drug bust, and at least one commenter pointed out the similarities between the deputy on the right and a hypothetical Anthony Bourdain/Bill Clinton love child, the sheriff's office deleted the post altogether. Unfortunately for Loudoun County residents, it is unlikely that the deputies used the public outcry as an opportunity to reexamine the role they played in an overzealous and unpopular drug war.
As we have previously reported, a recent poll by the University of Chicago's General Social Survey (GSS) found that 61 percent of Americans support the legalization of weed, compared to just 16 percent in 1990. Reason's Steve Chapman observed in 2017 that access to propaganda-busting knowledge has helped, in part, shift cultural attitudes toward legalization and the drug war. A better understanding of how drug arrests disproportionately affect race, for example, has caused even those who choose not to smoke to be much more sympathetic to legalization.
To be fair to the Loudoun County deputies, they're not the only law enforcement officials who appear to be completely out of touch with what the public now believes is good police work. In January, the D.C. Metropolitan Police Department received criticism after bragging about busting an "illegal narcotics pop-up operation." The tweet drew the internet's ire upon the realization that weed, which is legal for recreational consumption in the District, was included in the bust. One Twitter user commented, "There are 90 unsolved murders in [D.C.] and this is what you're doing with your time? Pathetic."