After Deadly Drug Raid on His Watch, Houston's Top Cop Lists Reforms, Praises Himself
Art Acevedo plans to limit no-knock raids and give narcotics officers body cameras but wants credit for not covering up a cop's search warrant lies.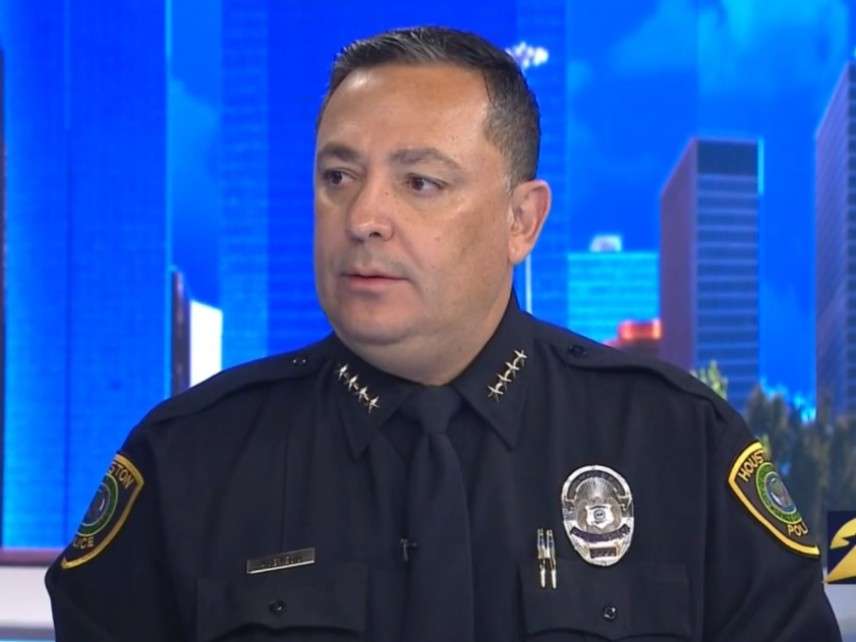 Today Houston Police Chief Art Acevedo updated a city council committee on the reforms he is implementing in response to the January 28 drug raid that killed a middle-aged couple, Dennis Tuttle and Rhogena Nicholas, in their home on Harding Street. The changes, outlined by Houston Chronicle reporter St. John Barned-Smith, are aimed at limiting the use of no-knock search warrants and expanding the use of body cameras, goals that Acevedo had previously announced.
Gerald Goines, a Houston narcotics officer, obtained the no-knock warrant in this case from a municipal court judge based on a false claim that a confidential informant had bought heroin from Tuttle. When they executed the warrant, Goines and his colleagues burst into the house without warning and immediately shot one of the couple's dogs, setting off an exchange of fire that killed the residents and injured four officers. Police found no heroin or any other evidence of drug dealing in the house.
From now on, Acevedo said, officers who want to conduct a no-knock search will have to get clearance from him or a supervisor he designates and apply to a district court judge rather than a municipal court judge. Only SWAT officers will be allowed to execute such warrants. When narcotics officers search homes, they will knock and announce themselves, and they will be supervised by a lieutenant.
They also will be wearing body cameras, the absence of which has made it harder to figure out what happened during the operation that killed Tuttle and Nicholas. Heretofore the Houston Police Department (HPD) has focused on equipping patrol officers with body cameras, on the grounds that they have the most interactions with the public. Under the new policy, narcotics officers will wear and activate cameras whenever they serve search warrants.
The HPD, the Harris County District Attorney's Office, and the FBI are continuing to investigate the Harding Street raid. Goines is likely to face criminal charges for lying in his search warrant affidavit, which is aggravated perjury under state law and seems to violate a federal statute making it a felony to violate people's constitutional rights under color of law. Local prosecutors are reviewing some 1,400 cases in which Goines was involved, plus 800 or so handled by Steve Bryant, a narcotics officer who was mentioned in the warrant affidavit and participated in the raid.
"We have got a lot of eyes, assets, folks from multiple agencies conducting investigations into the Harding Street raid," Acevedo told city council members. In a recent interview with KPRC, the NBC station in Houston, he said he expects Harris County District Attorney Kim Ogg to announce her findings by the end of April.
Acevedo repeatedly patted himself on the back during that interview. "When I got to that scene," he said, "some things made my antennae go up a little bit, including the fact that we lost two individuals in the home…four officers shot and another one injured. To be honest with you, I was actually asking for the search warrant and affidavit at the scene, which really ruffled some feathers. But for a police chief that actually knows what he is doing and is engaged, we wouldn't be having a conversation about the things that we might have done wrong in that raid…This police chief is the one that asked the tough questions."
In reality, Acevedo at first credulously accepted the accounts of the officers who conducted the raid, as you will see if you go back and review the first few press conferences he conducted. He praised the heroism of the officer he now says lied to justify the raid, reported Goines' account of a controlled buy that never happened as fact, blamed Tuttle and Nicholas for the violence initiated by police, described their home as a locally notorious "drug house" and "problem location," claimed neighbors were grateful for the raid (although all the neighbors who spoke to local reporters said they'd never noticed any suspicious activity at the house), expressed skepticism about the value of body cameras and the special risks posed by no-knock searches, and reacted angrily to the suggestion that officers might have been injured by friendly fire, even though the revolver Tuttle reportedly fired at them held just six rounds.
It was not until February 15, after information about HPD's investigation of the raid was leaked to the press, that Acevedo revealed the search warrant had been obtained under false pretenses. Even then, he insisted that the investigation of Tuttle and Nicholas was justified and continued to call them "suspects."
"You and other members of your department have made factually incorrect, but globally disseminated, statements about Rhogena Nicholas and her husband, Dennis Tuttle, from the date of their deaths and going forward," an attorney for Nicholas' family wrote to Acevedo this week. "These statements have not been publicly corrected or retracted to date."
In an interview with the Chronicle, Nicholas' mother said her daughter was not involved in drug dealing, "respected the police," and would have cooperated if the officers had knocked on the door and identified themselves. "I want them to clear her name," she said.
Nicholas' brother told the Chronicle he still hopes Acevedo will set the record straight. "Maybe they'll wake up and say, 'We messed up and we need to change our ways of doing things,'" he said. "Clear her name. And hopefully, it won't happen again."