Feds Used a Secret Database to Track Journalists Covering the Migrant Caravan: Reason Roundup
Plus: Facebook says it's pivoting to privacy, and congressional Democrats want to "save the internet."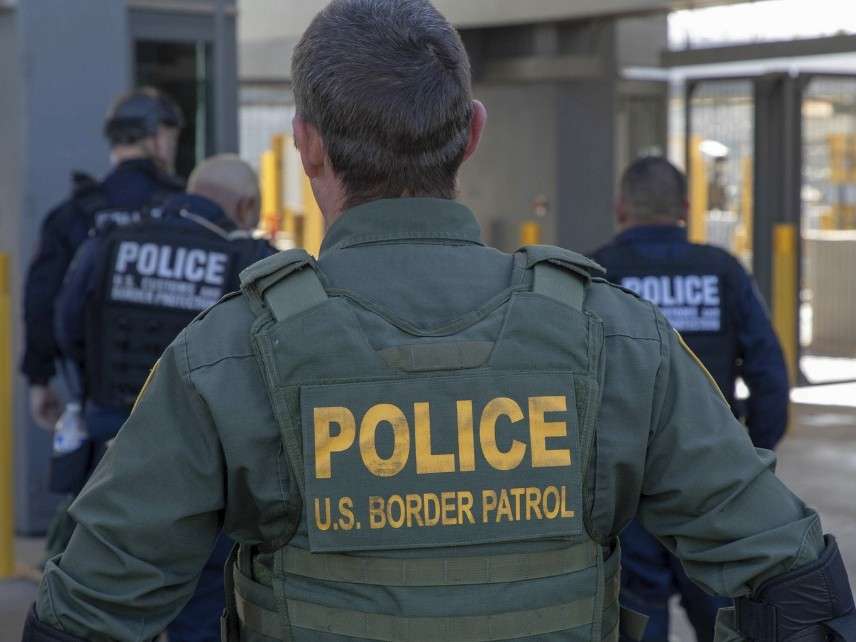 Remember the unfounded hysteria over the migrant caravans making their way toward America's border last year? Well, the U.S. government came up with a constitutionally questionable way to address it. KNSD has obtained leaked Department of Homeland Security (DHS) documents showing that the feds created a secret list of journalists covering the caravan, at least one U.S.-based immigration attorney, activists, "organizers," "instigators," and others.
The list has 59 names, mainly American citizens. Ten reporters were included in the database, seven of them U.S. citizens.
For the most part, inclusion on the list has meant additional questioning from Customs and Border Patrol (CBP) agents at the border as part of a "secondary screening." During that screening, journalists and lawyers say, they are "told that they are being interviewed as part of a national security investigation and that they must give officers access to their cell phones," NBC reports.
For some, it meant alerts were placed on their passports. At least three photojournalists could not get into Mexico as a result, KNSD says.
On the database, each person's name includes a photo, country of citizenship, and "role," as well as information about whether an alert has been placed on their passport and whether they have been interviewed by border officials, had their visa revoked, or been arrested or deported. An unnamed DHS source tells KNSD that border agents created a dossier for each person in the database.
The Mexican government appears to be involved as well. The front page of the list has the seal of the International Liaison Unit, a government agency that coordinates intelligence efforts between the two countries.
NPR and The Intercept have previously reported on journalists, lawyers, and activists who say they've been harassed at the border. These latest reports seem to confirm their claims.
So what did the feds have to say for themselves? Per NBC:
CBP told NBC News the names on the list are people who were present during violence that broke out at the border with Tijuana in November and they were being questioned so that the agency could learn more about what started it.
"This is an outrageous violation of the First Amendment," American Civil Liberties Union staff attorney Esha Bhandari says in a statement. "The government cannot use the pretext of the border to target activists critical of its policies, lawyers providing legal representation, or journalists simply doing their jobs."
A senior ICE official who had no involvement in the database tells BuzzFeed that "it is hard to support this activity," especially considering the DHS didn't have any specific goals in mind. "It starts to smack of dictatorship or the persecution of actors and press during the 'red scare,'" the official says.
FREE MINDS
Facebook pivots to privacy. Facebook CEO Mark Zuckerberg announced in a lengthy blog post yesterday that the social media network would shift to being a "privacy-focused communications platform":
Today we already see that private messaging, ephemeral stories, and small groups are by far the fastest growing areas of online communication….Many people prefer the intimacy of communicating one-on-one or with just a few friends. People are more cautious of having a permanent record of what they've shared. And we all expect to be able to do things like payments privately and securely.
Essentially, the company says it plans to offer "end-to-end encryption" on its direct-messaging services, so that no one, not even Facebook itself, can see what users are saying. Zuckerberg also says the company won't be storing "sensitive data in countries with weak records on human rights," and that the direct-messaging services on Facebook and the two platforms it owns—Instagram and WhatsApp—will be integrated. In an interview with Wired, Zuckerberg says that public sharing will still exist on Facebook and Instagram, but that there's an increasing demand for "private messaging, stories that are ephemeral and don't stick around, small groups."
So is he for real? "The first question people are asking is whether Zuckerberg means what he says, and there are plenty of doubters," writes The Verge's Casey Newton. The New York Times, meanwhile, wants to know what Facebook's new business model will look like, whether users actually want the various platforms Facebook owns to be integrated, and when all of this will happen.
FREE MARKETS
Congressional Democrats want to "save the internet." The "Save the Internet Act," which Democrats introduced yesterday, "would bring back net neutrality, plain and simple," reports TechCrunch. The bill says the Federal Communications Commission (FCC) vote in December 2017 to end the Obama-era net neutrality regulations, which barred internet providers from charging websites more for faster access to their sites, "shall have no force or effect."
A report last December from Recode showed that internet speeds rose almost 40 percent in the year following that vote, which suggests that save-the-internet rhetoric was overwrought. For more on why FCC Commissioner Ajit Pai rejected the net neutrality regulations, check out his 2017 interview with Reason's Nick Gillespie here.
QUICK HITS
*CORRECTION: This post originally claimed a federal court in Washington State said boys can compete on their public high schools' dance teams. In fact, the ruling came out of the U.S. Court of Appeals for the Eighth Circuit, and applied to a case out of Minnesota. I regret the error.