Law & Order: Hate Crimes Is a Bad Idea Built on Worse Statistics
But if the show must exist, I have some ripped-from-the-headlines ideas for upcoming plots.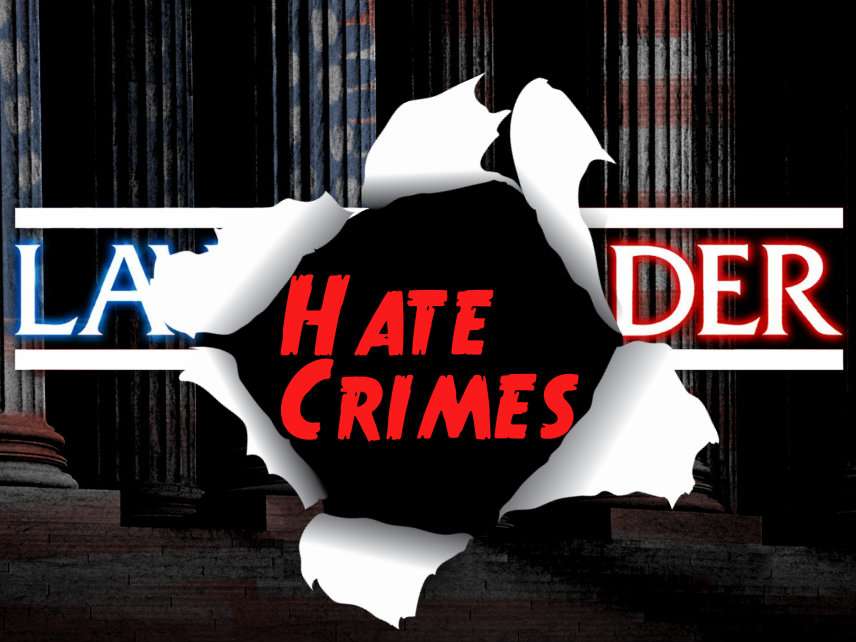 An upcoming iteration of Law & Order will focus on hate crimes, that nebulous category of criminal offense that has become a locus of debate since Donald Trump's election. NBC announced on Tuesday that it had commissioned 13 episodes of Law & Order: Hate Crimes, a series based on the Hate Crimes Task Force within the New York City Police Department (NYPD).
This "elite, specially trained team of investigators" is housed within the department's Special Victims Unit (SVU), which also houses creator and executive producer Dick Wolf's longest-running franchise, the launched-in-1998 Law & Order: SVU. And, boy, does Wolf sound sanctimonious about his new project.
"I want to depict what's really going on in our cities," said Wolf in a statement.
Twenty years ago when SVU began, very few people felt comfortable coming forward and reporting these crimes, but when you bring the stories into people's living rooms … a real dialogue can begin. That's what I hope we can do with this new show in a world where hate crimes have reached an egregious level.
In addition, NBC programming exec Lisa Katz said in a statement Law & Order: Hate Crimes is extremely timely "considering that last year there was a double-digit rise in hate crimes in our 10 largest cities—the highest total in over a decade." The FBI defines hate crime as any "offense against a person or property" that is "motivated in whole or part by an offender's bias against a race, religions, disability, sexual orientation, ethnicity, gender, or gender identity" (and would be better named bias-based offenses).
But there's actually no evidence, save for misleading media headlines, that there's been an "egregious" spike in bias-based offenses, not since Trump was elected nor over the past decade. In 2016, the most recent year for which the FBI has data, the national hate-crime rate was significantly lower than had been reported in 2001, 2006, 2008, or 2012.
"Hate crimes in 2016 were down 19.7 percent over the previous 10 years," noted professors Brian Levin, James J. Nolan, and John David Reitzel in a June article at The Conversation, and "far below 2001's record high."
Levin—who is director of the Center for the Study of Hate and Extremism at California State University San Bernardino—and his colleagues conducted their own research to get a measure of hate-crime reports in 2017, since the FBI data is not due out until November. They're the ones who broke down data from America's 10 largest cities, finding the "double-digit rise in hate crimes" that Katz mentioned—albeit just barely. On average, incidents were up 12 percent (from 923 incidents to 1,038).
In New York City specifically, hate crimes last year were down two percent from 2016, and lower than they had been in 2010 (339 reports last year, versus 350 at the start of this decade). Hate crime rates fell in other top-10 cities last year, too, including Chicago (down 14 percent) and San Antonio (down 60 percent).
But these drops were offset by larger increases in some cities. Overall, the 2017 study found an additional 115 incidents reported in the 10 biggest cities, with 49 percent of these coming from Phoenix and about one-fifth apiece coming from Los Angeles and San Jose.
So far, their 2018 data shows more city-specific drops, in New York City—96 reported hate crimes through April 30 this year, versus 132 at that time in 2017—as well as cities such as Washington, D.C. and Seattle. They note that "only a small number of agencies have partial year data for 2018, but most are down significantly."
Between their data and the FBI's, there's little to hint at a cohesive explanation for fluctuations (though the authors do try to pin any recent increases on Russian influence). Many areas have shifted back and forth between slight annual increases and slight annual decreases. Some show dramatic spikes or falls all of a sudden, in contrast to areas around them. Some report no such incidents officially, though such incidents make local news.
The problem with Law & Order: Hate Crimes isn't just that it's premised on tortured statistics, however. If there's anything this country does not need right now, it's more stoking of identity-based tensions and televised depictions of discord based on them.
To be clear, I'm not worried that people otherwise unbiased and unmotivated to commit crimes will suddenly get a hankering to go spray paint their local park with swastikas after watching the show.
I am worried that people's perceptions of the prevalence of bias-based incidents and the likelihood of fair treatment from cops and the criminal justice system will be shaped by it in unsavory ways (remember the CSI effect?). And these ways tend to reinforce calls for carceral solutions, that wind up entrenching state power and strengthening systems of abuse at the expense of vulnerable and minority groups.
If Law & Order: Hate Crimes must exist, however, I do have some recent ripped-from-the-headlines suggestions for plot lines: