4 Things Congress Can Do to Stop a Cannabis Crackdown
Will bipartisan criticism of Jeff Sessions' marijuana memo inspire legislative action?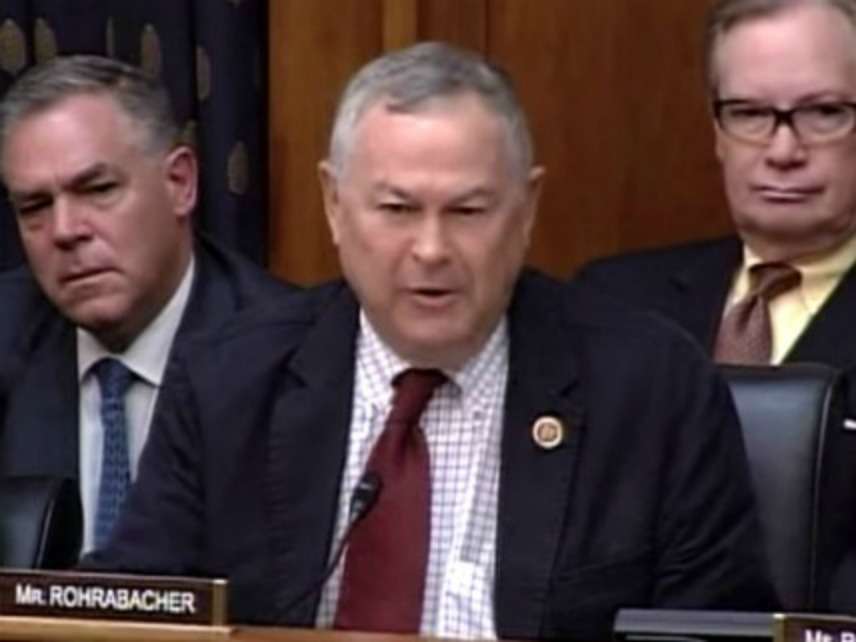 Last week Attorney General Jeff Sessions provoked bipartisan protests from members of Congress when he rescinded Obama administration guidelines discouraging U.S. attorneys from prosecuting state-legal marijuana suppliers. The move united progressive Democrats who support drug policy reform with conservative Republicans who believe in federalism (especially if they happen to represent one of the 29 states that have legalized marijuana for medical or recreational use). Legislators, of course, can do more than complain; they have the power to resolve the conflict between state and federal law in this area more definitively than Justice Department memos ever could. Here are some of their options.
1. Spending Rider
Since 2014 a spending rider now known as the Rohrabacher-Blumenauer amendment has prohibited the Justice Department from interfering with the implementation of state medical marijuana laws. According to the U.S. Court of Appeals for the 9th Circuit, the rider means the DOJ may not prosecute people for marijuana-related conduct that complies with state law, even in cases initiated before the rider was passed. The rider must be renewed every fiscal year, and Sessions has urged Congress not to do so, saying it unwisely constrains prosecutorial discretion. The amendment, which was extended through January 19, will expire after then unless it is included in the overdue omnibus spending bill for this fiscal year.
As currently written, the Rohrabacher-Blumenauer amendment does not protect state-licensed marijuana suppliers who serve recreational customers. In light of Sessions' decision, there is a decent chance that an expanded version of the rider, covering all state marijuana laws that depart from prohibition, will be included in the next omnibus spending bill. But the rider would last only until the end of the current fiscal year, after which it would have to be renewed again. It is also possible that other federal appeals courts will read the rider more narrowly than the 9th Circuit has (although that circuit does include five of the eight states that have legalized marijuana for recreational use).
2. Respect State Marijuana Laws Act
Recognizing the uncertainty caused by the limited duration and scope of his spending rider, Rep. Dana Rohrabacher (R-Calif.) is also sponsoring the Respect State Marijuana Laws Act, which he and Rep. Justin Amash (R-Mich.) first introduced in 2013. The act is admirable in its simplicity, declaring that the provisions of the Controlled Substances Act dealing with cannabis "shall not apply to any person acting in compliance with State laws relating to the production, possession, distribution, dispensation, administration, or delivery of marihuana."
The current version of the bill, introduced last February, has two dozen cosponsors, including 12 Republicans. It may pick up more support thanks to Sessions. "Because of @jeffsessions actions," Rep. Rod Blum (R-Iowa) tweeted on Friday, "I'm joining the 'Respect State Marijuana Laws' bill. I believe in States' Rights & I've seen how cannabis derived medicines can stop seizures in a child, help a veteran cope with pain, or provide relief to a senior with glaucoma."
3. Ending Federal Marijuana Prohibition Act
The Ending Federal Marijuana Prohibition Act, which was introduced by Rep. Thomas Garrett (R-Va.) last February, is somewhat more ambitious than Rohrabacher's bill but would have much the same practical effect. Rather than carving out exceptions to the federal ban, it removes marijuana from Schedule I of the Controlled Substances Act entirely while criminalizing its importation into states where it remains illegal. The bill has 15 cosponsors, including five Republicans.
4. Marijuana Justice Act
Like Garrett's bill, the Marijuana Justice Act, which was introduced by Sen. Cory Booker (D-N.J.) last August, would deschedule marijuana. It also includes provisions expunging federal marijuana possession convictions, allowing reduced sentences for other federal marijuana offenders, and restricting federal law enforcement money for states with racially disproportionate marijuana arrest rates. The bill has just one cosponsor, Sen. Ron Wyden (D-Ore.).
Rohrabacher thinks there are bipartisan majorities in both the House and Senate that would support legislative protection for state-licensed cannabusinesses threatened by aggressive enforcement of the federal ban on marijuana. As this compilation of criticism by Tom Angell at Marijuana Moment shows, many prominent Democrats, including House Minority Leader Nancy Pelosi (Calif.) and Senate Minority Leader Chuck Schumer (N.Y.), reacted negatively to Sessions' announcement. Vocal Republican critics include, in addition to Rohrabacher, Amash, Garrett, and Blum, Sens. Cory Gardner (Colo.), Lisa Murkowski (Alaska), Dan Sullivan (Ark.), Rand Paul (Ky.), and Dean Heller (Nev.), along with Reps. Thomas Massie (R-Ky.), Mike Coffman (Colo.), Don Young (Alaska), Carlos Curbelo (Fla.), Matt Gaetz (Fla.), Kevin Cramer (N.D.), Jason Lewis (Minn.), and Ryan Costello (Pa.).
If the Rohrabacher-Blumenauer amendment is renewed, it will be part of a big spending bill that Donald Trump would feel compelled to sign. But why would the president, who according to his press secretary "believes in enforcing federal law," sign a bill that provides more permanent protection? Rohrabacher notes that Trump has repeatedly said states should be free to legalize marijuana. In a July 2016 interview with a Colorado Springs TV reporter, for instance, Trump was asked what he thought of Chris Christie's promise to stop marijuana legalization in states such as Colorado. "I wouldn't do that, no," he replied. "I'm a states person. I think it should be up to the states, absolutely."
By signing a bill like Rohrabacher's, Trump could reconcile his commitment to marijuana federalism—a position supported by a large majority of Americans, including most Republicans—with his avowed desire to enforce the law. "I think Jeff Sessions has forgotten about the Constitution and the 10th Amendment," Rohrabacher told reporters last week. "Our president has not. I think we can reach the president now if we become mobilized."