Washington, California Trying to Punish Businesses that Overly Cooperate with Feds on Immigration
Motel 6 sued for passing names along to ICE.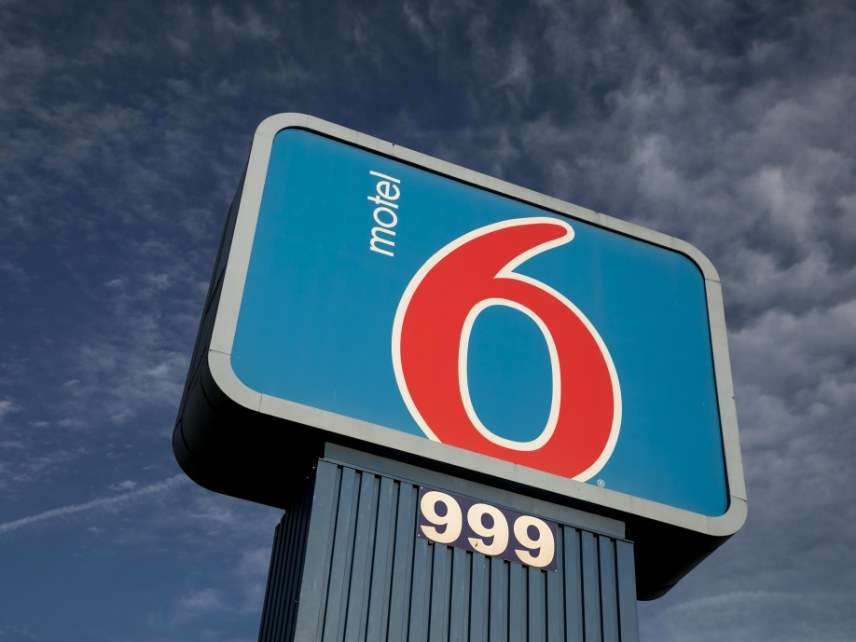 Can a state government punish a private business for voluntarily cooperating or assisting federal officials in enforcing federal immigration laws?
We may find out in both Washington State and California, as the conflict between the states and the feds over immigration enforcement heats up.
In Washington, state Attorney General Bob Ferguson is suing Motel 6. The budget national hotel chain got some media attention last fall after employees told the Phoenix New Times in Arizona it was quietly sending the names of its customers to Immigration and Customs Enforcement (ICE) officials so they could possibly track down people staying there who were in the country illegally.
In a statement after filing suit, Ferguson says they found that Motel 6 locations in Washington State were also cooperating with ICE and passing along "the personal information of at least 9,151 guests to ICE, even though its privacy policy assured consumers it would protect this information."
Ferguson says Motel 6's cooperation is a violation of the customers' privacy in that they did so without a warrant or subpoena and that their cooperation was based on the perceived national identity of guests (meaning they suspected they were from outside the country based on name and ethnicity). Ferguoson says these acts violate Washington's privacy and discrimination laws and the state's constitution.
The reference to Washington's state constitution is relevant because the state has its own privacy laws. Historically, our private information as citizens does not have the same Fourth Amendment protection from unwarranted searches when it's held by a third party (like a hotel). It's known as the third-party doctrine, is based on Supreme Court precedents from the 1970s, and plays a huge role in the various legal challenges and fights to stop unwarranted surveillance and access to our phone and computer data.
States are certainly permitted to establish stricter boundaries that restrain local and state police from accessing third-party data about private people without warrants. In fact, that's awesome. And that's what Washington State has done. But attempting to force private companies from following those guidelines in their interactions with federal officials takes the law to a different place. ICE is not constrained by Washington State's privacy laws when collecting third-party information. But is Motel 6 when communicating with ICE officials?
We may end up seeing more cases just like this thanks to new laws in California that came into effect with the new year. California has implemented a new law that prohibits private employers from voluntarily consenting to allow federal immigration officials to search "nonpublic areas of a place of labor" if they do not have a warrant. It further forbids employers from voluntarily allowing immigration officials access to employee records if the officials do not have a warrant or subpoena. Fines for violating this law range from $2,000 to $10,000 per incident.
That California implemented such a law is itself rather fascinating—and a sign of what resistance to the Trump administration leads to—because just three years ago the state was insisting that its own law enforcement officers did have a limited right to access registries of hotel guests without having to get warrants. The case of Los Angeles v. Patel went all the way to the Supreme Court, and the court ruled 5-4 that the Los Angeles Police Department could not demand access to a hotel's guest registry without at least allow the hotel an avenue for appeal.
Here's a fun twist: Former California Attorney General Kamala Harris (now a senator) took the side of the City of Los Angeles and the LAPD to engage in unwarranted collection of hotel guest registries for crimefighting purposes. Her office submitted an amicus brief to the Supreme Court encouraging them to find for the city.
But now that the Trump administration may use access to labor records as a mechanism to deport people, suddenly the self-proclaimed sanctuary state is much more interested in privacy rights. Granted, this new California law doesn't protect consumer or hotel guest records, but there's nevertheless a telling mindset that the extent of our privacy rights varies on the political winds and which agendas are being served.
What will happen once the federal courts are asked to weigh in on this? I have no idea. Neither does Orin Kerr at the Volokh Conspiracy. He attempted to analyze whether precedents on federal law preempting state law would apply here and still is not certain. Read what Kerr had to say here.