Senators Want to Make Prosecutors Prove Defendants Intended to Break Laws Before Locking Them Up
In a country with so many crimes, many laws don't require proof citizens knew they were doing wrong.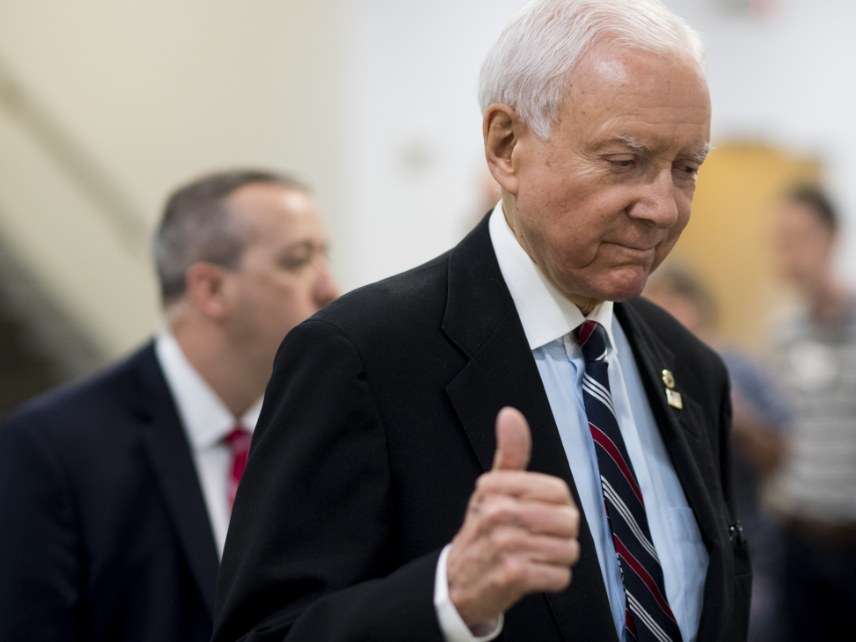 Sen. Orrin Hatch (R-Utah) is trying again to pass criminal justice reforms that would enhance the requirement that prosecutors prove criminal intent to convict people of federal crimes.
Hatch, Sen. Mike Lee (R-Utah), Ted Cruz (R-Texas), David Perdue (R-Ga.), and Rand Paul (R-Ky.) introduced the Mens Rea Reform Act of 2017 on Monday.
Hatch included a similar bill within a package of criminal justice reforms in 2016, but it did not pass.
"Mens rea" is the legal concept that that a prosecutor must prove a defendant was willfully and knowingly engaging in criminal or harmful behavior in order to convict him or her of the crime.
Many federal laws have mens rea requirements. But many do not and the application is not uniform across the board. Hatch's bill would create a "default" mens rea requirement for federal laws that do not have one.
Here's how he describes what he's trying to accomplish in a prepared statement:
Requiring proof of criminal intent protects individuals from prison time or other criminal penalties for accidental conduct or for activities they didn't know were wrong. In recent years, Congress and federal agencies have increasingly created crimes with vague or unclear criminal intent requirements or with no criminal intent requirement at all. The Mens Rea Reform Act will help correct that problem and ensure that honest, hardworking Americans are not swept up in the criminal justice system for doing things they didn't know were against the law.
The bill has the support of the Heritage Foundation, the National Association of Criminal Defense Lawyers (NACDL), Federal Defenders of New York, the U.S. Chamber of Commerce, and the Koch Foundation. (Disclosure: David Koch sits on the Board of Trustees for the Reason Foundation, which publishes this site.)
Who could oppose such a bill? The Department of Justice under President Barack Obama's administration argued it would make it harder to prosecute white-collar crimes. Justice officials implied it would be tougher getting convictions in complicated pollution or health and public safety cases. In reality, it would make it harder for them to force plea deals, according to statements from Justice Department officials.
But wouldn't it help all those other folks in federal prison who aren't corporate overlords? Here's what representatives from Federal Defenders wrote in support of Hatch's bill:
As Federal Defenders, we are acutely aware of the need for mens rea reform. Over 80 percent of people charged with federal crimes are too poor to afford a lawyer, and nearly 80 percent of people charged with federal crimes are Black, Hispanic, or Native American. These are our clients, and too many of them are subject to laws that are neither fair nor consistent with traditional principles of criminal liability. This bill would help to remedy some of those failings.
Lack of consistency in applying mens rea in federal law affects drug crime cases. Federal drug trafficking laws require that prosecutors prove defendants knew and had agreed to transport controlled substances, a basic mens rea requirement. But the laws don't require proof that a defendant knew what kind of drug or how much of it he or she was trafficking, which can play a huge role in a defendant's sentence. In a case from 2015, a defendant believed he was trafficking marijuana, but it actually turned out to be methamphetamine, and he was given a 10-year mandatory minimum sentence. It didn't matter that he didn't know the crime he was committing was more severe than what he agreed to.
Caleb Kruckenberg, a white collar crime policy counsel for NACDL, has some insight into what really happens in federal prosecutions, with his background as a criminal defense attorney and a former assistant federal public defender.
"I think for a lot of people who work in criminal defense work—especially with indigent clients—we see the effect of the no mens rea requirement in drug cases every day," Kruckenberg tells Reason.
Would a default mens rea requirement actually make it harder for the Justice Department to prosecute corporate polluters? Shana O'Toole, NACDL's director of white collar crime policy, says she doesn't think Hatch's bill would necessarily make it harder. Most Justice Department prosecutions for pollution, she says, rely on the Clean Air Act or Clean Water Act. Both of these laws already have mens rea requirements.
Besides, O'Toole notes, "It shouldn't be 'easy' to prosecute anyone. It's being fair that our government's lawyers should be aiming for."
And it's also worth noting that Hatch's law would allow Congress to include specific mens rea wording to a law if they choose to. What this bill proposes is a default rule in the event Congress does not specify. Congress would also still be able to classify strict liability for the violation of a specific law if they choose to, meaning prosecutors would not have to prove the defendant intended wrongdoing. But under Hatch's bill Congress would have to spell it out formally if that's what they want.
Hatch's 2017 version of the bill was not yet available online. Reason was provided a draft version of the legislation that is similar to what Hatch offered last year. There has been some minor changes, one to more clearly explain what it means to "willfully" violate a law. Read the previous version of the bill here.