Director of Anti-Sex Trafficking Doc I Am Jane Doe Doesn't Understand the Laws She's Trying to Reform
Watch Elizabeth Nolan Brown discuss the film with director Mary Mazzio, who aims to overhaul Backpage and federal law in the name of sex-trafficked teens.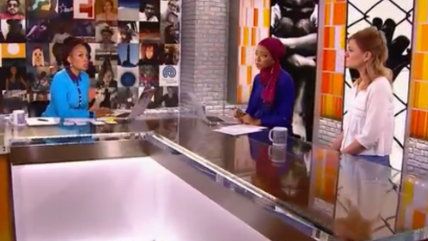 I had the opportunity to go on Al Jazeera English show The Stream Tuesday to discuss online sex-trafficking, U.S. laws, and—especially—the website Backpage, whose executives were subject to a Congressional inquiry earlier this month. My fellow guests on the live, interactive show—hosted by Femi Oke and Malika Bilal—were three women with very personal and political connections to sex trafficking, all advocating for changes to federal law that would allow web publishers and platforms to be held liable for content that users post. This, they submitted, would help protect children and teens from being sexually exploited by giving government the tools to go after Backpage—and, if need be, Twitter, Snapchat, Instagram, and hundreds of other websites next.
My fellow guests were Brooke Axtell, Mary Mazzio, and Kubiiki Pride. Pride is identified by The Stream as the "mother of 'M.A.', sex trafficking survivor," and Axtell as a sex-trafficking survivor and founder of Survivor Healing. Axtell is also the communications director for Austin, Texas-based Allies Against Slavery, and Pride, whose daughter is now in her early 20s, has been championing various legislative causes in her family's name for a few years, most recently before the Senate Permanent Subcommittee on Investigations inquiry into Backpage. Mazzio is an Academy Award winning documentary filmmaker who most recently directed I am Jane Doe.
Narrated by Jessica Chastain, I am Jane Doe has been getting attention from places like the New Yorker, the Daily Mail, and the McCain Institute. The underlying premise of the film, out in February, is that Section 230 of the federal Communications Decency Act—the statute more or less responsible for keeping the social, user-driven, free-press-oriented internet as we know it afloat—is an outdated protection that "provides a safe haven for website publishers to advertise underage girls for sex."
At the beginning of the program, I assured the other guests that our fundamental goals were aligned—I, too, want to help prevent and stop sexual exploitation and violence, even though we disagree about the best way to do so. I wasn't there to advocate for the company Backpage or talk about the First Amendment in some abstract way, I said, but rather to argue against policies that will cause even more harms to children, women, and people of all genders involved, voluntarily or not, in prostitution. All constitutional issues aside, being sympathetic to the suffering of those sexually exploited can't mean settling for symbolic victories while ignoring how our policies will materially affect the lives of those we're purporting to help.
Alas, it wasn't just potential solutions I found myself arguing with the other guests about. On several occassions, I was met with accusations of lying simply for stating plain facts about U.S. law. I was also met with skepticism when bringing up information that comes directly from the U.S. Senate's recent investigation into Backpage. So what follows is an attempt to set the record straight about a few of these things.
Yes, the U.S. Has a Law Against Advertising Minors for Sex: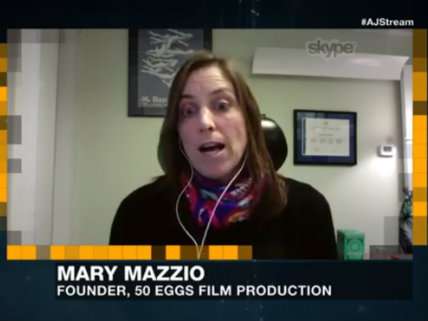 Mazzio kept lamenting that it was legal in America to advertise kids for sex. I objected, noting that not only is sex trafficking by force, fraud, or coercion illegal under federal law, it's also considered sex trafficking to promote the prostitution of a minor in any way, even absent force or threats or personal profit, and regardless of whether the victim's age is known. In addition, anyone soliciting paid sex from someone under age 18 can be charged as a child sex trafficker under federal law. And the same statute explicitly says that advertising a minor for prostitution is also a form of "severe trafficking in persons." It comes with a mandatory minimum federal prison sentence of 10 years and possible life in prison.
Mazzio insisted several times that this was "not true." At first, I assumed Mazzio simply meant that the law would not apply to third-party publishers, like Backpage, because of Section 230. But no—it became clear that her contention was no law even existed.
It does. It was passed in 2015 as part of the massive and much-hyped Justice for Victims of Trafficking Act (JVTA), which garnered near-universal support in Congress. The advertising bit was known as the SAVE Amendment, a controversial provision that yielded intense protest from civil liberties, tech policy, and publishing groups and a lot of news-media attention.
A previous version, the "Stop Advertising Victims of Exploitation (SAVE) Act" of 2014, would have required web-content platforms that run adult ads to review each one individually before publication, prohibit the use of cryptocurrency or pre-paid debit cards in placing ads, "prohibit the use of euphemism and codewords" in adult ads, get phone numbers and credit-card info from all posters, and require anyone posting adult ads to submit a copy of a government-issued photo-ID which the company would have to keep for seven years and provide to law-enforcement on demand. It passed the U.S. House of Representatives in May but faltered in the Senate.
In 2015, however, the SAVE Act came back, in subdued form, as the SAVE Amendment. This time it passed—again, with much controversy—as part of the bigger trafficking bill. At the end of the year, Backpage sued the U.S. government over the change. This is the law that Mazzio—someone making a feature film explicitly focused on Backpage, sex trafficking, web advertising, and federal law throughout this period—apparently did not know about.
79,000 Trafficked Kids in Texas?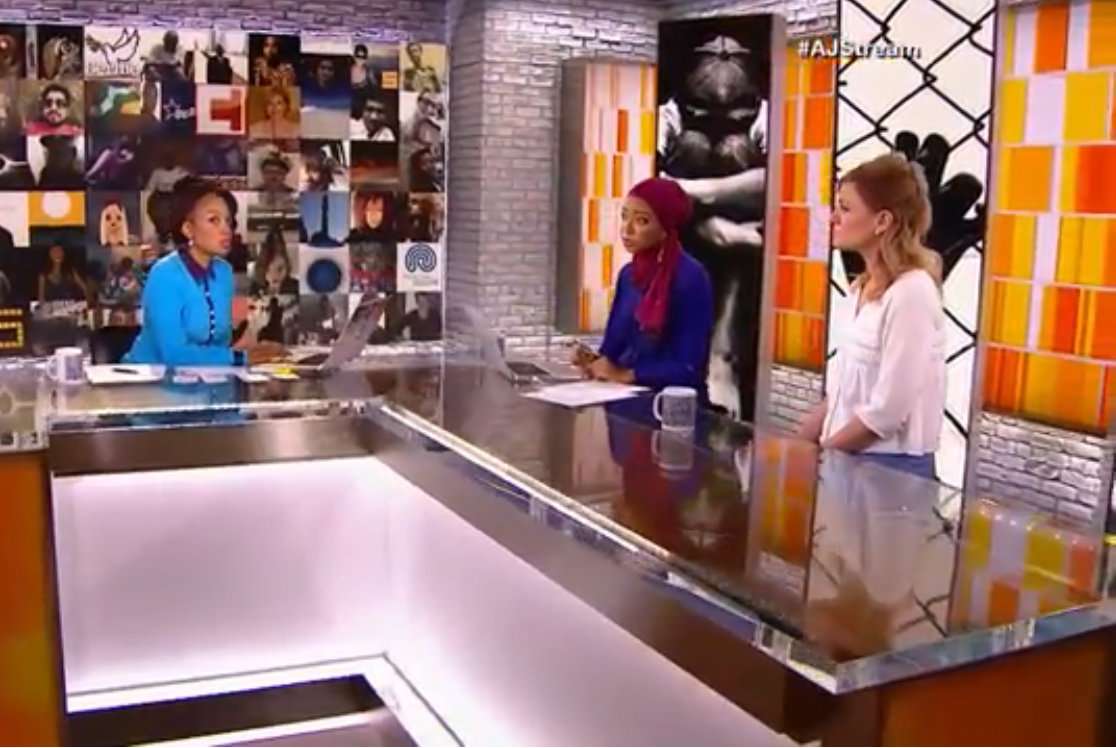 Trying to get to the scope of America's human-trafficking problem, Axell mentioned on The Stream that a new study found "79,000 children" were being trafficked for sex in the state of Texas alone. But there are a few important things to note about that study.
First, the 79,000 figure didn't refer exclusively to minors, but rather to people ages 25 and below—something Axtell should have known, considering the organization she works for helped conduct the study (though she did not mention this).
Second, the method used to arrive at this figure is questionable. "It is important to recognize that our approach was not to count [known] cases" of human trafficking, the report states, nor to survey Texas households for an estimation of trafficking victimization rates. Instead, researchers interviewed social-services groups and others who might be likely to encounter trafficked teens and learned that about 25 percent of teens these crisis- and support organizations worked with were trafficking victims. From there, researchers came up with various conditions they believed to put youth at risk of being victimized—including homelessless and being served by the state Department of Family Protective Service—and estimated the total number of Texas minors in those groups, then took 25 percent of each group, and added these numbers together to arrive at the figure of 78,998.
In terms of criminal investigations, the report states that from 2007 through mid-2014, Texas opened 737 criminal inquiries into human trafficking, leading to the arrest of 210 suspects, the conviction of 85 suspects, and the identification of 320 juveniles in the sex trade.
Backpage Stopped Manual Editing Policy in 2012: Backpage's policy of having moderators manually edit some adult ads before their publication occurred between late 2010 and late 2012. Backpage moderators claim that this involved editing out direct references to adult prostitution before allowing them to post, while ads suspected of involving minors would be rejected entirely.
When I mentioned this on The Stream, it was suggested that I couldn't possibly know this because Backpage executives refused to answer any questions about their ad-editing and filtering processes while appearing before the Senate's Permanent Subcommittee on Investigations earlier this month.
It's true Backpage leadership refused to answer questions. But they were compelled to turn over years worth of internal documents and emails to Senators, and the subcommittee spent 20 months investigating Backpage through these documents and additional interviews with former employees. From this extensive research, the Subcommittee produced a report. And everything I said about the editing and filtering practices—including that they ended manual editing of adult ads in 2012—comes directly from that Senate report. You can read it here.