Trump's Chicago Crime Slams: Political Posturing, Federal Overreach, or Legit Assistance?
Mayor and president use their bully pulpits to kvetch at each other. Does it even mean anything?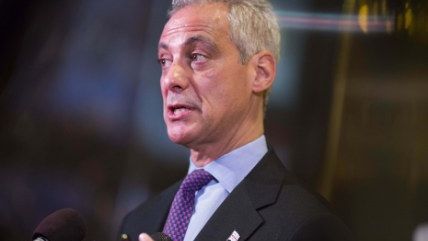 (John Taggart/ZUMA Press/Newscom)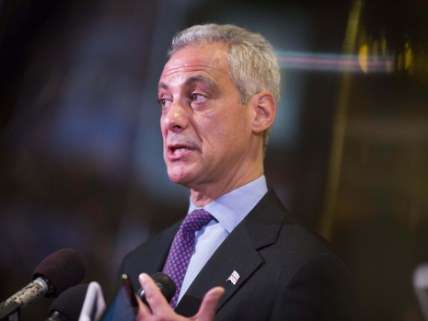 There's plenty of chin-scratching today about President Donald Trump's tweet last night, "If Chicago doesn't fix the horrible 'carnage' going on, 228 shootings in 2017 with 42 killings (up 24% from 2016), I will send in the Feds!"
The feds are already involved in Chicago's crime-fighting efforts. The Bureau of Alcohol, Tobacco, Firearms, and Explosives have agents there attempting to track and fight illegal arms trafficking in the city. And more recently, the Department of Justice has released a massive report detailing unconstitutional behavior and civil rights violations by the City of Chicago's police department.
But of course, that's not what Trump is talking about. Trump has made it abundantly clear that whatever is causing Chicago's crime problems, it has nothing to do with police abuse or violent police behavior. He instead sees a "dangerous anti-police atmosphere" in America and is promising to stop it.
There's also an element of Trump's thin-skinned nature coming to the surface here. Sure, Trump has been running as a "law and order" candidate all along and has a page devoted to law enforcement on the White House site. But on Monday, Chicago Mayor Rahm Emanuel used a ribbon-cutting to attack Trump's obsession with crowd sizes. Clearly Trump's tweet was a response. From the Chicago Sun Times:
"You didn't get elected to debate the crowd size at your inaugural….You got elected to make sure that people have a job, that the economy continues to grow, people have security as it relates to their kids' education. It wasn't about your crowd size. It was about their lives and their jobs," the mayor said after cutting the ribbon at a domestic violence shelter in Uptown.

Emanuel advised Trump to do what he did while working as a political operative for former President Bill Clinton and as former President Barack Obama's first White House chief of staff.

"The most important thing you can do is create a relationship between the desk in the Oval Office and the issues at the kitchen table," Emanuel said. "And I don't think in the kitchen tables of America — and I definitely can tell you on Saturday at the parade — people were not talking about the crowd size on Friday. They were talking about jobs, education, health care, security."
But Emanuel himself was responding defensively to Trump invoking Chicago as a hotbed of crime and violence. There's a political spitting match going on here, which helps explain why we don't really know what Trump means when he talks about sending in the feds.
And Chicago isn't even necessarily opposed. They certainly want federal money. The city's finances are a disaster area within a state that is itself a financial disaster area. An infusion of federal cash would pay for more police officers (to satisfy the public) and more "training," which tends to be the urban left's idea of the source of police abuse problems. It's just like public education, where whenever anything goes wrong, the problem is not enough money and training. (See the Department of Justice's plan to fix Baltimore's policing problems.)
The rest of us who aren't posturing politicians who have to live in these environments should be concerned that each side is beating the same drum over and over again. Emanuel wants to blame the problem on access to guns, despite Chicago's infamously restrictive regulations. Trump wants to blame it on "anti-police" attitudes, despite the city's deeply entrenched and widely understood abusive and secretive behavior by its law enforcement officers. He's in favor of "stop and frisk" methods that violate citizens' Fourth Amendment rights to be free of unwarranted searches.
Neither seem all that interested in these exchanges in exploring how the city's failure to hold bad police officers accountable for misdeeds contributes to "anti-police" attitudes and how the local government officials line their pockets via the economic predations of its poorer citizens (remember: Cook County has a soda tax being implemented this summer). Neither side in this fight wants to acknowledge how they are actually contributing to Chicago's crime problem. One side wants to crack citizens' skulls on behalf of vague ideas of "law and order" and violate their Fourth Amendment rights; the other side wants to pick their pockets and violate their Second Amendment rights.