Trump, House Republicans Target EPA, Energy, Interior for Regulatory Cuts
Trump plans to use executive orders to hack away at federal regulations, but he'll need congressional help to make lasting reforms.
President Donald Trump will announce plans to build a wall on Wednesday, but the things his administration are trying to tear down might end up being more important.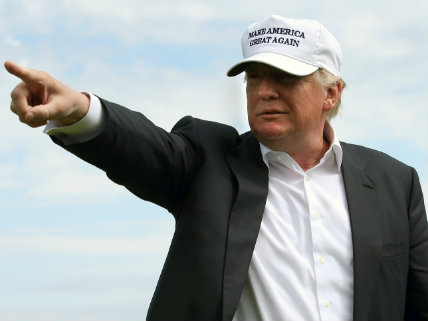 It's no secret that Trump wants to hack away at the federal regulatory state—during the campaign, he promised to repeal two regulations for every new one approved; on Monday, during a meeting with several business executives, Trump promised to cut 75 percent of all federal regulations, "and maybe more."
Those claims seem more like campaign trail promises and typical Trump bluster than achievable goals, but give Trump credit for getting straight to work on the issue.
Axios, citing an unnamed "senior transition source," reported Wednesday that Trump plans a deconstructing of the regulatory state that will target the Environmental Protection Agency and the departments of Education, Energy, and Interior during his first 100 days in office.
"President Trump plans to attack the regulatory state from every angle," the source told Axios. "The government has been captured by elites, which gets to the very core of what animates the president."
Citing a different source, the same report says Trump plans to undermine the regulatory powers of various federal agencies by executive order, rather than going through Congress in an effort to dismantle the agencies' authority.
If true, that would mean Trump could move more quickly to curtail the EPA and other agencies that he sees as holding back businesses and the economy as a whole. On the other hand, using executive orders to implement his agenda of deregulation would mean the next president could undo many of those changes—in the same way that Trump is now unwinding some of President Barack Obama's "pen and phone" policies.
Trump's inclination to act quickly certainly is understandable, but the way to reform America's regulatory state permanently, as I've written before, will require working with Congress.
On that front, there might be more good news.
In an op-ed published Wednesday in The Wall Street Journal, House Majority Leader Kevin McCarthy (R-California) outlined a series of regulatory reforms that take aim at the federal bureaucracy.
The first step, McCarthy says, is passage of the REINS Act, which would require any new regulations that cost $100 million or more to be approved by Congress before taking effect. As I wrote last week, the REINS Act would only apply to about 3 percent of all federal regulations, but it would be a meaningful reform because it gives Congress a way to check executive rules with the potential to be particularly harmful.
House Republicans also plan to pass the Regulatory Accountability Act, which would undermine the so-called "Chevron deference" within the legal system. The Chevron doctrine grants federal agencies wide leeway when challenged in court, essentially instructing judges to defer to an agency's own interpretation when determining whether a rule is necessary or proper.
McCarthy's plans for the House seem to follow Trump's outline. The majority leader says the House will vote to repeal the Department of the Interior's Stream Protection Rule, which has limited access to the nation's coal supply, and will trim the Obama administration's methane regulations that limit oil and gas production. Other federal rules that limit energy production, like the Securities and Exchange Commission's disclosure rules for American drilling firms, will also be axed, McCarthy writes.
There are still many, many reasons to worry about Trump's presidency, but regulatory reform could be a silver lining.