Behold Chicken Little-gation
America is awash in poultry-focused lawsuits.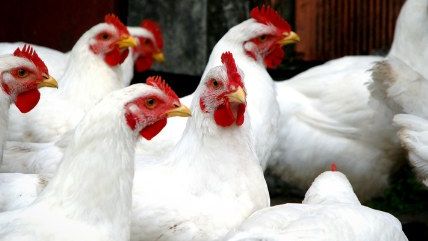 (Fotokon / Dreamstime.com)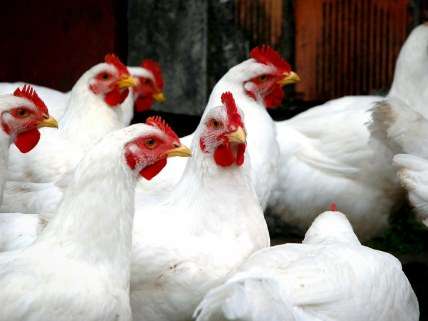 Q: Why did the chicken cross the road?
A: To sue the other side.
Each week, typically I address some serious federal, state, or local food-law issue. After this week, though, I could use some levity. Maybe you could, too.
There's no better time than now, then, to point out that America's been beset by a recent slew of lawsuits. Over chicken.
Let's dig in.
Last month, a federal judge in Los Angeles allowed a California synagogue to slaughter chickens as part of its observance of Yom Kippur, Judaism's most important holiday. The lawsuit had been filed by a Maryland animal-rights group that opposes the Yom Kippur slaughter.
"We believe the rabbis' true motivation is tremendous profit," said attorney Bryan Pease, attorney for the animal rights group, United Poultry Concerns, in comments to the Los Angeles Times that may as well have been ripped from the noxious anti-Semitic screed Protocols of the Elders of Zion.
Across the country, in Mississippi, an attorney recently filed—then dropped—a lawsuit against fried-chicken chain Popeye's. Paul Newton Jr. had claimed he choked on a piece of the fast-food restaurant's chicken because the restaurant failed to provide him with a plastic knife.
"Newton says the only utensil he was given last November at the Gulfport restaurant was a spork," the AP reports. "The lawsuit says because Newton didn't receive a plastic knife, his only option was to hold the piece of chicken with his hands and tear off pieces with his teeth, causing him to choke."
In New York State, another lawsuit targeted fried-chicken chain KFC.
Plaintiff Anna Wurtzburger alleges that KFC engaged in deceptive trade practices because the food they advertised on television differed from what she received at her local KFC.
"[T]he advertisement on television showed a bucket of overflowing chicken and when the plaintiff received a bucket of chicken there were only eight pieces of chicken in it," the complaint alleges.
Wurtzburger—who sued KFC for $20 million, a figure she later halved—had ordered the 8-piece bucket.
Finally, in what may be the most important recent poultry-related court challenge, a lawsuit filed earlier this year in federal court by Maplevale Farms, an independent New York State foodservice distributor, charges that the nation's largest poultry producers—including defendants Purdue, Tyson, Koch, Pilgrim's Pride, and several others—are colluding illegally to restrict "broiler" supply in an effort to set poultry prices artificially high.
The lawsuit hinges in part on something known as the "Georgia Dock," which the New York Times describes as "a chicken pricing index that is obscure outside the food industry but widely used by grocery stores in America when buying chicken from producers."
Besides its obscurity, the Georgia Dock is a quaint and outdated method for negotiating poultry sales that was established by the Georgia Department of Agriculture in 1966. The Times describes how it relies on a series of phone calls placed weekly by one Arty Schronce, a GDA employee.
In a report on the case and the Georgia Dock, The Progressive Farmer, an agricultural news source, refers to at least one part of the Times's analysis as "very strange."
Sure, but then aren't all of these poultry lawsuits at least a bit strange?
It may seem that poultry lawsuits have come to roost, but the fact is they've always been around. A Lexis-Nexis search this week revealed 981 state and federal cases historically in the United States pertaining in some way to poultry or chicken. And most American constitutional law students learn about the famous 1935 "sick-chicken" case, Schechter Poultry Corp. v. United States, a Supreme Court ruling that struck down a key element of Pres. Franklin Roosevelt's New Deal legislation.
Thanks to factors like increased regulation and eager plaintiffs' lawyers, I suspect poultry lawsuits are only likely to continue to grow in the coming years. It's only a matter of time before someone—a farmer in Iowa, say—sues to overturn Massachusetts's unconstitutional and wrongheaded new law creating rules for confining chickens and other farm animals, which voters approved by a more than 3:1 margin this week.