Virginia's Governor Makes a Mess Out of Restoring Felons' Voting Rights
What's supposed to have been a civil rights matter ends up as a case of executive overreach.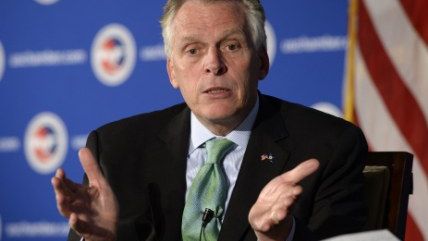 (Douliery Olivier/Sipa USA USA/Newscom)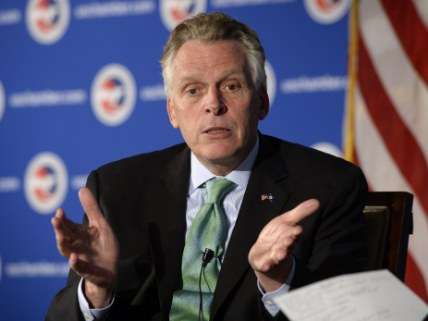 Earlier in the year, Democratic Virginia Gov. Terry McAuliffe made a big splash by declaring that he would, as a blanket measure, restore the voting rights of more than 200,000 released felons.
Republicans immediately resisted the gesture. Grotesquely—and predictably—the debate very quickly became about who these released felons would be voting for, as though that should factor in at all as to whether their civil liberties should be restored.
Republicans challenged McAuliffe's order in the courts, and Virginia's Supreme Court just recently ruled 4-3 against McAuliffe.
To be clear, the Supreme Court didn't rule that McAuliffe couldn't restore the voting rights of released felons who had done their time and were no longer under state supervision. Rather, McAuliffe essentially tried to expand his own power as governor with a blanket gesture, and the state's constitution did not give him such authority. He just completely screwed up the process and turned the whole effort into a lesson in the limits of executive authority. From the ruling:
All agree that the Governor can use his clemency powers to mitigate a general rule of law on a case-by-case basis. But that truism does not mean he can effectively rewrite the general rule of law and replace it with a categorical exception. The express power to make exceptions to a general rule of law does not confer an implied power to change the general rule itself. The unprecedented scope, magnitude, and categorical nature of Governor McAuliffe's Executive Order crosses that forbidden line. …

If the anti-suspension provision has no role to play as a check on any of the Governor's clemency powers, this view, taken to its logical limits, would empower a Virginia Governor to suspend unilaterally the enforcement of any criminal law in the Code of Virginia, based solely on his personal disagreement with it, simply by issuing categorical, absolute pardons to everyone convicted of his disfavored crime. This view would similarly empower a Governor to issue a single, categorical order restoring voting rights to all felons — even those imprisoned, those subject to a supervised criminal sentence, and those released from prison but later civilly committed as sexual predators — thereby eliminating any remaining vestige of the general voter disqualification rule in Article II, Section 1 of the Constitution of Virginia.
Sen. Tim Kaine, Hillary Clinton's choice for vice president and former governor of Virginia, was also referenced in the ruling. When Kaine was governor, he was asked to take a blanket action to restore voting rights but determined that he didn't have that level of power. His counsel at the time wrote the very "notion that the Constitution of the Commonwealth could be rewritten via executive order is troubling."
Fortunately for felons in Virginia, this doesn't mean they can't get their voting rights back. It just means he has to go case by case and do it the "hard," but legally correct, way, and McAuliffe says he's going to do exactly that.
There are additional signs that McAuliffe had handled the whole case poorly as well. He refused to publicly release the list of names of felons who would have had their voting rights restored. But those who had seen the list discovered there were people on the list who shouldn't be there, including felons who were still in prison, as well a couple of fugitives convicted of sex crimes.
The New York Times notes that in order to restore all these felons' rights the correct way (where he reviews each case), he'd have to sign 385 orders per day for the rest of his term. This suggests that he might not actually review each case as he's supposed to and could end up right back in court if Republicans challenge him again. McAuliffe, by the way, dismissed the ruling as an "overtly political action," even though the ruling did not even so much as suggest that McAuliffe couldn't restore felons' voting rights, just that he couldn't do it by a massive fiat declaration.