Sonia Sotomayor Blasts SCOTUS for Excusing 'Lawless Police Conduct' in 4th Amendment Case
The Supreme Court issues its decision in Utah v. Strieff.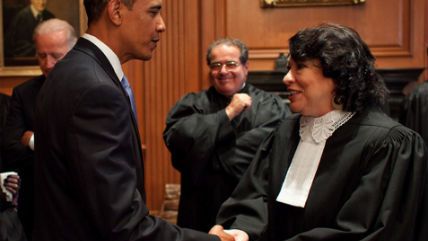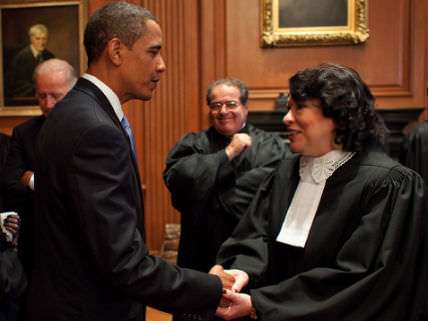 In a 5-3 decision issued today, the U.S. Supreme Court ruled that an illegal police stop and resulting drug arrest did not ultimately violate the Fourth Amendment because the officer later discovered an outstanding traffic warrant for the individual that he had illegally stopped.
The case of Utah v. Strieff began when a police officer stopped Edward Strieff on the street and ran his identification. The state of Utah concedes that this was an illegal police stop. Yet when Strieff's identification was run it turned out that he had an outstanding traffic warrant. The officer then arrested him, searched him, and discovered drugs in his pockets. Strieff argues that the drugs should be inadmissible under the Fourth Amendment because they are the fruits of an illegal search.
Today the U.S. Supreme Court disagreed with Strieff and ruled for the state. "The evidence Officer Fackrell seized as part of his search incident to arrest is admissible because his discovery of the arrest warrant attenuated the connection between the unlawful stop and the evidence seized from Strieff incident to arrest," declared the majority opinion of Justice Clarence Thomas, which was joined by Chief Justice John Roberts and Justices Anthony Kennedy, Stephen Breyer, and Samuel Alito.
Writing in dissent, Justice Sonia Sotomayor blasted the majority for excusing police misconduct and undermining the Fourth Amendment. "This case tells everyone, white and black, guilty and innocent, that an officer can verify your legal status at any time," Sotomayor wrote. "It says that your body is subject to invasion while courts excuse the violation of your rights. It implies that you are not a citizen of a democracy but the subject of a carceral state, just waiting to be cataloged."
The Supreme Court's opinion in Utah v. Strieff is available here.