Weldon Angelos Is Free, Thanks to a Prosecutor, Not a President
The young father of three got 55 years for three small-time pot sales.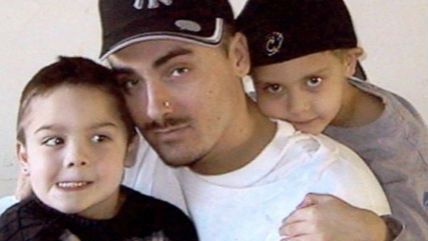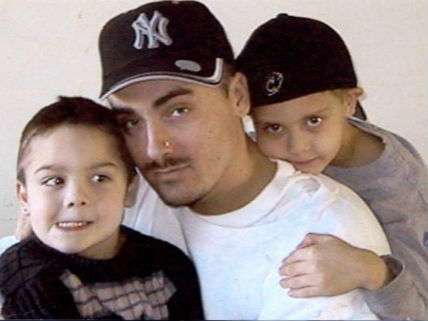 Weldon Angelos, the Utah record producer who received a mandatory minimum sentence of 55 years for three pot deals that totaled a pound and a half, was quietly freed last week, 35 years before his estimated release date. Angelos was not one of the 42 federal prisoners whose sentences President Obama commuted on Friday, although his clemency petition had attracted support from many prominent legal, political, and literary figures, including the judge who sentenced him. Instead he is a free man thanks to a federal prosecutor who apparently had second thoughts about his office's decision to punish Angelos for rejecting a plea deal by stacking charges in a way that threatened to keep him behind bars for the rest of his life.
"After three and half years of inaction on Weldon's clemency petition, he is free because of the fair and good action of a prosecutor," Mark W. Osler, Angelos' lawyer, told The Washington Post. "He returns to citizenship because of the actions of one individual—just not the individual I was expecting. Weldon's freedom is a wonderful thing but remains just one bright spot among many continuing tragedies."
The records related to Angelos' early release are sealed. But Cheri Sicard, president of the Marijuana Lifer Project, says Angelos told her his release was "based upon legal petitions he had filed for a reduction in sentence," which a judge granted because "the government simply offered no objections." That is consistent with Osler's comments and the impression of former federal judge Paul Cassell, who has been advocating clemency for Angelos since sentencing him in 2004. "My understanding is that the prosecutors have made an arrangement for Weldon Angelos to be released," Cassell told the Deseret News.
After Angelos sold eight ounces of marijuana to a government informant on each of three occasions, the U.S. Attorney's Office in Salt Lake City offered him a 15-year sentence in exchange for a guilty plea. When he said no, prosecutors slammed him with a new indictment that included 20 counts carrying a mandatory minimum sentence of 105 years. A jury convicted him of 16 counts, including three gun charges that by themselves triggered a 55-year sentence.
Angelos allegedly carried a pistol during one of the pot sales and had guns nearby during the other two. Although he never brandished the weapons, let alone hurt anyone with them, prosecutors charged him with three counts of using a firearm in the course of a drug trafficking offense, a crime that carries a mandatory minimum of five years for the first offense and 25 years for subsequent offenses, sentences that must be served consecutively. Thus did Cassell find himself imposing a sentence that he called "unjust and cruel and even irrational." 
Angelos, a first-time offender who was 24 when he was sentenced, is now 36. His three children, a baby girl and two little boys when he went to prison, are now 13, 17, and 19. Based on time credits for good behavior, Angelos until last week was expected to be released on November 18, 2051, at the age of 72.
"I want to thank all the people who helped," Angelos told the Deseret News, "especially Judge Cassell." Without Cassell's efforts, he said, "I'd probably still be in prison." Cassell, now a law professor at the University of Utah, said "the Weldon Angelos case was one of the most troubling cases I handled when I was a federal judge, and so I'm glad to see that justice has finally been served here."
Cassell argues that cases like this one demonstrate the need for comprehensive sentencing reform. He has been especially critical of 18 USC 924(c), the gun provision under which he sentenced Angelos. Although the law was aimed at violent repeat offenders, he observes, the practice of stacking gun charges in a single case involving more than one incident "has produced a fearsome mandatory minimum statute that is not a true recidivist law." The Sentencing Reform and Corrections Act would reduce the enhanced mandatory minimum prescribed by 18 USC 924(c) from 25 years to 15 years and reserve it for defendants with prior convictions under that provision.