The Coldplay/Beyonce Super Bowl Halftime Show Was Surprisingly Political
Black Lives Matter and LBGT imagery ran throughout America's most-watched 12-minute concert.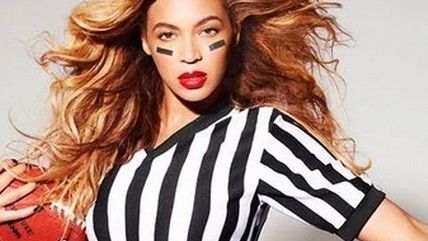 You may have missed it entirely (with milquetoast snooze-rockers Coldplay billed as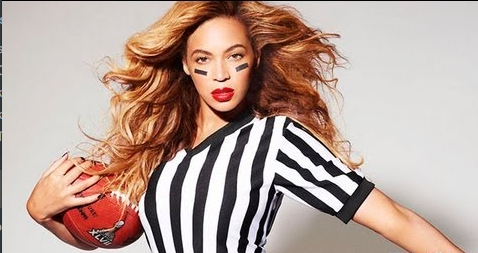 the headliners, no one would blame you), but yesterday's Super Bowl halftime show included some striking political flourishes.
Chris Martin and company warbled through a short medley of their LITE-FM hits before Beyonce and a gaggle of dancers clad in Black Panther-style berets burst onto the scene, performing a verse from her new song "Formation." At one point, Queen Bey and crew formed an "X" on the field, in an apparent nod to Malcom X.
A segment of the music video for "Formation" features a young African-American boy in a hoodie raising his hands before a line of militarized police, followed by a shot of a graffiti spray-painted wall reading "Stop Shooting Us." However, it should be noted, the lyrics to the song itself are strikingly apolitical.
Prior to the game played at Levi's Stadium in Santa Clara, CA (not far from Oakland, where the Black Panthers were born), Beyonce's dancers were photographed holding their fists in the air in a 1960s-style Black Power salute, with one dancer holding a piece of paper reading "Justice for Mario Woods," a reference to the man whose shooting death at the hands of San Francisco police drew widespread attention late last year.
Beyonce's dancers paid tribute to #MarioWoods, black man killed by San Francisco police. #SB50 #BlackLives pic.twitter.com/m2Pl9i5qKL

— Jamilah King (@jamilahking) February 8, 2016
Though Queen Bey earned some fawning adulation for her performance, naturally there was some pushback from the usual suspects. Former New York City Mayor Rudy Giuliani said on Fox and Friends this morning that "it was really outrageous that [Beyonce] used it as a platform to attack police officers who are the people who protect her and protect us, and keep us alive."
The erstwhile "America's Mayor" added:
I mean this is a political position, she's probably going to take advantage of it. You're talking to middle America when you have the Super Bowl, so you can have entertainment. Let's have, you know, decent wholesome entertainment, and not use it as a platform to attack the people who, you know, put their lives at risk to save us.
Conservative writer and noted advocate of internment camps Michelle Malkin expressed her pearl-clutching horror at the use of the word "Negro" among Beyonce's lyrics:
Cuz nothing brings us all together better than angry @Beyonce shaking her ass & shouting "Negro" repeatedly. #sb50 pic.twitter.com/70ouQLwfzs

— Michelle Malkin (@michellemalkin) February 8, 2016
Never one to miss an opportunity to stoke the fires of the culture wars, friend of police unions and IRA terrorists Rep. Pete King (R-NY) issued a statement today, which read in part:
Beyoncé may be a gifted entertainer but no one should really care what she thinks about any serious issue confronting our nation. But the mainstream media's acceptance of her pro-Black Panther and anti-cop video "Formation" and her Super Bowl appearance is just one more example of how acceptable it has become to be anti-police when it is the men and women in blue who put their lives on the line for all of us and deserve our strong support.
Bruno Mars was there too, for some reason,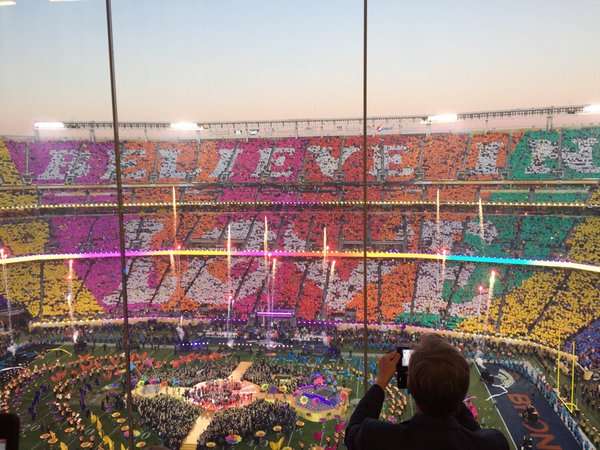 but Coldplay concluded the 12-minute spectacle with a massive participatory effort by the audience holding up placards forming a stadium-wide rainbow and the words "Believe in Love." This imagery was widely interepreted as a celebration of nearby San Francisco's legacy as America's LGBTQ mecca.
In what might be a case of squeezing political meaning out of a moment where little exists, The Daily Beast's Kevin Fallon wrote that Lady Gaga's pre-game rendition of the Star-Spangled Banner was "campy, theatrical, and queer-as-hell" and "a sign of the times."
Fallon didn't really offer much evidence that this moment was "queer-as-hell" other than the fact that Gaga is a LGBTQ icon and was dressed in a red sequined pantsuit. In fact, Fallon even conceded her performance was "earnest" and "traditional," but supposedly just by virtue of this international superstar performing at America's most watched and macho event, the moment held important significance to Gaga's "Little Monsters."
That's how it goes, sometimes people see politics everywhere as an excuse to feel outraged or aggreived, on other more rare occassions, they see hope.