How Maryland 'Neomasculinity' Blogger Roosh V Became an International 'Pro-Rape' Villain
A case study of collective catharsis through call-out culture and moral panic as meme.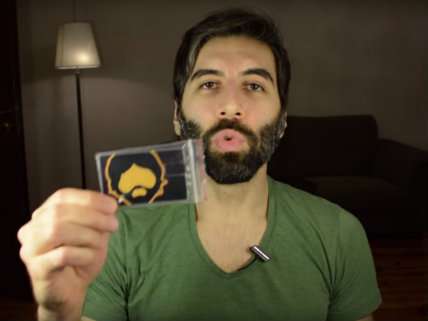 For a minute, it felt like we were on the world's most mundane secret mission: at 6 p.m., you will be emailed a secret location in Dupont Circle. Talk to no one about it. Enter through the bar and proceed down into the basement area—if anyone asks, say you're looking for Luke. There, awaiting you, will be… a conference table full of bloggers and a raging narcissist pissed at the media. Woo-hoo, Saturday night!
The reason for all this intrigue was a press conference hosted by 36-year-old writer Daryush Valizadeh, better known as "Roosh V." Though he started out in the mid-aughts preaching the gospel of "pickup artistry," that particular phenomenon has fallen out of vogue. Now Roosh heads up what he calls the "neomasculinity" movement, using his blog and the men's website Return of Kings as headquarters, along with selling self-published books about how to bang women in other countries. Until last week, he was mostly unknown outside avid followers and avid opponents. But that changed when Roosh arranged social meetups for fans in cities around the world, and a lot of activists, journalists, and politicians lost their collective minds about it.
Make no mistake: I am no fan of Roosh's writing or worldview, though I find his schtick more sleazy than terrifying, more Milo Yiannopoulos than "KKK of misogyny." On the way to Saturday's press conference, a journalist friend with me had much better humor about the whole spectacle. The self-important security scheme, the aggrieved victimhood dripping from Roosh's tweets—he was clearly loving this, and a part of me hated feeding into it. But I was going, out of a combination of curiosity, the potential newsworthiness, and it falling into the category of "too weird not to."
But perhaps Roosh was only responding in kind to the sort of paranoia with which he'd been greeted around the globe all week. 
In Australia, Immigration Minister Peter Dutton said he would consider denying a Roosh a visa. He told the Australian Broadcasting Corporation that "Australia doesn't welcome people to our country who disrespect women." In general, Australian media reported on a Roosh tweet saying "The border is weak. I will get in" and "I have the funds to get in by boat through one of multiple weak points. Money is no barrier to the operation" as if they were deadly serious.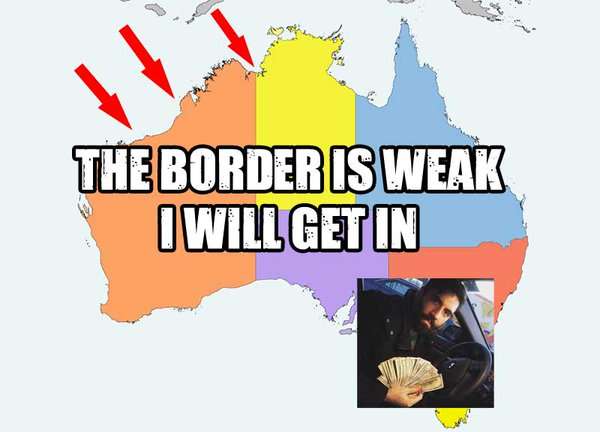 The U.K. House of Commons debated Roosh on February 4, during which Kate Green MP asked for Return of Kings fans to be deemed a "hate group"—a designation that that would make membership illegal. Home Office minister Karen Bradley MP noted that "the home secretary has powers to exclude an individual who is not a British citizen" if their presence isn't "conducive to the public good"—though she "cannot comment on individual cases"—and said she would consult with internet service providers and sites such as Facebook about possibly banning Return of Kings content. More than 40,000 people signed an online petition calling on authorities to ban Roosh from entering the U.K. and to "take all available action in this case to prevent [fan] meetings taking place," citing their "terror against women" as justification.
A similar online petition, this one signed by more than 45,000 people, warned that "there is strong evidence indicating that 'RooshV' has entered Canada and is in Montreal. We ask Mayor Bonnie Crombie of Mississauga, Mayor John Tory of Toronto, and Mayor Denis Corderre of Montreal to denounce 'RooshV' and to urge local businesses and organizations to deny him accommodation while in Canada." The petition claimed that Roosh would be coming to Canada in violation of section 319 of the Canadian Criminal Code, which bans meeting for the purpose "of inciting hatred of an identifiable group."
In America, Republican Gov. Greg Abbott put out an official statement that "this pathetic group and their disgusting viewpoints are not welcome in Texas."
District of Columbia police indicated that they had an eye on a scheduled meetup in the nation's capital. Des Moines, Iowa, police put out a Facebook message warning that the meetups "may be a ruse to commit rape. We have no information that this will actually take place but we recommend that no one, men or women go to any of the sites."
At Chicago's Loyola University, sexual assault survivors were warned to avoid the area where one local meetup was scheduled, a meetup local police said they were "well aware" of and would be "monitoring." At the University of Rochester in New York, campus admins called in extra school security officers and city police for a meetup there, sending out an all-campus alert that Roosh "offers extreme writings based on his philosophy of Neomasculinity."
The school "does not believe the event will actually happen, but is still taking precautionary measure to ensure student safety," the local Democrat and Chronicle reported. These measures included consulting with the New York State Intelligence Center, which decided that there was "no evidence to suggest a gang, group, or organization is involved."
'The Most Hated Man in America'
At Saturday's press event, five women and maybe a dozen men fill the room, folks I would soon learn work for places such as The Washington Post, DCist, Wonkette, Washingtonian magazine, Vice, The Daily Beast, and a German television station. At a few minutes after 7 p.m., Roosh comes charging through the door, sizing everyone up, barking orders about who could film where and complaining about the room's low energy. Within minutes, he says—not entirely chagrined—that he's been called the "most hated man in America."
Though their demeanors are very different and their views opposed, Roosh reminds me of another Internet-famous man who was called that, Hugo Schwyzer. A former Pasadena Community College professor and male-feminist writer for places like Jezebel and The Atlantic, Hugo's sex scandals (sleeping with students among them) and public mental-health breakdown—playing out in real time on Twitter—were very much a big thing from my vantage point in the women's blogosphere. Not only was everyone on feminist Twitter talking about it, but Schwyzer was also covered in a lot of mainstream American and U.K. outlets. A hashtag, #SolidarityIsForWhiteWomen, sprung up around allegations that Schwyzer had fucked over feminists of color. The U.K. Telegraph suggested he might be "evil incarnate."
A few years later, in D.C., whenever I've mentioned Schwyzer to writer friends or colleagues, no one knows anything about him. That the whole dramatic Hugo saga had only really been relevant and salient to a small segment of the Internet, I was sure—but I hadn't realized how truly small that segment was. "Male feminist sex scandal" gets clicks, but it doesn't stick in people's minds. I bring it up because I think this Roosh situation is very similar. The story has been magnified out of all proportion because for a lot of traffic-thirsty web writers or editors, putting "pro-rape activists" in headlines or tweets is too good to pass up—even if it may not technically be true and props up a man and movement they claim to abhor. But while it's likely to have limited reach and flash-in-the-pan stickiness for most, the Roosh situation is still interesting as a case study of collective catharsis through call-out culture and moral panic as meme. 
The root of the "pro-rape" accusation is a Roosh blog post ("How to Stop Rape") that proposes legalizing rape on private property. Roosh claims it was "a thought experiment" or satire—a disclaimer on the post now says as much—and says he doesn't think rape should be legal anywhere. Many protest that Roosh's P.S. isn't authentic. And even if it is, "the idea driving this 'satire' seems to be either that women are usually responsible for their own rapes, or that they routinely call something rape when it isn't," Emily Crockett writes at Vox.
But call it a "thought experiment" or call it trolling, I do think Roosh was being deliberately hyperbolic and provocative, as is his style, and does not believe in literally legalizing rape.
Regardless, though, does it matter if his original intent was earnest proposal if he since recanted? It shows the so-called "social justice warriors" won. Or, in less absurd terms: sane and individual-autonomy respecting views are such the social norm that even someone who states outright that his ideal society is "traditional" and "patriarchal" won't publicly condone sexual violence against women.
Literary Affect
At the press conference, Roosh tends to minimize his more outrageous statements. Perhaps it's all smoke and mirrors, but what emerges is a picture much less flattering to the international Lothario image Roosh projects but much more flattering to him as both a savvy self-brander and a human being. 
"Macho sex writing—to convert that to 'rape' takes such a leap of faith that you have to be a liar," he says when about scenes in his series of "bang books" that have been described as pro-rape.
"You literally say they were 'too incapacitated' to consent," challenges Washington Post writer Caitlin Dewey.
"Macho sex writing is not a court," Roosh fires back. "It's not a piece of evidence….Maybe some things [in the books], I wanted to come across as an aggressive guy. Maybe I do. But just because it's [in the books] doesn't mean that there is a victim out there and she suffered. Have I raped anyone? No."
So the stories were fiction? asks another reporter. No, said Roosh—but maybe they were his "interpretation" of his events.
The bottom line, though, is that "not a single woman has been hurt by me," says Roosh. "I've never been accused of rape, I've never been charged. No follower of mine has read something of [mine], and then gone on to rape, because I know if they did hurt a woman it'd be all over the news." 
The whole thing calls to mind two more male writers: Matt Taibbi, probably best known for his work at Rolling Stone, and Mark Ames, who now writes for outlets such as Pando. The pair worked together at an English-language newspaper in Russia in the late '90s and subsequently published a book about the experience called The Exile: Sex, Drugs, and Libel in the New Russia. Within this book, there are scenes of the mostly-male Exile editors sexually harassing their administrative staff—going so far as to tell secretaries they must sleep with them to keep their jobs—and Ames threatening to kill his pregnant Russian girlfriend if she doesn't get an abortion. The men never claimed at the time that it was satire or fiction. In explaining, Ames was prone to saying things like "Russian women, especially on the first date, expect you to rape them."
Despite this, Taibbi and Ames have continued to flourish as leftist writers, and as far as I know no feminist groups or Canadian mayors have tried to prevent either from visiting the country. Perhaps they're just lucky to have come of age in a different Internet era. Perhaps it helps that their politics and progressive credentials are otherwise right. 
None of Roosh's views are right, from the left's perspective. From the perspective of most Americans, really. His work routinely stresses that women should be "submissive," that their highest value is as sex objects and mothers, and that America would be greater if only women were skinnier and had less sex outside marriage.  
But while such views on gender roles are far from normative in 21st-century America, it's not as if they're relegated solely to Roosh and his crowd. There are still a good deal of evangelical Christians who preach female submission to their husbands, with a lot of blogs kept about the subject. There's a lot of popular music about how bitches ain't shit. There are immigrants from many cultures where egalitarian gender roles aren't standard. We don't—and shouldn't—prevent any of these groups from meeting or monitor them when they do.  
What's more, people with sexually deviant turn-ons or loony, bigoted, and just plain unpopular ideas get together all the time. Unless there's evidence they're plotting something criminal, authorities should back the fuck off, really.
Freedom of the Manosphere

As much as we might hate to admit it, Roosh is a journalist. His main site, Return of Kings—one of the hubs of what's sometimes called the "Manosphere"—and its forums get nearly two million visits per month. As neither Roosh nor any writers or readers of Return of Kings were under suspicion of criminal behavior, it is at the very least bizarre that law-enforcement officials would feel the need to comment and keep an eye on their gathers. And it's probably the kind of thing we should condemn, those of us interested in freedom of speech, press, movement, and association.
People will object that these groups were "pro-rape" meetups. But outside media misinformation, there was nothing about the proposed happy hours to suggest they had anything to do with rape.
"Starting on [January 31], a lot of you have lied by saying I am a 'pro rape advocate,'" Roosh tells the press gathered with him Saturday. Outlets also said the fan meetups were about "learning how to rape. 'They're going to exchange tips.' Some of you have even called it a rape rally. A rape—what the hell is that, a rape rally?"
There was no public elements planned for the 163 gatherings. Roosh calls them "social happy hour[s]" where men could "meet in private to talk about anything—work, politics, girls." The plan for each was to meet in a public place and then migrate to a nearby bar. 
Subjecting these men to police surveillance and intimidation based on the state's perception of a publication they like seems a bit totalitarian, no? Let the bitter, horny, heterosexual men have a safe space, too.
Do You Even Lift?
On February 3, a post on Return of Kings announced that the meetups would be canceled. "I can no longer guarantee the safety or privacy of the men who want to attend," Roosh wrote. "While I can't stop men who want to continue meeting in private groups, there will be no official Return Of Kings meetups."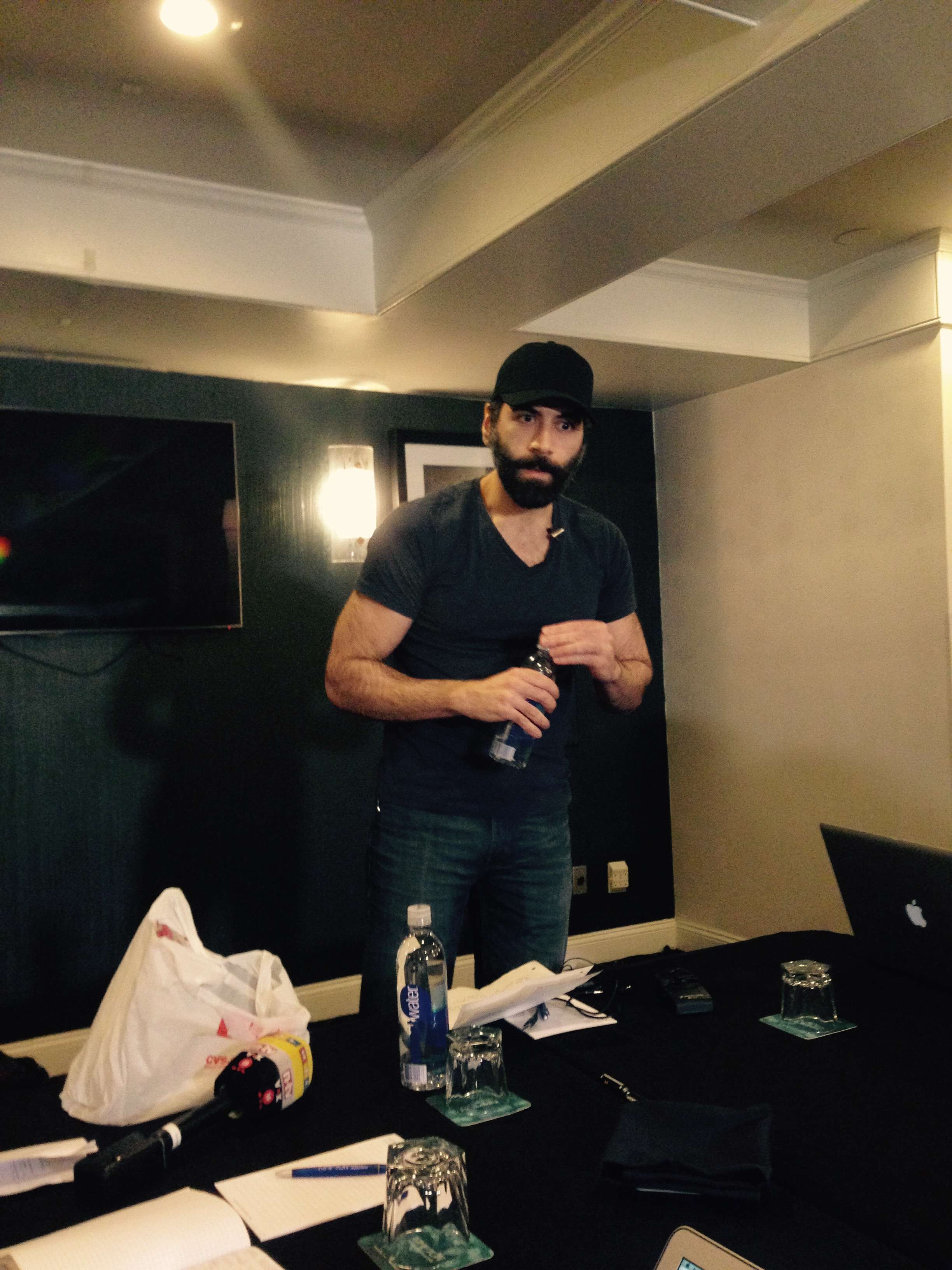 At Saturday's press event, someone asks why Roosh's cadre of alleged alpha-men would cancel get-togethers over a little thing like feminist protests or a few police cars. "Because you have gotten governments involved by lying about their intention," he responds. "Now the world thinks they're going to meet to, uh, to rape people. So why are they going to meet now? Do you think it's smart now for them to go and meet after that?"
Roosh goes on to suggest this reporter himself certainly wouldn't have gone in those circumstances, adding, "I mean, do you lift?"
It is hard to tell if this is performance or not, creating a psychic uncanny valley not dissimilar to the effect of Donald Trump's—Roosh's favorite 2016 presidential candidate, by the way. Asked what he likes about Trump, Roosh replies that it's because "he hates you guys too. The enemy of my enemy is my friend."
Someone suggests that hating the media isn't a political ideology. "But anti-establishment is," Roosh replies. 
Anti-media as he may proclaim to be, it's not inconceivable that Roosh organized and then canceled the social meetups precisely in order to gain media attention. Being prevented from meeting only fuels his followers' narrative of hysterical, punitive feminists and a "cucked" media beholden to identity politics. All of it drives more web traffic. 
Asked whether this controversy had been good for him, Roosh says it is "the best and the worst. I mean, what's going to happen now is I'm going to be known, in the media, as a 'pro-rape' advocate for the rest of my life. 'Oh, that's the guy that believes all women should be raped.' But at the same time, they're going to say, that's the guy, I know his name."
Roosh claims to live "somewhere in Europe," though he grew up in Maryland, where he says he's currently visiting family. He told Dewey he doesn't know why the house he claims is his mother's is registered under his name.
Media Malpractice
Roosh has no regrets about publishing the "How to Prevent Rape" essay, he says. "That article was making a point about personal responsibility, that a woman's safety is not only in the hands of men but it's in their own hands too. And I guess that point didn't get through, so on that account, I did fail. I failed to give the point. But that doesn't mean I did anything wrong."
Sexist pig or not—remember when people just called people sexist pigs or "chauvinists," instead of branding them dangerous on an international level?—Roosh is correct on some key points about modern media.
Asked if he could acknowledge that his writing was offensive, Roosh responds "So what if you're offended? So what if I make fun of you? Is that where we're at now, that we can't write things that hurt people's feelings? Good, get offended, feel something."
"Do I believe that a woman should submit to a man?" he says. "Yes. Does that mean that my family's address should be put online because of that, and the media staking out their home because of what I write? No."
After the hacker-collective Anonymous "doxxed" Roosh's family (i.e., revealed their home address online)—info since confirmed by The Daily Mail—Roosh says he has received "dozens" of threats of violence and arson. "Your work, and the work of your colleagues, has incited a mob, based on lies, that has put my family in danger," he chastises media Saturday. "If they get hurt right now, God forbid, it's because of you."
Roosh himself has been accused of inviting fans to dox journalists who cross him. But he insists he merely asked followers to gather publicly available information on journalists, such as their home cities and Twitter handles. "I never said I was going to share their address, that was another lie," he says Saturday. "It's like you guys can't stop lying." (Truly, the Taylor Swift of MRA bloggers, folks.) He complains that "it's like a game" for media, cutting-and-pasting from one another's stories when they see they're generating hits.  
There was a hint of "holy shit" in many of Roosh's statements, an incredulity that anyone who works or spends a lot of time on the Internet many sympathize with. Sometimes the media—mainstream, ideological, fringe, local, global, whatever—is just astonishingly bad. From the Chinese man who sued his wife for bearing ugly children to eggs being "as bad for you as smoking," the influx of Super Bowl sex-slaves to the hordes of sexist "Bernie Bros," the press routinely, en masse, gets things totally wrong.
Sometimes this is rooted in bias, but just as often it's a more economic than ideological imperative, a mandate to produce fast copy that generates good traffic. This means many writers take the veracity of other publications' reporting for granted. When the original account is incorrect, inaccuracies and distortions can spread like a game of Telephone from The Huffington Post to Jezebel to The Guardian, and so on. 
Asked whether he considers himself a victim, Roosh says "You know what, no. I take full responsibility for everything that I have done. But that doesn't mean that I can't state what you did wrong."
Vanity Virtue 
At The Washington Post, Caitlyn Dewey argues that "the number of people who actually follow Daryish Valizadeh is smaller than it looks."
"While his flagship website, Return of Kings, is well-trafficked—averaging slightly less than 2 million views per month, according to Similar Web—that number is not necessarily indicative of the size of Valizadeh's following," writes Dewey. "On both Twitter and Facebook, Return of Kings has fewer than 13,000 followers. The site's accompanying forums have registered 19,600 accounts, but half have never posted."
Dewey calls the whole Roosh situation "manufactured publicity on a scale that few fringe Internet movements have ever dreamed of." On Twitter, Roosh is milking it for all he can.
But on his blog, Roosh condemns the very sort of manufactured controversy he's complicit in. "Instead of focusing your anger on real problems in your neighborhood, city, and country, the media has made you emotional against a man who poses absolutely no threat to anyone," he chastises his opponents. "I'm being used as a target so that you can expend your rage on me instead of other entities that are genuinely hurting your standard of living."  
It's obnoxiously self-aggrandizing but…also not untrue. Roosh's assessment of what's hurting people's standard of living is probably vastly different than mine, as both are also vastly different from media-criticizing leftists like Freddie de Boer. But one thing we all agree on is a similar diagnosis: online media prioritizes sensationalism and righteous signaling over accuracy and nuance. This is far from ahistorical, of course, but it also makes modern media much less "progressive" than many in it would like to think.
At the end of Roosh's press conference, I come away feeling more charitable about him than I did going in, which could mean he's a good showman, a sociopath, someone conflicted (both Crockett and Emmett Rensin at Vox offer profiles to this effect), or simply that he's neither a terribly sympathetic person nor cartoonishly evil. In any event, the clickbaity portrayal of him as some outlandish misogynist villain, ready to storm Australia via private yacht and host how-to-rape seminars globally, overshadows more interesting and perhaps revelatory components of the manosphere phenomenon. 
If reporters had tried to talk to the men attending Return of Kings meetups, instead of insta-demonizing them, what might they have found? Rage-filled rape advocates? "Beta males" who "don't even lift?" How many of them? What way do they lean politically? What draws them to Roosh's writing? Are these guys with power, or guys trying to cope with not having power?
These would be informative things to know. Instead we have overblown fears and parody villains, predictable liberal responses, wasted opportunities. Rape is bad and good people should be against it—everybody got that? Because as common sense as that might be, it's also the only major takeaway an international press corps has established here.
The Return of Kings meetups gave the popular media and its acolytes the latest opportunity to assert their goodness, to feel the catharsis of raging in solidarity. But was even one person's opinion changed, or anyone's ability to understand one another increased?