We Went to the Democratic Debate in New Hampshire and Talked to Bernie Sanders Supporters
UNH students are Feeling the Bern, hating the fossil fuels, and bearish on Hillary Clinton.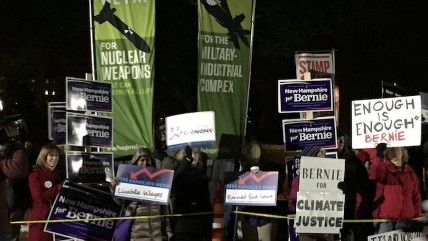 Reason was on the scene of last night's Democratic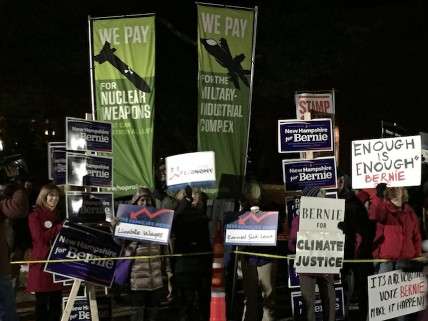 presidential debate held at the University of New Hampshire (UNH). Prior to the punchy MSNBC-moderated debate between Hillary Clinton and Bernie Sanders, supporters of both candidates rallied on campus.
The pro-Clinton crowd topped out at a modest 20-30, while the pro-Sanders group peaked at about 300 fervent demonstrators mainly focused on climate change and "keeping fossil fuels in the ground."
The Sanders supporters were loud, boisterous and frequently chanted in concert with a 7-piece marching band made up of middle-aged folks in colorfully eccentric attire. All of the demonstrators we spoke to were UNH students, many of whom would not commit to supporting Clinton if she ended up being the Democratic nominee. While they were all passionate about the environment, health care, and student loan relief, almost none of them were able to articulate how the democratic socialist senator from Vermont would be able to achieve or afford any of the policies they so passionately support.
A student holding a pink Planned Parenthood sign said she believes Sanders "has a good heart and that's something the country needs right now." When asked why Sanders has generated so much support among young people, she answered, "I think a lot of reasons college students support him is his stance on lowering tuition rates or getting rid of them completely. People are concerned it'll raise taxes too much, but by giving people the opportunity to go to school to get a better job, they'll pay those taxes. It'll pay for itself." She added that if Clinton were the nominee, should would probably vote for the Green Party candidate.
A UNH student, who told us he is originally from the UK but a citizen of the US and a registered Democrat, said he believes Sanders' health care plan (which by Sanders' own estimate would cost upwards of $1.38 trillion annually) will be fully-funded "if he taxes Wall Street like he says he would. He's going to tax the right people. Take the money away from the 1%, bring it back to the 99%, and restart democracy like our forefathers."
Giselle, a junior, said Sanders' health care plan is feasible because "If we can spend a trillion dollars on war, we can go into debt for health care." She added, "Hillary isn't committed to stopping fossil fuel extraction. The technology is out there if we invest in it to provide for our energy needs without extracting fossil fuels."
Dominick, a senior, said he's supporting Sanders, but that he's really supporting climate awareness and that Clinton's support for fracking disqualifies her from receiving his vote. When asked if he thought renewable energies would generate enough power to light up the entire country's electrical grid, he replied, "Oh absolutely, we're always looking for new inventions, I think more money is going to solar and wind, you also have composting and hydrothermal vents."
A trans student named Kal told us he supports Bernie because "he has the strongest stance on fossil fuels and climate change. He also was one of the first candidates to say Black Lives Matter, and his stance on the living wage and various things that make life better for people who are not on the top of the economy." Kal added, "I don't know if I'd support Hillary. She hasn't yet said she would keep all fossil fuels in the ground, which is important for me to have life on earth continue. The amount of fossil fuels we have already dug up is enough to roast the earth more than one time once. We don't need to keep drilling."
A student holding up a sign protesting drone strikes and the Democrats' policy regarding Palestine said that he is a socialist who is not supporting either Democratic candidate, "I don't think Bernie is a progressive or a socialist. He's supported interventions in Bosnia and Somalia. He supports the apartheid and occupation and war crimes in Palestine. He has told people who protested on behalf of Palestine to shut up. There's no progress in the Democratic Party. Bernie's the lesser evil compared to Hillary but he's still evil."
Tucked among the Bernie crowd was a young man wearing Donald Trump's signature "Make America Great Again" cap. When asked what the hell he was doing embedded within a Bernie Sanders rally, he said he's not a Trump supporter, but he does support the message on his hat. He added that he was raised conservative and is leaning toward voting for Ted Cruz, but could not name a single policy of Cruz's he supports and said he never talks politics on campus.
As the hour approached for the debate to begin, we noticed a small and rather docile group of Hillary Clinton supporters about a hundred yards down the road. Few were willing to speak with reporters, but one student named David told us, "I think you look at Hillary's plans and they'll get through Congress. She's worked across the aisle. Bernie's great, but his stuff will never get passed. Hillary can get into office and get to work day one."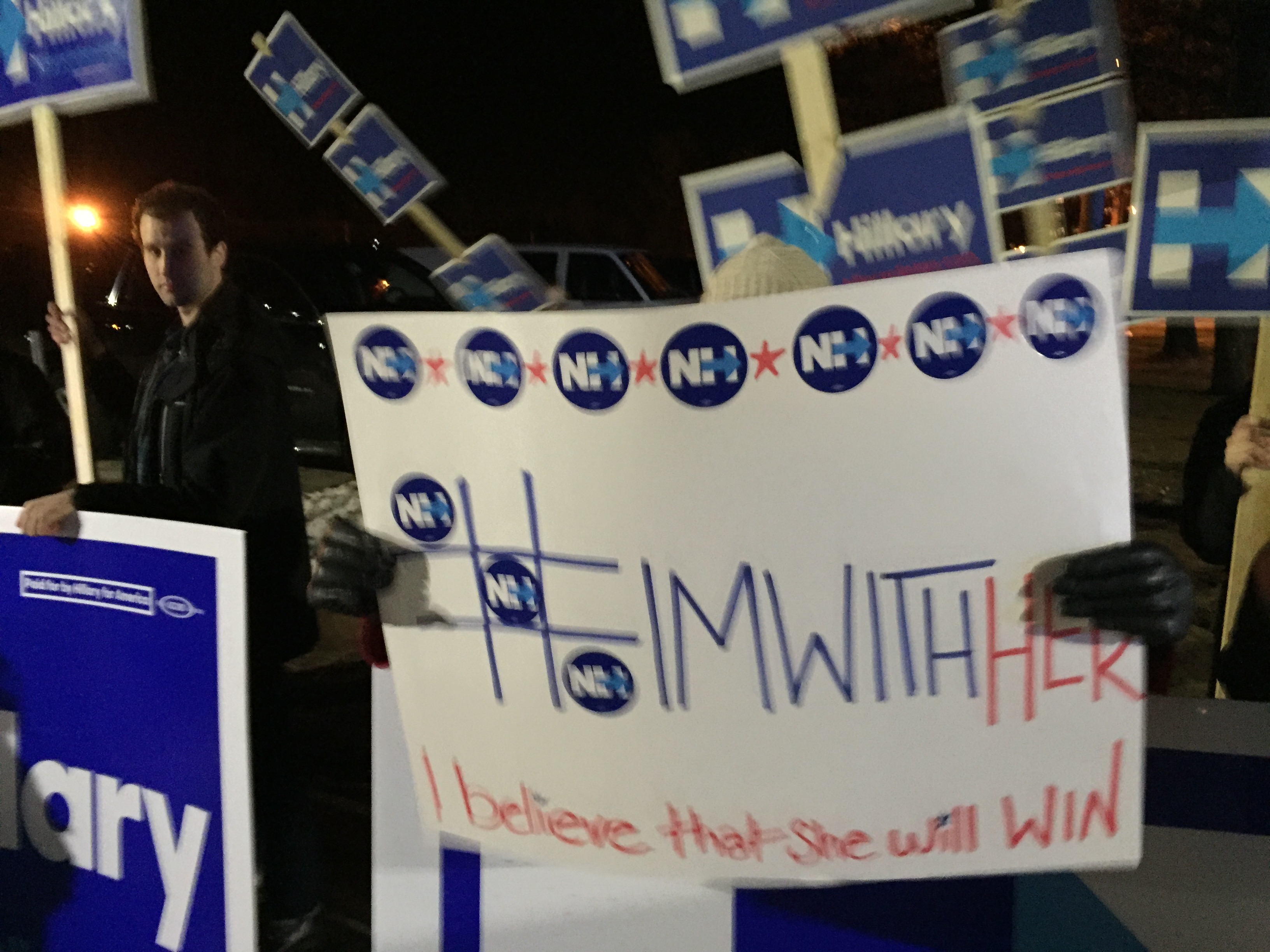 A student named Alexa admitted her support for Hillary was purely about identity, "She has my full support because I'm a female and I think a woman should be in power."
During the debate itself, we left the confines of the media room and sat among about a hundred undergrads gathered for a debate viewing party in the student union. One of these students told us she believed "Hillary thinks she's entitled to be president, and Bernie's one of us." She added that there was considerable chatter among the student body that the decision to hold the event in the Johnson Theatre, as opposed to one of several larger venues on campus, was a deliberate attempt to limit the amount of pro-Sanders students at the debate.
Overall, the UNH students we encountered seemed passionate, engaged in political action, and enjoying the thrill of a major party debate held on their campus on the eve of a key primary, including the spectacle of secret service motorcades and hundreds of members of the media descending on their cafeteria. It would be easy to roll one's eyes at their idealism or frequent inability to articulate the policies that motivate them to support their preferred candidates, but it's unlikely the general adult populace could do much better with a microphone stuck in their face.
Sanders co-sponsored the Keep it In the Ground Act late last year, intended to "stop new drilling leases on public land in the West and in the Gulf of Mexico, Atlantic, Pacific and Arctic oceans." I must admit, I hadn't heard of this bill until today, but there's no question it was hands down the biggest hit of the UNH students we encountered prior to last night's debate.