Video of Long Beach Killing by Police of Suspect Released; Officer Shot Partner, Then Both Shot Suspect
The crime for which Noel Aguilar had been apprehended? Riding a bike wearing headphones. Petty law enforcement claims another life.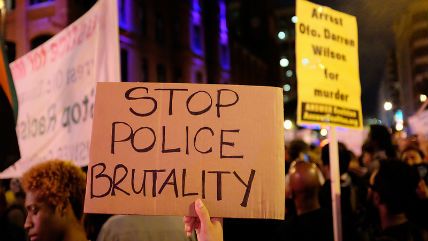 When Noel Aguilar was shot and killed by two officers in Long Beach, California, in May 2014, the police initially reported that Aguilar had shot Officer Albert Murad before Murad and his partner Jose Ruiz shot and killed Aguilar.
It turns out that in the melee with the pinned Aguilar, his partner Ruiz accidentally shot Murad (who survived) before both men within a minute shot Aguilar and killed him.
Newly released video via Aguilar's family's attorney shows the whole incident, including the rather harsh treatment of Aguilar's cuffed and dying body by Ruiz, and prefaced with a very Officer Friendly-esque "You fuckin' move I'm gonna kill you bitch" from an officer to Aguilar:
The Orange County Weekly reported in detail and first gave press coverage to the video, including this detail about how the wounded Aguilar was treated:
How the deputies handled Aguilar after he had been shot is also a matter of concern, [lawyer Angel] Carrazco says. "He's facing down after being shot four times and they're on top of him," Carrazco says. "There needs to be a medical conclusion to find out whether they were trying to get him to asphyxiate or bleed to death. By the video, it seems like they were trying to do both." Aguilar can be heard screaming, "I'm dying!" while onlookers berate the deputies in English and Spanish that they shot him in the back and to get off him because he's dying. 
The grim punchline, for those concerned with the laws and policing practices that lead to this awful outcome?
The police had apprehended Aguilar for the crime of riding his bicycle while wearing headphones.
I have alas had occasion to write in the past about the madness of all the petty reasons police have to begin an interaction with us, interactions that create danger for both officers and citizens.
Hat tip: Photography is Not a Crime.