Iowa Supreme Court Makes Legalized Theft Harder by Rejecting an 'Unreasonably Extended' Traffic Stop
The common practice of pretextual stops aimed at finding seizable money takes a hit.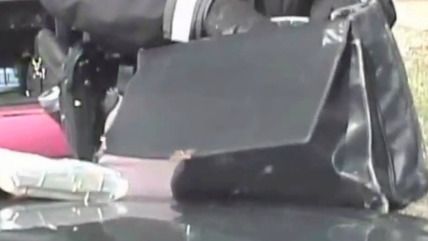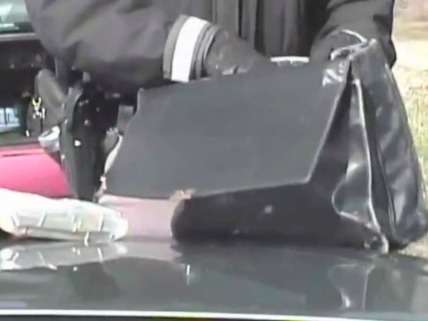 Last April, in Rodriguez v. United States, the U.S. Supreme Court said police may not extend a traffic stop for the purpose of walking a drug-sniffing dog around the vehicle unless they reasonably suspect the driver is carrying contraband. Last Friday the Iowa Supreme Court cited Rodriguez in a decision that limits cops' ability to stop people and take their property while investigating drug trafficking under the guise of enforcing traffic laws.
On the morning of June 13, 2012, Iowa State Trooper Eric Vander Weil pulled over a westbound silver Toyota with California plates, ostensibly because part of one taillight was not working and because the car was following too closely behind a tractor-trailer. Those alleged violations were merely a pretext for catching drug smugglers. Or as Vander Weil later put it, traffic law enforcement "was really just the avenue through which I could conduct a criminal interdiction investigation."
Vander Weil said his suspicions had been aroused by the car's out-of-state plates and by the fact that the driver, John Saccento, "looked over at him, then looked away and didn't look back at him again." Meanwhile, Saccento slowed down and gripped the steering wheel "at the ten and two positions." In other words, he exhibited exactly the sort of conspicuously law-abiding behavior you would expect of a drug trafficker trying to avoid unwanted police attention—or of any other driver who notices a nearby patrol car.
After Vander Weil pulled Saccento over, officially to write him warnings for the two minor traffic offenses that were the legal justification for the stop, he noticed some other details that struck him as suspicious: The car had a lived-in look, with food, trash, and a sleeping bag visible in the backseat, and there was "a strong odor of air freshener." Questioning Saccento and his passenger, Robert Pardee, about the nature of their trip, Vander Weil thought their story—that Saccento was moving from California back to his native state of New Jersey in several cross-country drives—seemed fishy, as such an approach would not be "cost-effective."
That is pretty much all the evidence that Vander Weil initially had, and the Iowa Supreme Court concluded it was not enough for the reasonable suspicion he needed to detain Saccento and Pardee past the 10 minutes or so that would have been necessary to write the warnings and check for outstanding warrants. Vander Weil ultimately detained them for 25 minutes before another trooper arrived with a drug-detecting dog, alternately going through the motions of an ordinary traffic stop and asking them probing questions aimed at uncovering drug law violations. The dog alerted to the car, which led to a search that "revealed small amounts of marijuana in the center console, in the backseat, and in the trunk," plus a computer bag containing $33,100 in cash, which police seized along with the pot.
Pardee, who said the money was his, challenged the seizure. Among other things, he argued that Vander Weil had violated the Fourth Amendment rule laid out in Rodriguez by unreasonably prolonging the traffic stop. The Iowa Supreme Court agreed that "the trooper prolonged the stop in violation of the Fourth Amendment beyond what was necessary to address the observed traffic violations."
It looks like Vander Weil was right to suspect that Pardee's money had something to do with drugs. Seven months after the the Iowa traffic stop, Pardee was arrested in Nebraska and admitted to police there that the $33,100, which he had told the Iowa authorities "represented proceeds from the sale of one or two pickups," actually "represented proceeds from the sale of marijuana in New York." But the same techniques that Vander Weil used to take Pardee's marijuana money can also be used to take money from legitimate sources. Less than a year after Vander Weill pulled over Saccento, for example, another Iowa trooper took $100,000 from two poker players who, like Saccento, were driving west on Interstate 80, returning to California from a tournament in Joliet, Illinois.
That stop followed the same pattern, with a minor traffic violation serving as a pretext for interrogation and a canine inspection. The dog supposedly alerted to the poker players' car, even though it contained no drugs. In light of Rodriguez as applied in Pardee's case, it seems clear that the prolonged stop, the ensuing search, and the resulting seizure were unconstitutional. In fact, any pretextual traffic stop that involves "blending" traffic enforcement with drug investigation—a common practice that tends to make the detention longer than it would otherwise be—could now be open to challenge in Iowa.
The Iowa State Patrol downplayed the impact of last week's ruling. "This decision is based on the specific facts in the case, and the case makes it clear that every fact scenario is different," a spokesman said. "It does not 'dismantle' anything. It modifies the law—as most cases do—and we will continue to do our work based on the guidance provided by the courts."
Last August I noted a Nevada forfeiture case in which a federal judge rejected an end run around Rodriguez that involved successive traffic stops by two different cops.
[Thanks to Mark Lambert for the tip.]