California Pot Initiative Backed by Gavin Newsom and Sean Parker Gains Support
The Adult Use of Marijuana Act allows on-site consumption, restricts advertising, and bans big growers for five years.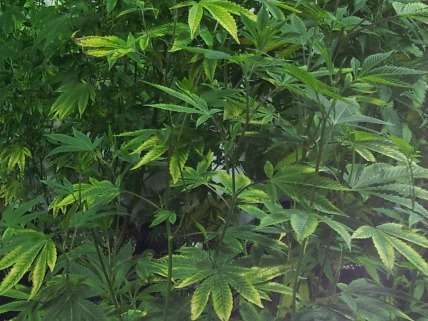 Yesterday most of the activists leading the Coalition for Cannabis Policy Reform (a.k.a. Reform CA), which filed a marijuana legalization initiative with California's attorney general in October, announced that they are throwing their support behind an alternative measure backed by Lt. Gov. Gavin Newsom and former Facebook President Sean Parker. The latter initiative, known as the Adult Use of Marijuana Act (AUMA), is similar to the Reform CA initiative, known as the Control, Regulate, and Tax Cannabis Act. Both would allow adults 21 or older to possess up to an ounce of marijuana in public, grow marijuana at home, and possess the produce of those plants. Both assign the task of regulating commercial production and distribution to the California Department of Consumer Affairs, which legislation enacted in October charges with regulating medical marijuana.
Here are some of the differences between the initiatives:
1. The AUMA limits home cultivation to six plants, compared to Reform CA's limit of 100 square feet.
2. The AUMA imposes a cultivation tax of $9.25 per ounce of dried flowers, plus a 15 percent tax on retail sales. The Reform CA measure calls for taxes of $2 per square foot of canopy, $15 per ounce on the first sale, and a 10 percent retail sales tax. Depending on the pretax retail price, those two sets of levies might end up having a similar effect on the final cost to consumers. The AUMA aims to tax marijuana "in a way that drives out the illicit market" while discouraging "use by minors" and "abuse by adults"—a tricky balance.
3. The AUMA limits the size of commercial growers to 22,000 square feet for the first five years, a ceiling aimed at "allowing smaller growers to establish themselves in the market," and bars such "large cultivation licensees" from holding distribution licenses.
4. The AUMA prescribes a specific warning label for marijuana products: "THIS PACKAGE CONTAINS MARIJUANA, A SCHEDULE I CONTROLLED SUBSTANCE. KEEP OUT OF REACH OF CHILDREN AND ANIMALS. MARIJUANA MAY ONLY BE POSSESSED OR CONSUMED BY PERSONS 21 YEARS OF AGE OR OLDER UNLESS THE PERSON IS A QUALIFIED PATIENT. MARIJUANA USE WHILE PREGNANT OR BREASTFEEDING MAY BE HARMFUL. CONSUMPTION OF MARIJUANA IMPAIRS YOUR ABILITY TO DRIVE AND OPERATE MACHINERY. PLEASE USE EXTREME CAUTION."
5. The AUMA imposes specific restrictions on marijuana advertising, prohibiting signs on highways that cross state lines or within 1,000 feet of various locations where children gather, ads "intended to encourage persons under the age of 21 years to consume marijuana," and "symbols, language, music, gestures, cartoon characters or other content elements known to appeal primarily to persons below the legal age of consumption."
Like the Reform CA measure, which says regulators should "promote fair competition and discourage monopolization," the AUMA says they should strive to avoid the "creation or maintenance of unlawful monopoly power." It is not clear what that goal, which is supposed to guide licensing decisions, will mean in practice. But it is not hard to imagine how a policy officially aimed at promoting competition might be used as a cover for protecting entrenched interests.
Unlike initiatives in other states that have imposed broad and vague limits on consumption in "public" settings, both initiatives would explicitly allow cannabis consumption outside of private residences. The Reform CA measure makes consumption legal in "a private residence or such other location as permitted under this Act." The AUMA would "prohibit the consumption of marijuana in a public place unlicensed for such use." It refers to "facilities where on-site consumption of marijuana is permitted" and allows local regulation of state-licensed retailers and "microbusinesses" (retailers that grow their own inventory, à la brew pubs) to make sure that "access to the area where marijuana consumption is allowed is restricted to persons 21 years of age and older," that "marijuana consumption is not visible from any public place or non-age restricted area," and that "sale or consumption of alcohol or tobacco is not allowed on the premises."
The members of Reform CA's board who have endorsed the AUMA include Oakland medical marijuana entrepreneur Richard Lee, who backed an unsuccessful legalization initiative in 2010; Neill Franklin, executive director of Law Enforcement Against Prohibition; Stacia Cosner, deputy director of Students for Sensible Drug Policy; Nate Bradley, executive director of the California Cannabis Industry Association; and David Bronner, founder of Dr. Bronner's Magic Soaps. The AUMA is also supported by the Drug Policy Alliance and the Marijuana Policy Project. Bronner says it's time to "unite everyone behind a single, consensus measure to achieve a legal, regulated system."