The Dead in San Bernardino: Heartbreaking Portraits of Everyday People
Expect their murders to spur rash of useless laws to restrict everything from guns to immigration to refugee status.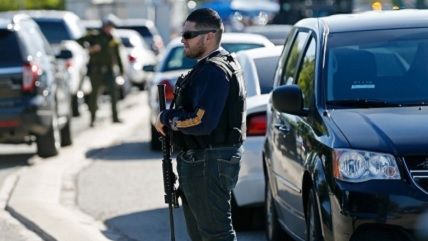 As law enforcement continues to investigate the motives for the mass shooting in San Bernardino, the Los Angeles Times has released short profiles of the dead and wounded in the attack. It is difficult reading, to the say the least, to learn the details of lives snuffed out for no good goddamn reason.
A father of six. A free-spirit who befriended strangers in the grocery store checkout line. A mother of three who fled religious persecution in Iran. A woman who was 8 when she and her mother left Vietnam for a better life. The youngest was 26. The oldest was 60….

LA Times

Bennetta Betbadal fled to America with her family to "escape Islamic extremism and the persecution of Christians that followed Iranian Revolution."

She was 18 at the time, according to statement released by her family. Her first stop was New York but she eventually moved to California, where she met and married Arlen Vedehyou, a police officer.

Betbadal left her Rialto home Wednesday, eager to deliver a presentation to her colleagues in the San Bernardino County Department of Public Health at their meeting at the Inland Regional Center.

She would not return to her husband and their three children, 10, 12 and 15 years old….

LA Times

Tin Nguyen was just 8 when her mother fled Vietnam with her child and maternal grandparents. The family toiled and saved their paychecks to rebuild after the war in a country they believed was safe. A place where "younger people would find their rewards through education."

Nguyen graduated from Cal State Fullerton with a degree in health sciences. For more than four years, she had worked as a county health inspector. On the job, she screened plenty of mom-and-pop restaurants, and away from work, she made sure to stay in constant touch with aunts, uncles and nearly 30 cousins ranging from age 3 to 41.

"You cannot imagine how caring she is. She had such a big heart," Emily Nguyen, 16, said of her cousin. "She never said no to us and would give you anything you asked."…

LA Times

Around Lake Arrowhead, Mike Wetzel was a frequent sight, running errands with his six children in tow, three from his first marriage and three from his second.

He loved babies, said family friend Arlene Arenas, 40, and could soothe a colicky infant when no one else could.

His first year coaching local AYSO soccer, he led a team of five-year-old girls just learning the sport. Their team had a princess theme.

"He was super tall, and the littlest of girls thought he was a giant," said Arenas, whose daughter played on the team. "He had no qualms about letting them follow him around, or walking around like a monster, with the little ones shrieking and hanging off his legs."
Expect the senselessness of their deaths to be compounded by a rush to enact all sorts of gun laws and restrictions on immigrants, refugees, and American citizens that will do absolutely nothing to prevent this sort of thing from happening again.