Police Unions Freak Out Over Quentin Tarantino's Mild Anti-Police Killings Statement
Questioning everything leads to war on cops and more tired old myths.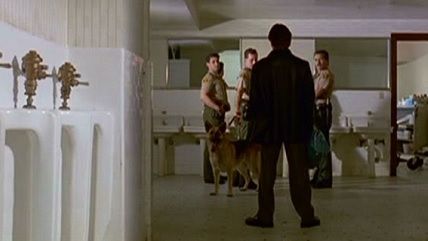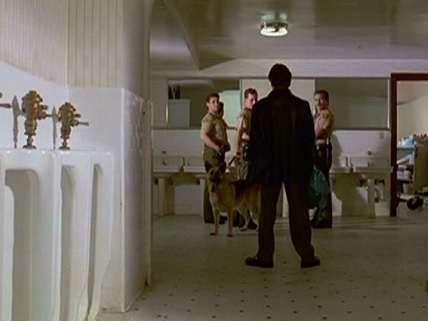 Police union leaders from New York City to Los Angeles blasted filmmaker Quentin Tarantino for daring to show up at an anti-police brutality rally and actually saying something.
Because the police union leaders' responses are so disproportionate to what Tarantino said, here are the entirety of his reported comments first, via AP:
"I'm a human being with a conscience," said Tarantino, who flew in from California for the event. "And if you believe there's murder going on then you need to rise up and stand up against it. I'm here to say I'm on the side of the murdered."
The "rise up" phrasing was a nod to the event, RiseUpOctober, organized by the Stop Mass Incarceration Network, a group set up by academic Cornel West and Carl Dix, a founding member of the Revolutionary Communist Party USA.
Cue the outrage.
From Patrick Lynch, the Patrolmen's Benevolent Association (PBA) leader in New York City, via a press release:
"It's no surprise that someone who makes a living glorifying crime and violence is a cop-hater, too. The police officers that Quentin Tarantino calls "murderers" aren't living in one of his depraved big screen fantasies — they're risking and sometimes sacrificing their lives to protect communities from real crime and mayhem. New Yorkers need to send a message to this purveyor of degeneracy that he has no business coming to our city to peddle his slanderous "Cop Fiction." It's time for a boycott of Quentin Tarantino's films."
Not a lot to unpack here. There's no indication Tarantino is confusing the worlds he creates in his films from the one he's living in, though Lynch's comment about Tarantino peddling fiction at the rally might mean Lynch has the two confused.
Neither did Tarantino appear to deny that cops risk and sometimes sacrifice their lives on the job. One of the primary goals of the broader police reform movement is merely more transparency and more accountability. Cops risk their lives, but we don't live in a Quentin Tarantino movie and the job of a police officer is getting less dangerous than it's ever been before.
Lynch got support from around the country.
Philadelphia's Fraternal Order of Police joined the boycott, as did the Los Angeles Police Protective League (PPL). The statement from Craig Lally, president of the Los Angeles PPL, via a press release:
"We fully support constructive dialogue about how police interact with citizens. But there is no place for inflammatory rhetoric that makes police officers even bigger targets than we already are. Film director Quentin Tarantino took irresponsibility to a new and completely unacceptable level this past weekend by referring to police as murderers during an anti-police march in New York. He made this statement just four days after a New York police officer was gunned down in the line of duty. New York police and union leaders immediately called out Tarantino for his unconscionable comments, with union head Patrick Lynch advocating a boycott of his films. We fully support this boycott of Quentin Tarantino films. Hateful rhetoric dehumanizes police and encourages attacks on us. And questioning everything we do threatens public safety by discouraging officers from putting themselves in positions where their legitimate actions could be falsely portrayed as thuggery."
More to unpack here. The LA union leader says he supports constructive dialogue on police interactions with citizens, but then pivots to calling Tarantino's fairly reasonable statement "inflammatory rhetoric" and twisting it from a statement about people Tarantino believes were murdered by cops to a statement about police being murderers.
Not every unjustified and criminal killing may rise up to the requirements of premeditation for murder, but several cops have been charged with murder in recent months, and many more have been involved in questionable killings.
Tarantino focused on the victims, the murdered. He didn't even refer to their specific killers explicitly as murderers, let alone police in general. Expressing concern about victims of police brutality and police killings shouldn't be labeled "completely unacceptable" speech by the organizations that represent the people entrusted to use violence against us to maintain compliance with the law.
Lynch avoided using the tragic killing of a police officer in New York City to bolster his case against Tarantino. After all, no one has publicly supported the killing of that officer, or his murderer. The suspect was transferred to police custody after being discharged from the hospital, and has already been charged with first degree murder and appeared in court. No one has publicly supported the suspect or advocated for leniency. The families of victims of police violence don't have those kinds of experiences.
But Lally didn't avoid trying to use the tragic death of a New York City police officer to score political points , going further to call Tarantino's statement "hateful rhetoric" that "dehumanizes police" and "encourages attacks" on them. A statement that started off in support of "constructive dialogue" ends with a gross mischaracterization of one prominent person's comments about victims of police violence.
Then Lally brings up the tired old canard of "everything" police do being questioned and how that "threatens public safety by discouraging officers from putting themselves in positions where their legitimate actions could be falsely portrayed as thuggery."
This is, of course, far from the truth. There are a lot of people concerned with police reform, and a wide range of movements and proposals about it. Most of them concern transparency and accountability. Most importantly, in many places, like New York City and Los Angeles, police officers have strong job protections that prevent transparency and accountability. These kinds of rules help produce bad actors.
If, in that protective environment, Lally claims mere public discourse about police action discourages them from performing their duties, that seems to be a powerful case to get rid of those actual protections—the kinds of contract rules that help keep cops involved in misconduct but not criminally convicted employed by their police departments—that contribute to so much of the tension and need for dialogue about police interaction with citizens in the first place. Even if cops?socialism, they're part of democratic institutions. And democratic institutions require transparency and accountability, the kind that free speech encourages and permitting agents of the state to organize for their own self-interest doesn't.