Donald Trump's Shameful Eminent Domain Abuse
Trump tried to seize an elderly widow's home via eminent domain.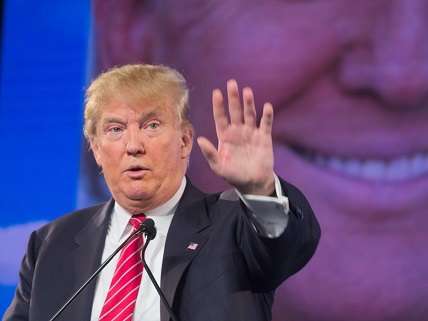 In 2005 the U.S. Supreme Court allowed a local government to seize people's homes and bulldoze their working-class neighborhood so that a private real-estate developer working in cahoots with a powerful private corporation could build fancy new amenities in their place, such as a luxury hotel and conference center. In an interview last night on Fox News, Republican presidential frontrunner Donald Trump gave a ringing endorsement to both that abysmal ruling and the blatant land grab it authorized. "I think eminent domain is wonderful," Trump told host Bret Bair.
But wait, aren't conservatives supposed to be opposed to government attacks on private property? Not according to Trump. "Eminent domain, when it comes to jobs, roads, the public good, I think it's a wonderful thing, I'll be honest with you. And remember, you're not taking property…. I don't think it was explained to most conservatives."
My colleague Matt Welch has already detailed the many fallacies embedded in Trump's shameful endorsement of eminent domain abuse. But since Trump seems to think that conservatives will benefit from a thorough explanation of the issue, I wanted to offer one more piece of relevant information: In 1994 Trump sought to personally profit from eminent domain abuse by using government power to kick an elderly widow out of her Atlantic City home.
This despicable event was made possible by a shadowy state agency known as the Casino Reinvestment Development Authority (CRDA), which sought to take the home of a woman named Vera Coking, who lived just off of Atlantic City's famous beachfront boardwalk, and replace it with a new limousine parking lot for the nearby Trump Plaza hotel and casino.
Thanks to the expert legal help of the Institute for Justice, whose lawyers represented Coking, the CRDA's desire to wield eminent domain on Trump's behalf was laughed out of court. "What has occurred here is analogous to giving Trump a blank check with respect to future development on the property for casino hotel purposes," declared the Superior Court of New Jersey in a sharp ruling against Trump and the CRDA. Vera Coking stayed in her home.
Donald Trump thinks the issue of eminent domains has not been properly "explained to most conservatives." Perhaps Trump might explain why the Constitution should be read to permit the government to kick elderly widows out their homes for the direct benefit of people like him.