Ohio's Marijuana Legalization Initiative Qualifies for the 2015 Ballot As Language of a 2016 Massachusetts Initiative Is Finalized
The Massachusetts measure would keep taxes relatively low and allow cannabis cafés.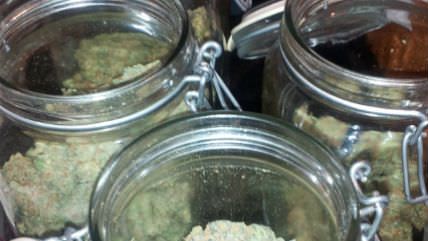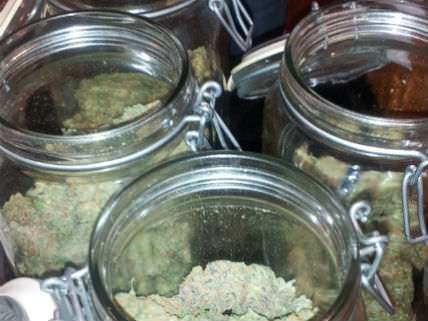 Yesterday Ohio's secretary of state announced that Responsible Ohio, the organization backing a proposed Marijuana Legalization Amendment, had collected enough valid signatures to qualify the measure for this November's ballot. That means Ohio will be the first state to consider legalizing marijuana since voters in Alaska and Oregon decided to do so last year. Legalization initiatives are expected to be on the ballot in several other states next year.
Responsible Ohio has attracted more than the usual criticism of marijuana legalization because its initiative would create a cannabis cultivation cartel consisting of the amendment's main financial backers. In February, responding to criticism of its locked-down approach to marijuana growing, Responsible Ohio decided to include "regulated and limited home growing" in its initiative. The revised version of the measure allows adults 21 or older to grow up to four flowering plants and possess up to eight ounces at home for personal consumption, provided they obtain state-issued licenses. That change moved the Ohio initiative closer to the laws in the jurisdictions that have legalized marijuana so far: Except for Washington state, they all allow home cultivation. Also like the earlier state initiatives, Ohio's allows adults to possess an ounce or less of marijuana in public. It prohibits consumption in "any public place," which it does not define.
Responsible Ohio spokeswoman Lydia Bolander says the initiative's limit on commercial producers is designed to facilitate regulation and ensure that "those individuals are ready and willing to start production as soon as possible." She adds that there will be many other opportunities for people to make money in the newly legal cannabis industry. The amendment, Bolander says, allows "one retail store per 10,000 residents statewide, which would give us about 1,100 retail stores that could be licensed throughout the state." (By comparison, Washington, with a population about 40 percent smaller than Ohio's, initially planned to license just 334 recreational retailers.) Bolander adds that newcomers are welcome in edible manufacturing, pot testing, and "peripheral businesses in the supply chain."
Local governments also stand to benefit financially from marijuana legalization, since they will get 85 percent of the revenue from the taxes specified in the amendment: 15 percent of gross revenue received by growers and marijuana product manufacturers, plus 5 percent of gross revenue received by retailers. By contrast, the states that have legalized marijuana so far are taxing it based either on price or weight.
If voters approve the constitutional amendment, which in Ohio requires only a simple majority, it will be the first time a state without a medical marijuana law legalizes the drug for general use. Under current law, possessing even the tiniest amount of marijuana, no matter the reason, is a misdemeanor; as little as 100 grams (about 3.5 ounces) can lead to a jail sentence; and twice that amount is a felony. It's not clear whether Ohioans are ready to leap from that system to one in which not only consumption but production and distribution (provided they are authorized) do not trigger any punishment at all.
A Quinnipiac University poll conducted in March found that 52 percent of Ohio voters thought adults should be allowed to "possess small amounts of marijuana for personal use," which is not quite the same as legalizing commercial production and distribution. "Our internal polling has definitely shown that there's very strong support for full legalization," Bolander says, "and we're confident that that number's only going to continue to grow between now and November."
Rob Kampia, executive director of the Marijuana Policy Project (MPP), which is backing legalization measures in five states next year, thinks it's risky to put a marijuana initiative on the ballot in a year when people are not electing a president, since turnout is lower then, especially among the younger voters who are most likely to favor legalization. He worries that a defeat in Ohio could be portrayed as a reversal of the movement's momentum. "That failure will be the only failure in the country," he says, "and then the media will feed on that: 'Oh, my God, legalization is backsliding.'"
Bolander counters that an off-year election in Ohio has advantages. "Ohio in a presidential year, the political noise is just cacophonous, and you really cannot have a conversation about another issue that isn't influenced by political dynamics that are outside of your control," she says. "Rather than trying to have that conversation in a year when we're also talking about a presidential race, a Senate race, and numerous other congressional and local races at the same time, this is going to give us a unique platform to be able to have a bigger conversation about why this is such an urgent necessity for Ohio."
Last week the Campaign to Regulate Marijuana Like Alcohol in Massachusetts, one of the MPP-backed efforts, submitted the language for its initiative. Like the Ohio amendment and the successful initiatives in Alaska, Colorado, Oregon, and Washington, it would allow adults 21 or older to possess an ounce or less of marijuana in public. They would be allowed to have up to 10 ounces at home, plus any amount they produce there. Home cultivation would be limited to six plants per adult and 12 plants per household. Commercial growers and sellers would be regulated by a Cannabis Control Commission.
Taxes would be relatively low, presumably to avoid underpricing by the black market, which continues to be a problem in Colorado and Washington. The initiative imposes a special 3.75-percent tax on retail marijuana sales, on top of the standard sales tax. Local governments would be allowed to impose an additional sales tax of up to 2 percent. Medical marijuana would be exempt from those taxes.
In a departure from previous initiatives, the Massachusetts measure, known as the Regulation and Taxation of Marijuana Act, would allow consumption of cannabis products on the premises of businesses that sell them, subject to regulation by the Cannabis Control Commission and approval by local voters. The initiative says "no person shall consume marijuana in a public place or smoke marijuana where smoking tobacco is prohibited" but adds that the rule "shall not apply to a person who consumes marijuana or marijuana products in a designated area of a marijuana establishment located in a city or town that has voted to allow consumption on the premises where sold." Those provisions, which allow for something like Amsterdam-style cannabis cafés, are aimed at resolving the sticky question of where, aside from private residences, people can consume marijuana once they are allowed to buy it.