Proposed Initiative Would Authorize BYOC Cannabis Cafés in Denver
Businesses that exclude people under 21 could allow marijuana consumption.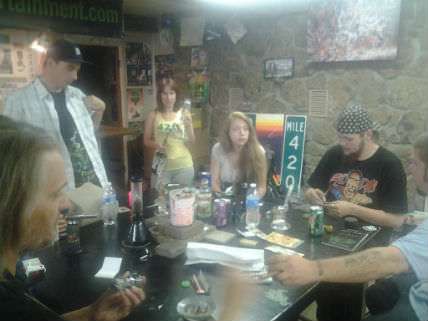 A persistent puzzle in Colorado since marijuana was legalized there at the end of 2012 is where people can consume the cannabis they are now allowed to grow, buy, and possess. Using marijuana "openly and publicly" remains illegal, but the meaning of that phrase is contested. The problem is particularly acute in Denver, which interprets the phrase as covering any business open to the public. As a result, Denver has more pot stores than the rest of the state combined but almost no locations, aside from private residences, where people who patronize those businesses can legally consume the products they buy. Now two of the activists behind Amendment 64, Colorado's legalization initiative, are trying to remedy this silly situation by putting the question to voters.
Last week Mason Tvert, who is now director of communications at the Marijuana Policy Project, and Brian Vicente, a Denver attorney specializing in marijuana law, launched the Campaign for Limited Social Use, which aims to place an initiative on Denver's ballot this November that would allow cannabis consumption in businesses open only to adult 21 or older. That is the cutoff for buying and possessing marijuana under Colorado law. It is also the drinking age, so bars could welcome cannabis consumers under the proposed initiative, as long as they complied with state restrictions on smoking. So could clubs or even coffee shops that exclude people younger than 21. Customers would have to bring their own cannabis, but the businesses could sell food and beverages.
Such cannabis-friendly joints would be a pretty dramatic change for Denver. Terrified of turning into Amsterdam, the city is not even willing to tolerate private, members-only clubs where people can use marijuana they obtain elsewhere—an option that is counterintuitively available in Colorado Springs, a much more conservative city that bans the sale of marijuana for recreational use. The dearth of cannabis-friendly environments in Denver is especially inconvenient for visitors from out of state, who come for the thrill of openly buying pot, only to find that they still have to consume it on the sly.
"Marijuana's now a legal product for adults in Denver, and it's really time that we give adults a place to use it legally and socially," Tvert told the Associated Press. "We shouldn't be requiring that you sit at home if you choose to use marijuana as an adult." The campaign needs to collect 4,726 signatures by early August to get the initiative on the ballot.