Apple CEO Tim Cook Pushes Back on Government Efforts to Stymie Private Encryption
Weakening encryption "has a chilling effect on our First Amendment rights and undermines our country's founding principles."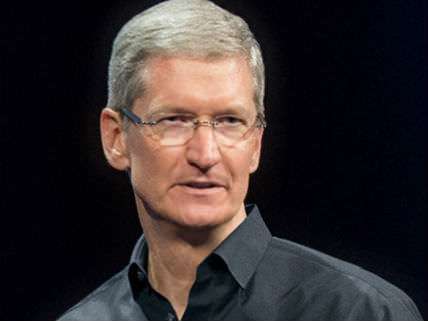 Some modest progress was made against the encroachments on privacy by the national security surveillance state with the passage of the USA Freedom Act yesterday. But citizens can't count on Congress to protect their privacy, so they should take that responsibliity into their own hands. Fortunately, private companies are beginning to defy government snoops and offer their customers data encryption services. For example, Facebook rolled out a feature earlier this week that enables its users to shield their communications using PGP encryption.
Yesterday, during a video speech at the Electronic Privacy Information Center Apple CEO Tim Cook fiercely defended citizen privacy. From TechCrunch:
"Like many of you, we at Apple reject the idea that our customers should have to make tradeoffs between privacy and security," Cook opened. "We can, and we must provide both in equal measure. We believe that people have a fundamental right to privacy. The American people demand it, the constitution demands it, morality demands it."…

"There's another attack on our civil liberties that we see heating up every day — it's the battle over encryption. Some in Washington are hoping to undermine the ability of ordinary citizens to encrypt their data," said Cook.

"We think this is incredibly dangerous. We've been offering encryption tools in our products for years, and we're going to stay on that path. We think it's a critical feature for our customers who want to keep their data secure. For years we've offered encryption services like iMessage and FaceTime because we believe the contents of your text messages and your video chats is none of our business."

The U.S. Department of Homeland Security has been waging a war on "pervasive encryption," painting it as an enabler of terrorism. Every security researcher and logical human being on the planet understands that this is ridiculous. And Cook is one of them.

"If you put a key under the mat for the cops, a burglar can find it, too. Criminals are using every technology tool at their disposal to hack into people's accounts. If they know there's a key hidden somewhere, they won't stop until they find it," Cook continued.

"Removing encryption tools from our products altogether, as some in Washington would like us to do, would only hurt law-abiding citizens who rely on us to protect their data. The bad guys will still encrypt; it's easy to do and readily available." …

"Now, we have a deep respect for law enforcement, and we work together with them in many areas, but on this issue we disagree. So let me be crystal clear — weakening encryption, or taking it away, harms good people that are using it for the right reasons. And ultimately, I believe it has a chilling effect on our First Amendment rights and undermines our country's founding principles." …

"We shouldn't ask our customers to make a tradeoff between privacy and security. We need to offer them the best of both," Cook wrapped up. "Ultimately, protecting someone else's data protects all of us."
Absolutely right.
Hat tip Richard Rohde.