Make Amtrak Safer and Privatize It
The federal government should not be in the railroad business.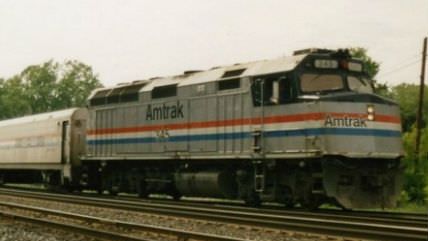 The fatal Amtrak crash earlier this month is generating renewed discussion about the right way to run a railroad.
Some say the solution is mandatory seat belts for train passengers. Others want more government spending on "infrastructure."
Missing from the conversation, at least until now, has been the name of a publicly traded, for-profit private company that might help show the way to a solution to the Amtrak problem.
The company is Genesee & Wyoming, Inc., which owns or leases freight railroads that operate in 41 states, four Canadian provinces, Australia, and Europe. At Genesee, safety starts not with technology or spending but with culture. The company's core purpose is "to be the safest and most respected rail service provider in the world."
The company's website home page showcases its "safety first" approach front and center, and safety awards earned by Genesee & Wyoming employees are recorded in the company history as events just as significant as corporate acquisitions of other railroads.
G & W's injury rate, one measure of safety, is four or five times better than that of other railroads of its type, and better than that of much larger railroads, including Amtrak.
"Safety is never 'fixed,' and we are committed to continuous improvement. Our goal is for every one of our operating regions to be injury-free, every day," the company says on its website. In a video, one of the safety award winners, Mark Sheffield, explains some of the tactics involved—signs, audits, checklists.
The emphasis on safety hasn't been bad for business; $10,000 invested in GWR stock ten years ago would now be worth $55,975.90, an increase of about 460 percent. In a free, competitive market, businesses that emphasize safety can decrease costs for insurance and litigation and increase the satisfaction of customers and employees.
In other words, safety doesn't have to be a mandate that comes from government. It can be a differentiator, a unique selling proposition in the competitive market that is capitalism.
This is true in transportation industries other than railroads, too. Remember the Volvo commercials showing that car's protective steel cage? Or consider how other automobile companies are introducing safety features, from back-up cameras to lane-drift alerts, to attract safety-conscious buyers.
After the government deregulated airlines during the Carter administration, airline safety actually improved, while flying became more affordable. That's part of the reason that inter-city passenger rail service is a money-loser, despite government efforts to make airplanes less attractive than trains by imposing intrusive Transportation Security Administration searches on airline passengers but not on Amtrak passengers.
How bad is Amtrak? The airlines have figured out in-flight wi-fi internet in the sky, while Amtrak's internet service on the ground is still painfully slow. The railroad even manages to lose money on its café cars, which have a captive audience.
One reasonable solution to the Amtrak problem would be to put the railroad's routes up for bid to be bought by private operators. Routes that make economic sense, like the Northeast corridor, might attract private bidders—perhaps airlines like Delta or Jet Blue, perhaps freight train companies like Genesee & Wyoming or Warren Buffett's BNSF. Others might have to be shut down, displeasing politicians.
But railroads shouldn't be run for the purpose of pleasing subsidy-providing politicians. They should be run to serve customers and make profits for owners.
Vice President Biden issued a statement after the crash asserting, "Amtrak is like a second family to me."
The rest of us would probably settle for having a railroad that gets us and our actual, real families where we're going safely and reliably.