Marco Rubio Announces His Candidacy for the Republican Presidential Nomination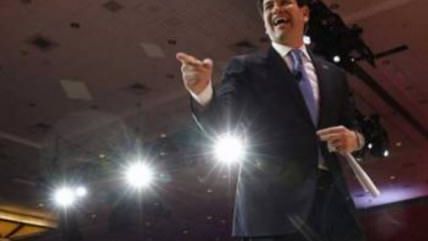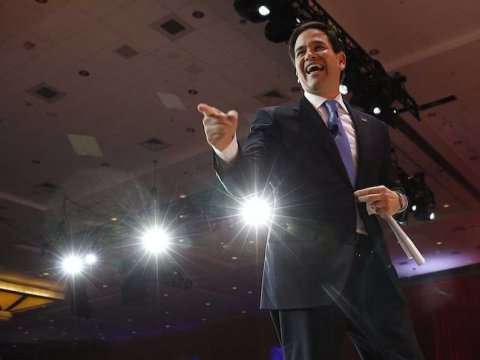 Sen. Marco Rubio (R-Fla.), a Tea Party favorite who gave a phenomenal victory speech on Election Night 2010, is officially running for president.
From USA Today:
"I honestly believe that the country is at a moment in its history where the choices it makes over the next four to six years is going to determine the identity of our nation moving forward and the choice us before is: Will it remain a special country?" Rubio said during a recent Fox News interview.

Rubio's announcement comes the day after Clinton made her long-awaited entry into the race. Throughout the run-up to his campaign launch, the Florida senator has made little secret that he will make contrasts with the former secretary of State as the "architect of a failed foreign policy."
That honestly is a bit off-putting, don't you think? Is that a tell or what?
A Cuban American from Florida, Rubio drew ire from nativists when he backed a non-draconian immigration plan a couple of years back. He's backed off that, gave an unintentionally comic response to a State of the Union Address, and is now pushing to maintain sanctions about Cuba and regularly calls for a more-boffo defense budget and interventions abroad. He is also terrible on The Patriot Act, as Tea Party Rep. Justin Amash (R-Mich.) is only too happy to explain.
Rubio has been a vocal critic of Obama's approach to foreign policy, on everything from his handling of Iran and tensions in the Middle East to the threat from the Islamic State. He denounced Obama's steps to normalize relations with the Communist regime in Cuba and has clashed with GOP rival Rand Paul on the issue.

Rubio counts among his mentors Jeb Bush, who has yet to officially jump into the race, and said the former Florida governor's candidacy would not impact his decision. He has said he's confident of raising money and putting together staff to show his will be a credible campaign.
Along with another Tea Party senator from the Class of 2010, Utah's Mike Lee, Rubio has sponsored a "family fairness" tax plan which is a budget-busting attempt to buy votes. More about that here. All of which makes him "one of the strongest GOP candidates running in 2016," says NBC. And he's "real" and he's "spectacular" according to The Daily Beast's Eleanor Clift in a Seinfeld homage.
A big announcement from the man himself is slated for 6 p.m. ET tonight.