Sex-Trafficking Victims Hurt Most by Senator's Crusade Against Classified Ads
Closing sites like Backpage.com puts trafficking victims at even more risk.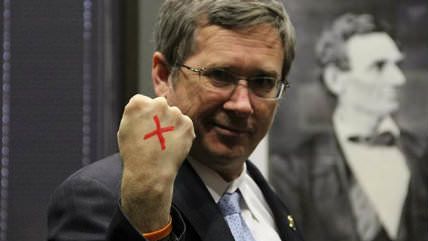 According to the logic of many lawmakers, those engaged in prostitution are always victims. And once you have victims, you need victimizers—people who can be heroically beaten back by courageous law enforcement personnel. Generally, the victimizers are identified as sex traffickers or pimps. But a bill from Senator Mark Kirk (R-Ill.) targets another popular bete noire: classified advertisers.
Kirk's bill, S. Res. 439, singles out Backpage.com for Congressional censure. Backpage.com is the second largest online classified section in the U.S., after Craigslist.* Kirk's bill doesn't actually outlaw the site, which would be very difficult because of First Amendment protections. But the hope seems to be that negative publicity will cause the site's owners to shutter Backpage, or at least its "adult" listings section, just as Craigslist closed its erotic services listings in 2010 under similarly concerted pressure.
Kirk says that sites like Backpage "facilitate sex trafficking." His bill is part of the battle against this "modern day slavery." Kirk's website throws around numerous frightening and dubious statistics, such as a claim that 300,000 children are "at risk of being trafficked for sex in the United States" every year—a figure from a 2011 study which refers to children who have the potential to be trafficked, not to actual victims." It also declares that "the Internet is the #1 platform in the U.S. for advertising prostitution," a factoid which seems both feasible and inconsequential. More and more commerce is being done online; why should that be any different for adult services?
The implication, of course, is that the Internet makes prostitution more dangerous and exploitive. But is it really less safe for women to advertise online than (as one obvious alternative) to work on the street?
Terra Burns, the author of a report on sex work in Alaska, says that closing outlets like Backpage.com puts women more at risk. "I don't think that getting rid of advertising mediums is helpful to anybody," Burns says. "It's harmful to people who are doing sex work at the most survival level, who can't afford more expensive advertising venues and are forced out on the street. And it's harmful for sex trafficking victims who are also potentially forced out onto the street."
"Those are the people who are affected the most by this kind of thing," Burns added. "It's not some evil sex trafficker, because he … can deal with changes in the market."
Backpage is currently being sued by some trafficking victims for contributing to their exploitation. Yet many law enforcement officials admit, reluctantly, that Backpage is actually very helpful in their work catching sex traffickers. Clearwater, Florida, Police Chief Anthony Holloway, for example, declared that Backpage "needs to be shut down" while contradictorily acknowledging that "it's a good investigative tool for us right now for trafficking." He also admitted that, if the site were shut down, advertisers would simply move to other, less regulated venues.
Mistress Matisse, a Seattle dominatrix and sex-worker rights advocate, agrees that Kirk's bill would neither stop traffickers nor help victims. "To the extent that they actually exist, actual traffickers will just advertise elsewhere, or put people on the street," Matisse says. "And people just trying to get money for food and shelter will have to resort to even more dangerous means as well." Matisse argues that "if Kirk really wants to help people, he should be fighting for more anti-poverty programs and homeless shelters, especially teenage homeless programs."
Burns suggests that lawmakers look at "coercion by police officers" and discrimination in accessing public services. "In my survey a lot of [sex workers] were discriminated against in accessing shelter," she said,  "but of the people who were sex trafficking victims, 100 percent of them were denied emergency shelter."
The survey didn't provide detailed information about why victims had trouble with the shelters, but some respondents did tell Burns that they were turned away because of where they met the people they were seeking shelter from (presumably, while selling sexual services). Burns comments, "when someone's a sex-trafficking victim and they're seeking emergency shelter, and you deny them that shelter, you're most likely causing them to continue to be sex trafficked."
It's notable that both Burns and Matisse offer solutions aimed at empowering victims, rather than a villain to scapegoat. If you want to help marginalized people, you need to stop marginalizing them, not talk of rescue while driving victims—and their abusers—further underground.
Decent treatment for stigmatized populations does't fit easily into a heroic narrative, however. So instead, Kirk bravely goes after Backpage. It's almost like the real crime here is not trafficking, but visibility. Sex workers who can't advertise are sex workers you can't see—which makes it easier to portray them all as victims in need of heroes.
* This article originally stated that Backpage.com was owned by Village Voice Media (VVM). The company actually split from Backpage in 2012.