New York Activist Billy Talen Goes to Trial Rather Than Plea Out Over "Obstructing Government Administration" Charge
Leading a "Black Lives Matter" Protest Talen Insists Video Shows He Was Breaking No Law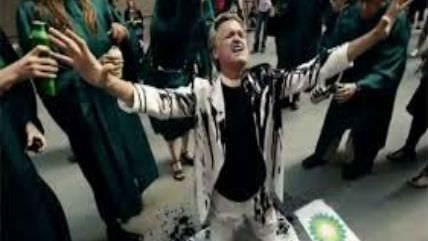 New York-based activist and author Billy Talen, who generally works under the aegis of "Rev. Billy and the Stop Shopping Choir" has refused to plea out over a January arrest in New York City's Grand Central Station during a "black lives matter" vigil, claiming he violated no laws and asking for a trial.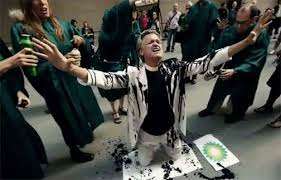 A press release from his spokeswoman Marnie Glickman released last week says:
"New York City police stop protests they don't like by cuffing us, 700 of us or one of us, put us in the Tombs or a bus garage overnight, then offer credit for time served and freedom from jail time if we plead guilty," said Reverend Billy. "But they should have been protecting our First Amendment in the first place, not feeling threatened by it…"

In the wake of his arrest, the MTA, through spokespersons, alleged that Talen had attacked or pushed police, though video of the interactions between Talen and MTA police show that Talen did not push or attack police officers….

Talen's attorneys have also filed a notice of intent to sue the MTA for false arrest, First Amendment retaliation, libel, slander, and other related claims on Mr. Talen's behalf.
A Village Voice report, which helps explain further why Talen is trying his luck in court instead of pleaing out:
Talen faced charges of disorderly conduct and obstructing government administration stemming from a January anti-racism protest at Grand Central Terminal.

Adjournments to contemplate dismissal involve setting aside the case for six months. As long as the defendant does not get arrested in that time, then the case is dismissed and sealed and the defendant has no criminal record…

[Talen] and his attorney, Wylie Stecklow, flat-out rejected the proposal, saying that, in lieu of an on-the-spot dismissal of the charges, they wanted to take the case to trial. Now Talen could face a year in jail for the charge of obstruction of government administration….

"The allegations cannot be proven. They're just not true," says Stecklow. "In this particular case Reverend Billy has done nothing wrong. This is harassing Reverend Billy…and we look forward to our day in court."….

Talen says that for him, the issue at hand is one of civil liberties. "Grand Central [Terminal], if that isn't protected by the First Amendment, then what is?" he says. "It's a big space, 750,000 people there, it's a secure space…Go there and speak your piece. We've got to protect expressive politics and free speech in Grand Central."
Disclosure: I know Talen through interviewing him for my book This is Burning Man and have had other friendly interactions with him through the years.
Video of the incident. The moment the cops collar him is around 1:30; you judge whether you see attacking, pushing, disorderliness, or criminal obstruction.