Is the D.C. Ban on Public Pot Use Still Enforceable?
Initiative 71 seems to override a law against "consumption of marijuana in public space."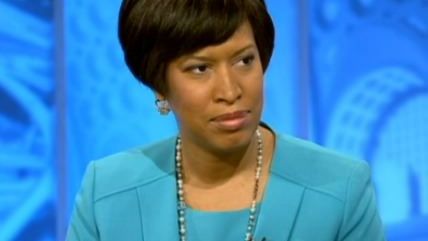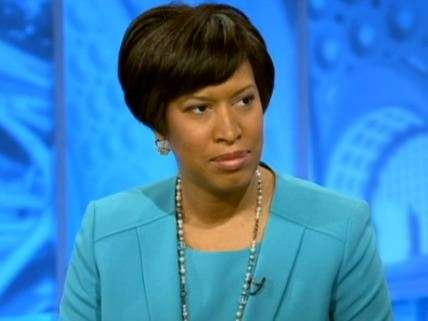 Yesterday D.C. Mayor Muriel Bowser assured anyone worried by marijuana legalization in her city that it will not turn the nation's capital into Amsterdam on the Potomac. She emphasized that Initiative 71, which takes effect after midnight tonight, will not make it legal to consume cannabis in public. D.C. Police Chief Cathy Lanier likewise said the initiative allows "home use," not public use. And in a Q&A on "Everything You Need to Know to Stay Out of Jail When Pot Is Legal in D.C.," Washington Post reporter Perry Stein warned that "you cannot smoke in public, anywhere." I'm not so sure.
The D.C. Council did pass a ban on public cannabis consumption as part of last year's Marijuana Possession Decriminalization Amendment Act. That law prohibits "consumption of marijuana in public space," which includes "any place to which the public is invited" (such as a bar or restaurant) as well as sidewalks, streets, parking lots, and vehicles located in public. Even after possessing up to an ounce of marijuana became a citable offense punishable by a $25 civil fine, consuming marijuana in public remained a misdemeanor punishable by a fine of up to $500 and up to 60 days in jail.
But Initiative 71, which amends D.C.'s Controlled Substances Act, says "use" of marijuana by adults 21 or older "shall be lawful, and shall not be an offense under District of Columbia law." It says that is so "notwithstanding any provision of this chapter to the contrary." The "chapter" to which it refers is Title 48, Subtitle III, Chapter 9, which is the same chapter where the pre-existing ban on public consumption is located. Since Initiative 71 does not itself impose any restrictions on the locations where cannabis may be consumed, it seems to override the earlier provision.
Maybe I am missing something. Today I asked D.C. General Counsel David Zvenyach, the office of D.C. Attorney General Karl Racine, and the D.C. Cannabis Cannabis Campaign, which backed Initiative 71, how the ban on public consumption can still be enforceable in light of the ballot measure's language. So far I have not received a satisfying answer, but I will let you know if and when I do.