Hong Kong Clashes as Cops Remove Protesters' Barricades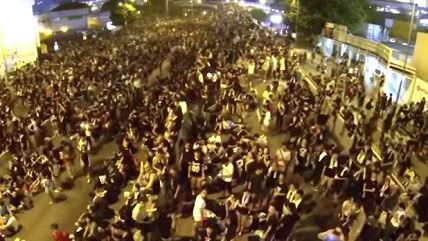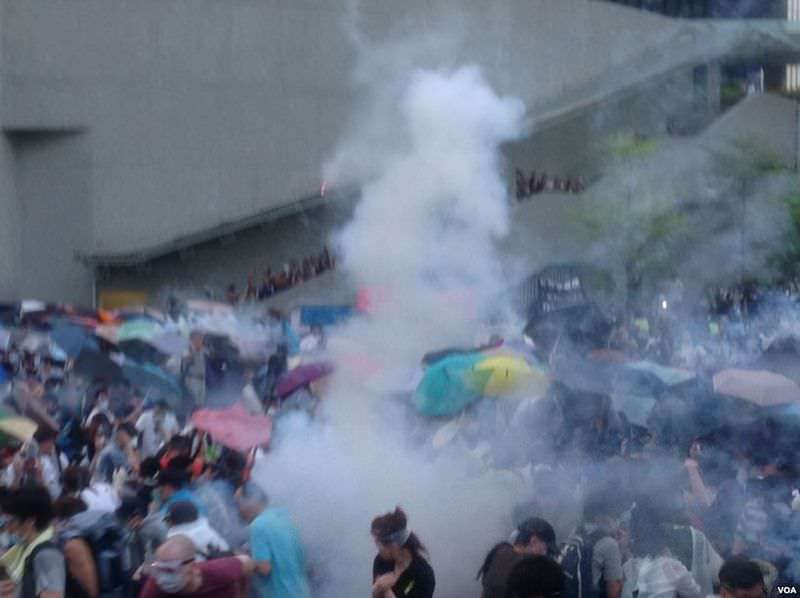 The situation in Hong Kong is heating up today. Pro-democracy protesters are struggling with both the police and violent bands of masked men.
AFP reports on law enforcement dismantling barricades set up by demonstrators in the city's financial district:
"There was no warning in advance whatsoever. It was nasty," [said] student protester Lanny Li.

Li said the occupied area is shrinking making it more vulnerable.

"This is the last line of defense for the people near the government offices," said Cherry Yuen as she sat in front of metal barriers 50 meters from police lines.

"The police just want to trick us again. We won't move and I'm ready to get arrested."

"The police refuse to communicate with us, they just do what they want," said Wong King-wa, 25.
According to The New York Times, "More than 50 protesters rallied and prevented officers from taking down barricades."
Protesters want Leung Chun-ying, Hong Kong's chief executive, to step down and for mainland China to allow the people of Hong Kong to vote for their representatives. Leung has promised talks with the protesters, but has since cancelled them. He insists that the protests are "out of control" but have "almost zero chance" of changing China's control over Hong Kong's leadership.
Protest leaders issued a joint statement countering that "in fact, it is our government that is out of control—a government that fires tear-gas at unarmed citizens and unilaterally terminated dialogue with the students."
But, the government isn't the only problem for protesters today. After the police cleared some barricades, people opposed to the students' demonstrations began attacking.
The Economist reports that "masked men" and "a cavalcade of taxi drivers, angered by loss of business, drove up to the barricades and honked their horns, accusing student protesters of 'chilling out in tents' while the working class struggle to make a living."
"Hundreds of people opposed to the pro-democracy demonstrations here attacked the protesters' main camp on Monday, trying to tear down street barricades," says the Times.
By contrast, the pro-democracy students' civil disobedience has been, well, pretty civil: They clean up messes, recycle, and stay off fresh-cut public grass. Although their numbers waned last week, they surged again on Friday, and are in the "tens of thousands."
Chinese state-run media blames the U.S. for the pro-democracy sentiment and unrest.
Euronews got some footage of today's scuffles: