First Annual Food Freedom Fest Offers Reasons for Optimism
The Farm-to-Consumer Legal Defense Fund's first annual Food Freedom Fest, which took place last weekend, was a fantastic event.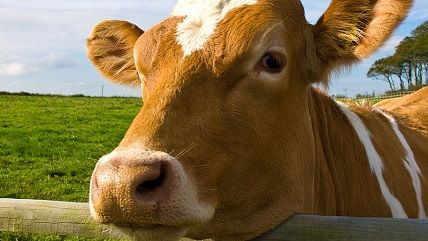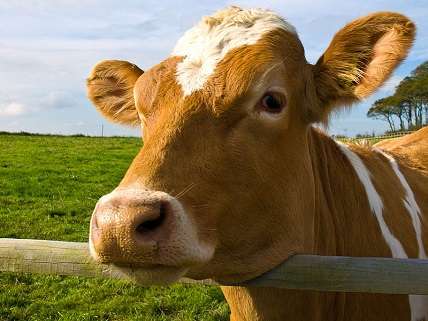 Last weekend, I had the honor of taking part in the Farm-to-Consumer Legal Defense Fund's first annual Food Freedom Fest. The two-day event, held in Staunton, Virginia, brought together an estimated 200 supporters of food freedom from as far away as California.
FTCLDF, which advocates on behalf of small farmers and their customers on many issues, including the rights of farmers to sell raw milk, billed Food Freedom Fest as "a fun, educational gathering for anyone who celebrates and appreciates freedom of choice in agriculture."
Journalist and author David Gumpert, writing up the event at his blog, described Food Freedom Fest as centered "on overcoming the sense of an expanding, and ever-more-controlling, food regulatory structure."
Speakers at Friday's conference included Rep. Thomas Massie (R-Ky.), whose bona fides include introducing legislation in the nation's capital to legalize raw milk and raising grassfed beef on his Kentucky farm. The event also featured a talk by honoree Joel Salatin, an author, owner of Polyface Farm—located just outside Staunton—and perhaps America's best-known farmer.
Salatin urged the crowd—many of whom have been targeted by government regulations that strangle their livelihoods—to embrace an approach in which they ground their future efforts in optimism. That might appear to be a tough sell. I've taken part in several events geared toward supporters of small farmers, and the constant and excessive regulatory pressure they face tends to mean optimism is in scarce supply.
But Food Freedom Fest was the first such event I've attended in which the optimism Salatin called for was palpable. Several fellow attendees I spoke with by email after the event agreed.
"The food freedom festival gave farmers and activists a glorious opportunity to strengthen our resolve by coming together in honor of the land we love, the farmers we cherish, and the food we cultivate," says Liz Reitzig, a farmer advocate who writes at Nourishing Liberty.
"Food Freedom Fest built a bigger tent for the leadership in the local food movement," says Pete Kennedy, who leads FTCLDF. "[I]t was an event where activists from around the country met, enjoyed each other's company, and rekindled their energy and enthusiasm for the work that lies ahead."
"The food rights movement came of age at this conference," I told Gumpert.
But optimism, while important, only goes so far. There's also the need for vigilance.
"Food Freedom Fest raises our awareness of real threats posed by today's dominant, monopolistic, government-enabled food industry, and catalyzes solutions by highlighting the erosion of our basic rights to eat the foods of our choosing," says John-Mark Hack, executive director of the Local Food Association.
Optimism and vigilance may not suffice. But lawsuits are another tool.
"The Institute for Justice litigates across the country to secure food freedom at the local, state, and federal levels," says Ari Bargil, an IJ attorney who works on the group's Food Freedom Project. "The Food Freedom Festival introduced us to activists, attorneys, and farmers of all stripes, who are all just as devoted to this important cause."
Hack's and Bargil's comments hit home for me this week. After returning from Food Freedom Fest, I spent this past Tuesday at a one-day conference in Washington, DC (comped, just as my ticket to the Staunton event had been), that featured several high-ranking FDA officials discussing enforcement under the Food Safety Modernization Act. The conference made clear that the FDA will be leaning more heavily on small farmers (and others) in the coming years. Those who evinced such optimism in Staunton still have a powerful foe in the nation's capital.