If Democrats Seek to "Rally Blacks" Against Police Militarization, They Might Start with the Congressional Black Caucus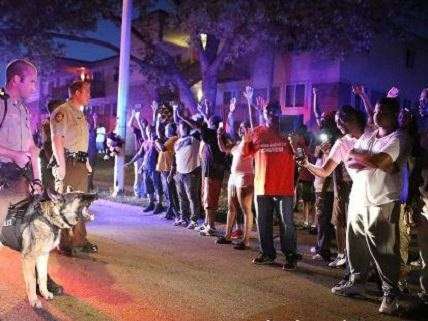 The New York Times reports that, "At Risk in Senate, Democrats Seek to Rally Blacks." Specifically, the Times says
Democrats are trying to mobilize African-Americans outraged by the shooting in Ferguson, Mo., to help them retain control of at least one chamber of Congress for President Obama's final two years in office….

"Ferguson has made it crystal clear to the African-American community and others that we've got to go to the polls," said Representative John Lewis, Democrat of Georgia and a civil-rights leader. "You participate and vote, and you can have some control over what happens to your child and your country."
Lewis might want to start with his colleagues in the Congressional Black Caucus, many of whom were blase about police militarization as recently as June. As Ed Krayewski has noted, in June, Rep. Alan Grayson (D-Fla.) sponsored an amendment to the National Defense Authorization Act (H.R. 4355) that would have prevented federal giveaways of military equipment to local police departments around the country. "My amendment," explained Grayson, "would prohibit the Department of Defense from gifting excess equipment, such as aircraft—including drones—armored vehicles, grenade launchers, silencers, and bombs to local police departments. Those weapons have no place in our streets, regardless of who may be deploying them." 
The amendment went down to spectacular defeat, with just 62 votes in favor and 355 against. Lewis voted for the amendment, but he was joined by just seven (out of a total of 41 House members with voting privileges) of his Congressional Black Caucus colleagues: John Conyers (MI-13), Donna Edwards (MD-04), Keith Ellison (MN-05), Mike Honda (CA-17), Barbara Lee (CA-13), Bobby Scott (VA-03), Maxine Waters (CA-43).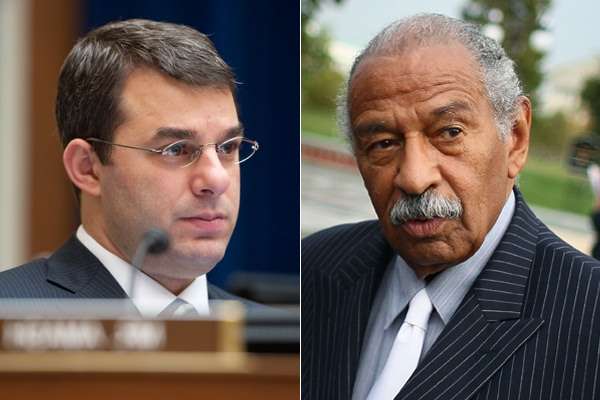 As Krayewski noted, among the African-American members of Congress voting against the amendment (and thus in favor of continued federally aided militarization of police): Rep. Lacy Clay (D-Mo.), who represents Ferguson.
As I wrote at The Daily Beast recently, events in Ferguson have done far more than bring the scandal of police militarization (finally) to a national audience. They also open up a space for new possibilities in politics that break with the exhausted categories of Republican and Democrat, conservative and liberal, white and black, and so many other seemingly intractable antagonisms. The outspoken response of libertarian-leaning Republicans (such as Rep. Justin Amash, who voted in favor of Grayson's amendment, and Sen. Rand Paul) belied a congruence of interests that is rarely acknowledged by contemporary political discourse:
What Ferguson demonstrates is how tightly related abstract concerns libertarians have about the government's power and the very real-life fears of police harassment that many African Americans have really are. So too are other issues of interest to both groups, ranging from school choice to sentencing reform to occupational licensing. As these sorts of newly recognized common causes filter through the culture, all sorts of new coalitions and possibilities can come to fruition. Glimpses of this are already visible in actions such as the nearly successful effort by Republican Rep. Justin Amash and Democratic Rep. John Conyers to defund National Security Agency surveillance programs last summer.
We should add eminent domain abuse to the list, and I'm sure there are more shared issues that warrant inclusion. Does anyone seriously doubt that standard-issue politics are as played out as the Comstock Lode, which just like the Democratic and Republican parties, predates the Civil War?
Read the whole Beast piece, "The Libertarian Moment in Ferguson," here.