Portuguese Food Co-op Fights Back Against EU-Mandated Waste
Baylen Linnekin speaks with Maria Canelhas from Fruta Feia, which has saved literally tons of great food from the garbage.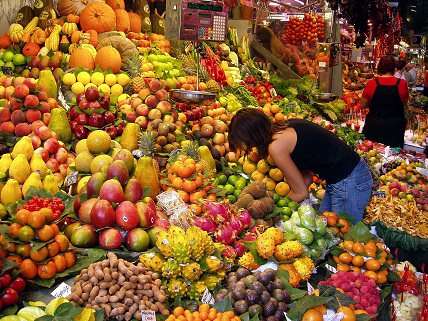 Last month I traveled to Europe, where I spent a few days walking around the upward-sloping streets of Lisbon, Portugal, a city I'd last visited in 1994. Despite the country's economy having suffered a dramatic downturn in recent years, I was pleased to find a sense of vibrancy and hope—particularly among the country's younger generation—that I hadn't noticed much during my first and only visit 20 years ago.
Besides the people, one of the highlights of the trip was the city's food and drink. From Lisbon's delectable pastries, fantastic cafes, incredible abundance of fresh and tinned seafood, and excellent wine—including its port and vine verde—Lisbon's food culture helped make for a memorable journey.
During my time in Lisbon, I was fortunate to meet up with Maria Canelhas, a representative from Fruta Feia (or "Ugly Fruit"), a Lisbon-based group that exemplifies both the country's youthful hope for the future and its rich array of great food.
Fruta Feia, formed in 2013 by Isabel Soares, is a co-op that's fighting both inane EU food regulations and the food waste those regulations cause. The group pushes back against regulations that dictate the size and shape of fruit that can be sold throughout the EU. If fruit is misshapen, irregular, or fails to meet certain color guidelines, then the regulations state that it's not fit for sale. The rules, published in 2008, state that apples, for example, may not be sold if they have certain cosmetic "defects" in "shape" or "coloring." [See Correction Below]
At a time when the economic downturn means fresh fruits and vegetables are harder to come by for many—with small farmers struggling to make ends meet—and with food waste an enormous problem, these regulations couldn't be more idiotic and infuriating.
Fruta Feia combats the rules and the problems they cause by linking up farmers who have surplus produce that can't be sold under the regulations with consumers for whom high produce prices often prove to be a barrier to buying fresh fruits and vegetables. In doing so, Fruta Feia reduces food waste, puts money in farmers pockets that otherwise wouldn't be there, and helps fight food insecurity.
I'd first heard of Fruta Feia thanks to a fantastic New York Times profile of the group's work earlier this summer. I reached out to the author of the piece, Raphael Minder, who kindly put me in touch with the group's representatives.
I met up with Canelhas at an outdoor cafe around the corner from Fruta Feia's Intendente Square offices, where she and her colleagues were preparing to begin their August vacations. Canelhas brought me a bunch of irregularly sized grapes and two undersized melons as examples of the type of produce that would be barred from sale under the EU regulations. They were easily the freshest and best fruit I enjoyed during my trip.
What follows is a lightly edited transcript of Canelhas's email responses to a list of questions I provided her last month.
—
Baylen Linnekin: When and why did you start Fruta Feia?
Maria Canelhas: The idea to this project first came to Isabel in the beginning of 2013. When she was living in Barcelona she watched a few documentaries on the subject of food waste and became aware of this massive problem. So she started looking into it more and more, and spoke to an uncle of hers who's a farmer, and he told her that indeed he was throwing away a lot of good quality food because of these tight EU rules and the consumer's preferences. So she became unsettled about it, and decided to create this project and apply for Calouste Gulbenkian Foundation's Ideas of Portuguese Origin contest to have the means to implement it. The project won the second price and that helped us to kick-start Fruta Feia.
BL: What are the rules that prevent so-called "ugly fruit" from being sold in the EU?
MC: The regulation is Commission Regulation (EC) No 1121/2008, of 5 December 2008, amending Regulation (EC) No 1580/2007, laying down implementing rules of Council Regulations (EC) No 2200/96, (EC) No 2201/96 and (EC) No 1182/2007 in the fruit and vegetable sector as regards marketing standards.
BL: When were these rules adopted?
MC: ?As far as we know, ?the first regulation regarding marketing standards in the fruit and vegetable sector was implemented in 1981, defining standards for leeks. Initially, the standards were established for about 20 varieties of fruit and vegetables. Since then, the regulations have been amended and nowadays, with the current legislation—Commission Regulation (EC) No 1221/2008 of 5 December 2008—this number was narrowed down to 10 varieties.
BL: What is the purpose of these rules?
MC: These rules basically group fruits and vegetables into classes, depending on the size?, ?colour? and other appearance characteristics (such as stains on the peel). Regarding fruits, you have class "extra," class I, and class II, and each of these classes have a minimum size, that's determined by the calibration standards. On another hand, you have classes grouping fruits according to their coloring. Regarding vegetables, you also have classes that group them according to their size (minimum callibration) and colour.
So what happens is that consumers started to prefer fruits and vegetables from the class "extra," class I, or class II with high calibrations. When noticing this trend, distributors and supermarkets started to buy from the farmers those classes only, leaving the ?others out. This explains the difficulty that farmers are facing trying to sell these fruits and vegetables, resulting in a huge amount of food waste. Nowadays, distributors and supermarkets aren't buying the less appreciated classes, so consumers don't have the choice to buy them, because this food isn't even arriving on the market.
BL: Do you know of other government rules (in Portugal, the EU, or elsewhere) that promote food waste or other environmental problems?
MC: There's the expiration dates' issue, that we suppose it's causing a lot of food waste, although we cannot tell you exactly what regulations apply to it. You have two types of labels, regarding the expiration dates of food products. You have "Consume before such and such date" and you also find "consume preferably up to such and such date."
Nowadays, a lot of products only have this last label. The issue here is that this label doesn't tell you exactly up to which date the product is actually good. It only tells you that it's best to consume it up to a certain date, leading people to think it's not good to be eaten a few days after. This helps increasing the food waste problem, because people are misled and driven to throw away food that is still good.
BL: How much food is wasted in Portugal because of the EU "ugly fruit" rules?
MC: There is no data about Portugal in particular. But in the European Union about 30 percent of the food that is produced by farmers is wasted due to aesthetic reasons. You can find this information in this European Parliament resolution.
BL: How much food has Fruta Feia helped save from being wasted?
MC: Since the startup in November 2013, and after 33 weeks, we've helped prevent 37.7 tons of food waste.
BL: Please describe a typical Fruta Feia farmer and a typical Fruta Feia customer?
MC: There isn't a typical profile of our farmers or our consumers. Fruta Feia Co-op is a very logical idea that people from different ages and social classes relate to.
We deal mostly with small-medium producers, although we work with a couple of big producers also. The majority of them are in the West region of Lisbon.
Fruta Feia associates are very different amongst themselves. We have college students, foreigners living in Portugal, families with kids, and old couples. But they all have a few characteristics in common: they're people who are aware of this social and environmental problem and who feel like they can and want to do something about it. They're also unsettled by these EU rules and they want to help farmers sell their "ugly fruit" because they know and understand that it's the same quality as the "pretty food." Also, they want to consume food that's produced locally and sold at a price that's fair both to farmers and to themselves as consumers.
BL: Do you sell fruits and vegetables to individual consumers only, or to restaurants, schools, and other customers as well?
MC: Since we're a Co-op, we have associated consumers, and not costumers. Usually we only sell to our associates, which are individual consumers. We do not work as distributors, although sometimes we're asked to sell small quantities for restaurants or events, which we occasionally do as long as it's done on the same days that we buy our products to the farmers and as long as the order matches one of the varieties that we're selling that week. Although this is done on a very rare basis, we would like to develop these kind of partnerships and start selling "ugly fruit" to schools, restaurants and other institutions.
BL: How does your work benefit consumers, farmers, and the environment?
MC: We allow consumers to buy local and cheaper. We benefit farmers by giving an economic value to their "ugly products" and making them sellable. And we benefit the environment through (1) valuing resources (water, soil and energy) that were previously used unnecessarily in the production of "waste," (2) the reduction of CO2 and methane derived from the decomposition of food that is not consumed, and (3) because we only buy fruits and vegetables that are produced in the West region of Lisbon, thus avoiding gas emissions due to transportation.
BL: Do you view Fruta Feia as a protest against food waste and against these specific EU rules?
MC: Fruta Feia's main goal is to fight food waste, although we also intend to raise awareness and to question the cause and impact of these rules to farmers, to the environment and to the consumer. We intend to help changing the consumption patterns that are causing this food waste problem and help educating people that the "ugly fruit" is the same quality as the pretty one.
Correction 09/04/14: I'm grateful to Maria for pointing out in an email to me that I didn't get the facts right here. "The EU regulations do not prohibit or dictate what fruits can be sold," she writes (I've added emphasis). "These regulations only group fruits and vegetables into classes, in order to label them when they're sold. What dictactes the products that supermarkets buy to the farmers is the consumers' preferences. Because consumers only bought class extra and class I, the supermarkets stopped buying products from other classes, which results in an incredible amount of waste to the farmers.
"So part of our job at Fruta Feia is to push supermarkets and big distributors to buy these 'ugly products' again, by raising the awareness of consumers and overturn these preferences. We want to let consumers know that "ugly fruit" is just as edible and of good quality as the "pretty" fruit, so that we can put these products back on the market."
My mistake. Minha culpa.