Vote to Apply Sentencing Change Retroactively Could Let Nearly Half of Federal Drug War Prisoners Go Free Early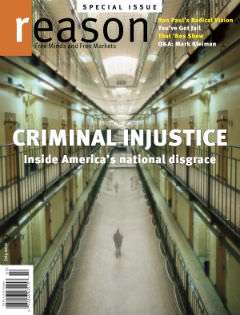 Last April the U.S. Sentencing Commission approved a change to the guidelines federal judges use in selecting penalties for drug offenders, reducing prison terms for about 1,300 defendants a year by an average of 11 months. Today the commission decided to make that change retroactive, which will have a much more dramatic impact. The commission originally estimated that retroactivity would make some 51,000 inmates—more than half of the drug offenders in federal prison—eligible for sentence reductions averaging 23 months. But because it decided to delay retroactivity by one year, that figure will be reduced to about 46,000, with an average sentence reduction of 25 months. Many prisoners will go home years earlier than expected.
"Today seven people unanimously decided to change the lives of tens of thousands of families whose loved ones were given overly long drug sentences," said Julie Stewart, president of Families Against Mandatory Minimums (FAMM). "Making these new guidelines retroactive will offer relief to thousands of people who received overly harsh sentences under the old sentencing guidelines," said ACLU Senior Legislative Counsel Jesselyn McCurdy, who testified in favor of retroactivity. "This amendment received unanimous support from commissioners because it is a measured approach," said U.S. District Judge Patti B. Saris, who chairs the commission. "It reduces prison costs and populations and responds to statutory and guidelines changes since the drug guidelines were initially developed, while safeguarding public safety."
Judges are not obligated to follow the sentencing guidelines, but they do so in 80 percent of cases. The change to the sentencing guidelines approved in April reduced the "base offense level" for about 70 percent of drug defendants by two, shortening the prison term at the lower end of the recommended penalty range. It did not affect mandatory minimum sentences, which are prescribed by statute, and it originally applied only to defendants sentenced on or after November 1, 2014.
Under the "delayed retroactivity" approved by the commission, new sentences will not take effect until November 2015. By then many of the prisoners who could have gone free immediately or within the first year will have completed their original sentences. But according to the commission's calculations, thousands of additional prisoners could be eligible for immediate release at that point. Another 25,000 could be released within the next five years, with the rest, more than 12,000, released "at various times over a period of more than 30 years." Unlike the beneficiaries of the last two major guideline revisions, which focused on crack cocaine offenders, the prisoners affected by today's vote were convicted mainly of crimes involving methamphetamine (28 percent) or cocaine powder (27 percent). Crack accounts for another 19 percent, followed my marijuana (14 percent) and heroin (3 percent).
Judges are supposed to shorten sentences only for offenders who do not pose a threat to public safety. For those who still worry, the commission has some reassuring information about crack offenders who were released early due to retroactive application of a 2007 amendment to the guidelines: "There is no evidence that offenders whose sentence lengths were reduced pursuant to retroactive application of the 2007 Crack Cocaine Amendment had higher recidivism rates than a comparison group of crack cocaine offenders who were released before the effective date of the 2007 Crack Cocaine Amendment and who served their full prison terms."
FAMM notes that the number of people who will be eligible for shorter sentences as a result of today's vote is "the largest number of federal drug prisoners ever to benefit from a guideline amendment being made retroactive." But even with the reductions, they will still end up serving an average of nine years for engaging in consensual transactions that should not be treated as crimes at all. The Smarter Sentencing Act, which the Senate Judiciary Committee approved last January, would take another bite out of drug penalties, cutting the prison terms for some offenses in half and making statutory reductions in crack sentences retroactive.
The commission received 65,000 letters urging it to make the guideline change retroactive, including this one from Lauren Galik, director of criminal justice reform at the Reason Foundation, which publishes Reason magazine and Reason.com. You can see a sampling of letters from other supporters of retroactivity, including members of Congress and federal judges, here.
[This post has been updated to reflect revised estimates that take into account the one-year delay in retroactivity.]