With No Limit in Sight, Federal Debt Creeps Ever-Upward. Seriously, There's No Limit.
Last October, I pointed out that the feds gave themselves an unlimited credit card and public debt outstanding jumped $328 billion, from $16.747 trillion to $17.076 trillion literally overnight. Yowza! That's a shopping spree. The suspension of the debt limit was extended through February 7, 2014.
"On February 8, the limit will be reset to reflect cumulative borrowing through February 7," the Congressional Budget Office helpfully pointed out. "The amount of outstanding debt subject to limit is now around $17.1 trillion."
Well, "now" was November 20 of last year. Outstanding debt is no longer $17.1 trillion. Now, it's closer to $17.6 trillion.
And, if you didn't already know, the debt limit was suspended again—this time through March 15, 2015.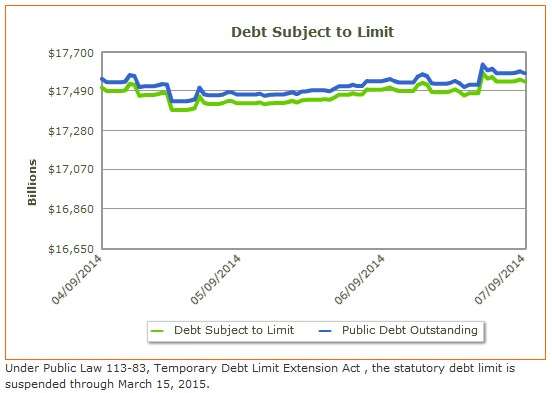 Well, OK. That not-quite $17.6 trillion is up just a little from April—and actually down a smidgeon from earlier this month. It's also projected by the CBO to continue to grow with "serious and negative consequences."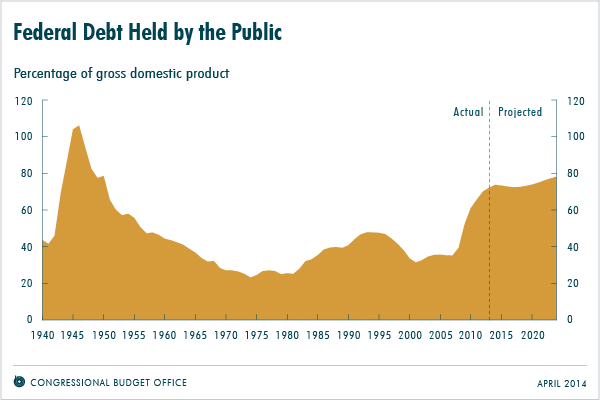 But why obsess about the ten trillion dollar rise in that debt over a decade? It's only money. We can always make more. Right?