1940s Capitalism Cartoon Makes a Comeback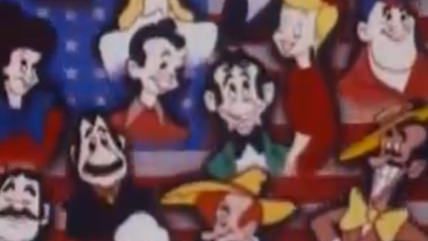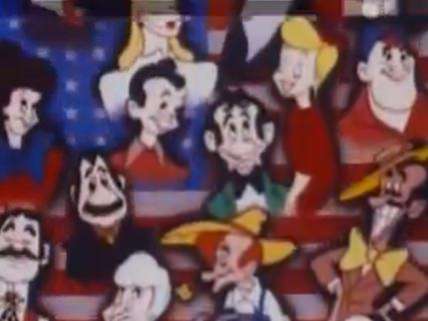 A 1940s capitalism cartoon is making a comeback with over 7 million views on YouTube. The cartoon "Make Mine Freedom" was produced by Harding University, a private university in Arkansas in 1948 extolling the virtues of free-market capitalism and inveighing against "isms" particularly communism and statism more generally.
The cartoon mixes humor with serious philsophy as it defines what freedom means: "America is the freedom to work at the job you like, freedom of speech and to peacefully assemble, freedom to own property, security from unlawful search and seizure, the right to a speedy and public trial, protection against cruel punishments and excessive fines, the right to vote, and worhip God in your own way."
The cartoon shows how freedom fosters entrepeurship giving the example of a fictional Joe Doakes, just a "regular guy" who some viewed as "lazy" but liked to "tinker around his barn." But then "one day he had an idea, and because he was free to dream and tinker" he invents a car. However, he needs additional resources to build more of these cars, so he gets money from people in the community, making them "capitalists." With the money, he hires his unemployed friend Willie to help build the cars, and Willie becomes a skilled auto expert. Joe's idea grows into a large company providing thousands of jobs.
It goes on to warn that internal conflicts, such as tensions between labor and management, classes, races, and religious groups often leads individuals to seek statism as their solution.
The cartoon cautions not to drink the "ism" or statism kool-aid because it will squash their freedom by banning labor strikes, taking away private property, and rescinding voting rights from political dissidents. It humorously shows a protestor railing against the big blue fist symbolizing statism when the fist smashes him with a "State Propaganda Speaker" forcing him to regurgitate "Everything is Fine, Everything is Fine."
The cartoon makes a point to not only explain why freedom should matter to just the capitalists, but also the laborer and farmer.
While clever, the video doesn't fully speak to today's context where the Cold War is over and most generally agree communism and authoritarian regimes are a bad idea. Today, it needs to be explained why freedom and free-market capitalism better meet the needs of people than the soft paternalism of a well-meaning social democracy.