Marijuana Money in the Mattress
Banks remain leery of deposits from cannabusinesses.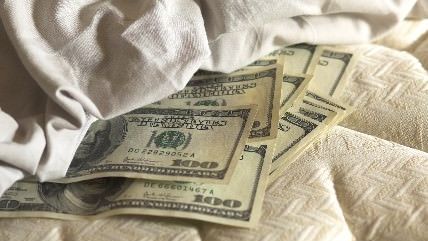 Last fall the Washington State Liquor Control Board announced that Bank of America had agreed to accept revenue from the license fees paid by marijuana growers, processors, and retailers. Bank of America also keeps the state's tax revenue, which includes money from levies on marijuana. But Bank of America, like most financial institutions, does not accept deposits directly from marijuana businesses, which under federal law still qualify as criminal enterprises.
U.S. Attorney General Eric Holder has repeatedly expressed concern about that situation, which also affects state-licensed pot stores in Colorado. "You don't want just huge amounts of cash in these places," Holder said during an appearance at the University of Virginia in January. "They want to be able to use the banking system. There's a public safety component to this. Substantial amounts of cash, just kind of lying around with no place for it to be appropriately deposited, is something that would worry me, just from a law enforcement perspective." But the solution that Holder offered fell far short of the assurances that banks seek.
In a February 14 memo, Deputy Attorney General James Cole said U.S. attorneys should consider "federal enforcement priorities" in deciding whether to prosecute banks that accept pot proceeds for money laundering or other financial crimes. The memo extended the guidance Cole had offered in August regarding prosecution of state-licensed marijuana suppliers. But like the earlier memo, this one did not make any promises. The closest it came was this: "If a financial institution or individual offers services to a marijuana-related business whose activities do not implicate any of the eight priority factors, prosecution for these offenses may not be appropriate." Also like Cole's August memo, this one closed with a caveat that was not exactly reassuring: "Nothing herein precludes investigation or prosecution, even in the absence of any one of the factors listed above, in particular circumstances where investigation and prosecution otherwise serves an important federal interest."
The DOJ memo on financial crimes was accompanied by a similarly alarming memo from the Treasury Department's Financial Crimes Enforcement Network (FinCEN). FinCEN said banks must file "suspicious activity reports" (SARs) for all marijuana businesses. But it drew a distinction between marijuana businesses that violate state law or implicate one of the Justice Department's enforcement priorities and marijuana businesses that do neither. The former merit "marijuana priority" reports, while the latter fall into a newly invented "marijuana limited" category.
FinCEN warned banks to be on the lookout for "red flags" that suggest a marijuana business deserves special scrutiny, including "international or interstate activity," an inability to "demonstrate the legitimate source of significant outside investments," signs that the customer is "using a state-licensed marijuana-related business as a front or pretext to launder money derived from other criminal activity," and "negative information, such as a criminal record, involvement in the illegal purchase or sale of drugs, violence, or other potential connections to illicit activity." Such red flags are supposed to inform banks' decisions about which customers to reject or drop as well as which sort of SAR to file. FinCEN warned that the red flags it mentioned "do not constitute an exhaustive list." And although FinCEN said its advice "should enhance the availability of financial services for, and the financial transparency of, marijuana-related businesses," it never actually said banks that follow the guidelines need not worry about getting into trouble with regulators.
Don Childears, president of the Colorado Bankers Association (CBA), summed up the message of the memos this way: "Serve these customers at your own risk." The CBA complained that the guidance from FinCEN and the Justice Department "reiterates reasons for prosecution and is simply a modified reporting system for banks to use," a system that "imposes a heavy burden on them to know and control their customers' activities, and those of their [customers'] customers." The CBA said "no bank can comply" with those expectations.
John Davis, who operates two medical marijuana dispensaries in Seattle and hopes to get into the recreational market as well, says the memos "were a positive statement" but will not make much of a difference in practice. "The DOJ says, 'If you do this, you're violating this law, this law, and this law,'" Davis says. "And FinCEN says, 'On your filings, you are to admit to those crimes.' So the banks, very conservative institutions, are looking at this and saying, 'Nope. This doesn't give us any assurances. This says that we can be arrested.'"
That leaves cannabusinesses with few options. "Most of them are cash," says Davis. "Your savvy business owners know how to open a holding company, get a banking account through that holding company, and put their assets underneath that holding company. When I first got into it, I had an account with a major banking institution. They knew exactly what I did. But when their policies changed, my head was the first on the block, because I was very upfront with what I did. The only way to really get banking is to not give the bank the entire story."
The Marijuana Businesses Access to Banking Act, introduced last summer by Reps. Ed Perlmutter (D-Colo.) and Denny Heck (D-Wash.), would protect banks that serve state-legal marijuana businesses from criminal investigation or prosecution and from regulatory repercussions, including loss of federal deposit insurance. The CBA's Childears argues that "an act of Congress is the only way to solve this problem."
Senior Editor Jacob Sullum (jsullum@reason.com) is a nationally syndicated columnist.