Anti-Pot Group Trumpets Obama's 2011 Comment on Drug Legalization As 'Huge News!'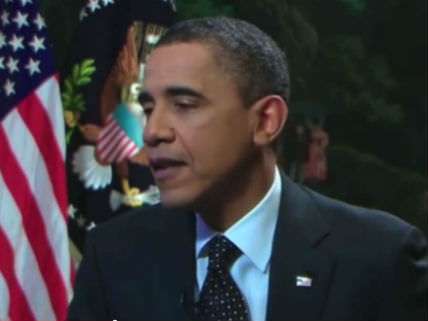 This morning I received a fundraising appeal from the anti-pot group Project SAM that opens with "huge news!" Apparently "the President just stated, plainly and emphatically, that he is 'not in favor of legalization.'" Project SAM's co-founder and chairman, Patrick Kennedy, says Barack Obama uttered those words "at a YouTube Town Hall"—which is true, except the event occurred in January 2011. The staleness of the story takes on added significance at the end of Kennedy's message, where he says "SAM continues to keep up the pressure," which makes it seem as if the organization is trying to take credit for something Obama said two years before it was founded.
At the same event where Obama said he was against legalization, by the way, he also said "this is an entirely legitimate topic for debate." It seems that debate has either started to persuade Obama or made him feel more secure in revealing his true opinions on the subject. The last time Project SAM made a big deal out of one of Obama's comments, you may recall, was when it rebuked him for saying, in an interview with The New Yorker, that marijuana is safer than alcohol—although Kennedy himself admitted that statement was correct. In the same interview, Obama had this to say about the legalization of marijuana in Colorado and Washington: "It's important for it to go forward because it's important for society not to have a situation in which a large portion of people have at one time or another broken the law and only a select few get punished." And so far, to the consternation of many Republicans, Obama has in fact allowed these experiments to proceed, based on a policy of prosecutorial forbearance that reserves the Justice Department's resources for cases involving "federal enforcement priorities."
Those developments seem more relevant to the current debate about marijuana legalization than a comment Obama made more than three years ago. They suggest that Obama may be "evolving" on the subject of marijuana in much the same way that he "evolved" on the subject of gay marriage, coming around to a position he privately held all along. But maybe that possibility is too depressing for the diehard prohibitionists at Project SAM to contemplate. This should cheer them up: The first lady just stated, plainly and emphatically, that marijuana "is taking America captive."
Update: This evening I received the following correction from Project SAM:
Our mistake! We are so anxious for the President to make some remarks about marijuana that we mistakenly believed he discussed the issue last week. It turns out those comments were from 2011. But we will continue to wait for the President to repeat himself and express opposition to legalization once again!