NYPD Busts Lots of Pot Smokers Despite Drop in Street Stops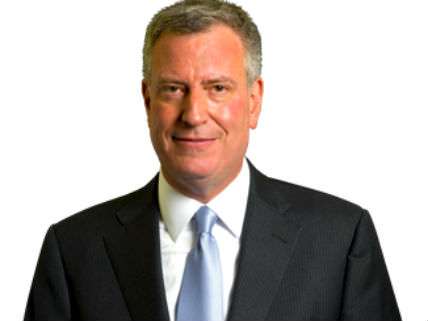 At the end of his first month in office, New York Mayor Bill de Blasio said he was "ending the overuse of stop-and-frisk that has unfairly targeted young African-American and Latino men." New data show that the number of street stops by the NYPD fell dramatically during the first quarter of this year, when cops reported 14,261 such encounters, compared to 99,788 in the first three months of 2013. But that 86 percent drop was not accompanied by a commensurate reduction in the number of low-level marijuana arrests, which often result from stops in which police find pot during pat-downs or instruct people to empty their pockets.
According to data from the Marijuana Arrest Research Project (MARP), there were 7,017 pot busts from January through March this year, just 8.5 percent fewer than the 7,671 during the same period last year. Marijuana arrests fell substantially during the last two years of Michael Bloomberg's administration and continued falling in 2014, from 2,786 in January to 1,796 in December. The NYPD under its new commissioner, Bill Bratton, seems to be reversing that downward trend:
In March 2014, the NYPD under de Blasio and Bratton made more marijuana possession arrests than in any month in the last six months under Bloomberg and [Police Commissioner Ray] Kelly. New York City's marijuana possession arrests in the first quarter of 2014 are higher than in the third and fourth quarters of 2013. In fact, the NYPD made more marijuana possession arrests in March 2014 than in 10 of the 12 months in 2013.
MARP says Bratton is on track to match the 28,644 pot busts in 2013. That number was down 43 percent from a peak of 50,484 in 2011 but still above the historical norm. The NYPD averaged 2,259 minor pot busts each year under Ed Koch and 982 under David Dinkins. Even Rudy Giuliani, who began the pot crackdown that Bloomberg continued and escalated, managed less than 25,000 a year.
These numbers should embarrass De Blasio, given his talk of the "two New Yorks" and his opposition to racially biased policies. As usual, the overwhelming majority of marijuana arrestees in the first quarter of this year (86 percent) were blacks or Hispanics, even though survey data indicate that whites are at least as likely to smoke pot. Most were men, and 70 percent were between the ages of 16 and 29. MARP notes that police made one arrest on the Upper East Side and four on the Upper West Side, compared to 111 in Bedford-Stuyvesant and 438 in East New York.
These disparities have something to do with how the NYPD allocates its resources, of course, and they may also have to do with different rates of outdoor pot smoking. Contrary to the impression you might get from all these small-time pot busts, simple possession of marijuana (up to 25 grams, about nine-tenths of an ounce) was "decriminalized" in New York state nearly four decades ago. It is supposed to be a citable offense, meaning you cannot be arrested for it. But "public display" of marijuana—consuming or holding it in open sight—remains a misdemeanor.
It's not clear how many of the 7,000 or so New Yorkers arrested for public display during the first three months of this year were actually guilty of it, and how many were illegally tricked or coerced into revealing marijuana that otherwise would have remained concealed. Either way, police should have better things to do, especially given the racial and socioeconomic distribution of these arrests, which even if unintended seems a far cry from equal treatment under the law. New York Gov. Andrew Cuomo supports decriminalizing public display, and so do many state legislators (although not enough to pass a bill yet). But De Blasio and Bratton do not have to wait for new legislation. They can tell cops to stop clogging the criminal justice system with these petty, unfair, gratuitous, and frequently illegal arrests.