Cop Shoots Dog. No, Wait! He Shoots Himself. Dog Is Fine.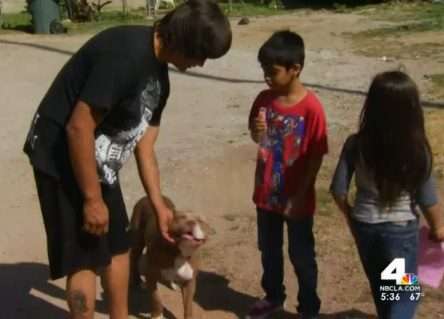 I've been nervously waiting for a dog owner whose animal has been killed by police to try to even the score—it's inevitable, even though the outcome will be not so swell for the outraged dog lover. But what if a canicidal cop took active measures to prevent himself from poaching a pooch? Fantasy, you say?
Nope. It happened.
In Riverside County, California, "a large pitbull breed dog attacked" an unnamed sheriff's deputy according to a police spokesman who seems to be having a little trouble taking his own script seriously. "In defense of himself…he fired one round at the dog, and inadvertently struck himself in the leg."
The dog's owner, Jorge Rodriguez, told NBC Los Angeles that the "attack" consisted of his dog barking at the stranger. Rodriguez almost managed to completely suppress his smirk while expressing sympathy for the deputy who tried to kill his dog.
The dog, named Precious and subsequently seen in NBC Los Angeles' news video romping with children in a fenced yard, escaped injury. The "large pitbull breed dog" appears to reach just about knee-high on what looks like a 6-year-old.
According to KCLA, the deputy is fine, beyond his wounded pride and the inevitable ribbing he'll take back at the cop shop. "The deputy was hospitalized with non-life threatening injuries. He was not bitten."
The deputy wasn't even licked, which the video suggests is a more likely fate after an encounter with Precious.
And Precious' family is just fine too, since nobody could find any wrongdoing to hang on them. "KCAL9's Tom Wait reports the dog was not hit or injured and police will not be taking any further action against the dog or its owner, who was not the person being served."
A 2012 formal report from the U.S. Department of Justice's Community Oriented Policing Services, The Problem of Dog-Related Incidents and Encounters, advises that "shooting a dog should always be the option of last resort. The safety of fellow officers and bystanders is put at risk in such situations, and when a law enforcement officer shoots a dog that does not constitute a serious threat, community trust is eroded and the department is opened to potential lawsuits and other legal action."