Herbert Smulls To Be Executed With Secret (and Likely Illegal) Drugs at Midnight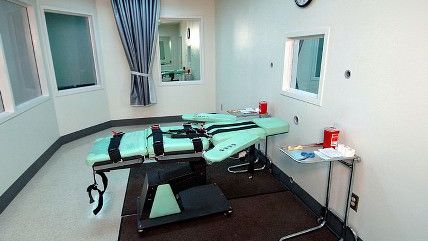 (CACorrections/wikimedia)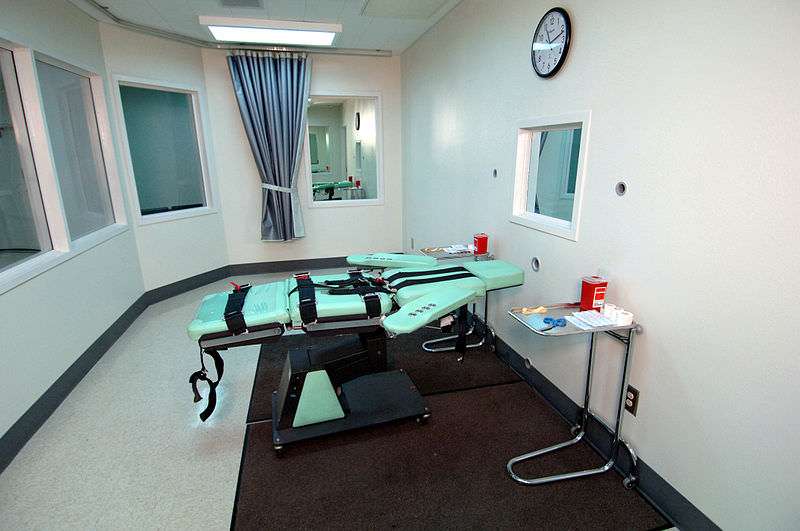 Just after midnight tonight, convicted murderer Herbert Smulls will be executed by the Missouri Department of Corrections. On February 5, Christopher Sepulvado, convicted of killing his stepson in 1992, will meet the same fate in Louisiana.
It's likely that both men will die not knowing what exactly is being shoved into their veins.
Information about the drugs that will be used to kill these men—including where they came from, or if they've been tested for purity—has been kept a closely guarded secret by state correctional departments in both Louisiana and Missouri.
States became much more secretive about where they procure execution drugs from after sources of name-brand, FDA-approved drugs made their products unavailable for executions in the United States in 2010 and 2011.
Lawyers that represent both condemned prisoners have been trying to get their states to reveal information about the drugs, but have so far been unsuccessful.
Both Missouri's and Louisiana's state correctional departments argue that the identities of these pharmacies are protected under a state law that allows the identity of those involved with executions to be kept confidential.
Lawyers that represent both condemned prisoners argue that states must answer questions about whether or not the execution will be humane and comport with the Constitution. Without information about the drugs, those questions have gone unanswered.
According to Megan McCracken, Eighth Amendment Resource Counsel at U.C. Berkeley School of Law's Death Penalty Clinic, "If lawyers for the condemned prisoners can't get the information [about the drugs], then they cannot meet their legal burden in court to show that there's a substantial risk of harm."
By keeping this information a closely guarded secret, states are asking condemned inmates to take their word for it that the source is legitimate and the drugs won't result in cruel and unusual punishment when administered.
However, new information reveals that Louisiana may be breaking the law to execute Christopher Sepulvado on February 5.
In a court document filed on Friday, Louisiana officials admitted that the Department of Corrections has not yet obtained the pentobarbital for Sepulvado's execution. Instead, officials admitted they are "in the process of procuring 15 grams of pentobarbital," and would disclose more information when they have the drug in their possession. The court document can be viewed in full below:
However, according to the state's execution protocol, Louisiana must verify that the pentobarbital is in stock at least 30 days prior to a scheduled execution. If the state executes Sepulvado next week, it will be breaking its own protocol.
Additionally, according to recently released emails, Louisiana prison officials looked into illegally obtaining pentobarbital from The Apothecary Shoppe, a compounding pharmacy located in Oklahoma, last September. In the emails (which can be viewed here), The Apothecary Shoppe asked Louisiana to complete a non-disclosure agreement, which it attached.
The Apothecary Shoppe is not licensed to provide drugs in Louisiana, according to the state pharmacy board's online database. If the state does purchase pentobarbital from this pharmacy, it will be breaking state law in addition to its own protocol.
This above-mentioned email is the only available written communication between Louisiana officials and a pharmacy regarding the procurement of pentobarbital. Nothing else has been made available since then, and it's unclear if anything more will.
With Sepulvado's execution one week away, it seems that Louisiana officials are trying their best to run out the clock, hoping they won't be held accountable for any wrong-doing after the fact.
In Missouri, recent evidence has shown that the pentobarbital that will be used to kill Herbert Smulls may be contaminated, and if so, will likely result in a painful death. It's also likely that Missouri illegally purchased this pentobarbital from a pharmacy that is not licensed to do business in the state.
Lawyers representing Smulls filed a motion for a 60-day stay of execution on January 21. The motioncites the deposition of a Missouri prison system executive, David Dormire, in which he admits "the pentobarbital intended to be used to execute Mr. Smulls had been picked up on January 14, and was being stored in a locked location by the Department." Furthermore, he states the expiration or "use by" date of the compounded pentobarbital was "30 days from being compounded," and that the pharmacy had directed the Department to store the pentobarbital at room temperature.
However, according to the United States Pharmacopeia (USP) standards cited by Smulls' attorneys, "high risk" compounded drugs, such as pentobarbital, should be maintained at room temperature for a maximum of 24 hours before administration because of the risk of degradation.
According to pharmacy expert Larry Sasich, whose affidavit was cited in the motion, improper storage of pentobarbital "creates a very high risk that the compound drug will degrade or allow for more rapid growth of bacteria," which can lead to a "substantial risk of pain and suffering" upon injection.
By the time Smulls is executed, the pentobarbital will have been stored at room temperature for 15 days.
A separate expert declaration by Sasich filed by Smulls' lawyers last Friday reveals that the pentobarbital sold to the Missouri Department of Corrections was approved by Analytical Research Laboratories (ARL)—the same lab that approved drugs made by New England Compounding Center that caused a deadly meningitis outbreak that killed 64 people and sickened over 700 others nationwide in 2012.
The legality of these purchased drugs has also come into question in recent days.
Last week, the state of Missouri disclosed a heavily redacted copy of a license from the pharmacy that provided the pentobarbital to Missouri newspaper The Pitch in response to an open-records request. The Pitch also obtained a list of licenses processed by the Oklahoma Board of Pharmacy the same day this redacted pharmacy's license was issued. The Pitch was able to narrow the source down to two likely pharmacies, neither of which is licensed to sell drugs in or to Missouri.
Regardless of all of this information coming to light in recent weeks, the 8th U.S Circuit Court of Appeals in Missouri issued a ruling late last Friday night that all but guarantees the state will execute Herbert Smulls with drugs that could be illegal as well as contaminated.
From the ruling:
In sum: "A stay of execution may not be granted on grounds such as those asserted here unless the condemned prisoner establishes that the State's lethal injection protocol creates a demonstrated risk of severe pain. He must show that the risk is substantial when compared to the known and available alternatives."
This ruling, and the legal precedent it follows, is hugely significant, as well as disturbing. The court essentially ruled that death-row inmates must prove that Missouri's use of compounded pentobarbital is the worst of all "known and available alternatives." That, of course, is impossible when information about the drug has not been made readily available.
Essentially, the court shifted the burden of proving that the drugs do not constitute "cruel and unusual punishment" away from the state, and onto the prisoners who are barred from learning the most basic information about the drugs. This ruling could prevent any death-row inmate from ever inquiring about the drugs Missouri chooses to use against him in the future.
It's imperative that this grim, but some might say necessary, role of the state is carried out with transparency and oversight to ensure it's done legally. So far, Missouri and Louisiana have shown they are willing to break their own execution protocols and laws at the expense of the condemned when they think that no one's looking.
Update: On January 27, Louisiana's Department of Corrections confirmed in an email statement, published by Louisiana's The Times-Picayune, that it was revising its execution protocol to allow for the use of 10 mg of midazolam and 40 mg of hydromorphone if pentobarbital isn't available to be administered.
Midazolam and hydromorphone are the same drugs used in the controversial execution of Dennis McGuire, which took place in Ohio on January 16. McGuire's execution lasted 26 minutes, the longest since Ohio resumed the death penalty in 1999.
The email did not provide any additional information regarding where the state was procuring these new drugs from, or if it was even in the process of procuring the drugs at all.
Update 2: On January 28, the United States Supreme Court ordered a temporary stay of execution for Herbert Smulls while it reviews petitions filed by his lawyer over the state's secrecy over its execution drugs.