Tonight on The Independents: Interview With a Drone Operator, Peter King vs. Rand Paul on the NSA, Detroit Police Chief on Why Residents Should Pack Heat; Plus Fallujah, Blue Monday, and More!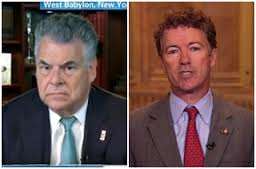 Tonight's live episode of Fox Business Network's The Independents, which airs at 9 pm ET and then repeats again at midnight, will feature some fascinating interview subjects. Brandon Bryant, profiled in recent GQ piece titled "Confessions of a Drone Warrior," will explain the ins and outs of delivering death by remote control. And Detroit Police Chief James Craig will explain just why he thinks having an armed citizenry would make the Motor City a safer place.
There will also be a dissection of Rep. Peter King's attacks on Sen. Rand Paul over NSA spying, with GOP strategist/Sun Sentinel columnist Noelle Nikpour and Russell Simmons Political Director (!) Michael Skolnik; plus discussion about the fall of Fallujah, the advent of Blue Monday, and a science teacher losing more than 30 pounds by eating at McDonald's.
Did you miss an episode of The Independents? Check out the show's website, which has a video page where you can watch 29 different segments, including interviews with people near and dear to the hearts of Reason readers. Want to figure out whether you get Fox Business Network? Click on this link. Twitter feed is @IndependentsFBN; some tweets may be shown during the live broadcast.