World's First Sale by a Government-Licensed Recreational Pot Shop Scheduled for 8 a.m.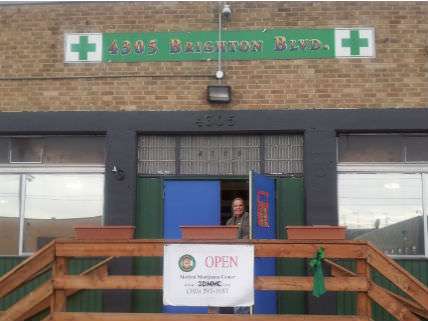 The world's first sale by a government-licensed recreational pot store is scheduled for 8 a.m. tomorrow at 3D Cannabis Center in Denver. Somewhat confusingly, the buyer, designated by the leaders of Colorado's legalization campaign, will be someone who would ordinarily be considered a medical user: Sean Azzariti, an Iraq war veteran "who can now legally use marijuana to alleviate the symptoms of post-traumatic disorder," a condition that was not covered by Colorado's medical marijuana law. But recreational consumers will be the main source of new business for outlets like 3D Cannabis Center, which is conveniently located at 4305 Brighton Boulevard, on the way into town from the airport. (The "3D" refers to the shop's former designation: Denver's Discreet Dispensary.) When I interviewed 3D's owner, Toni Fox, about a year ago, she said she hoped her proximity to Interstates 25 and 70 would help attract business. "I would think that I would be able to sell out of the cannabis that I had every day," she said, "because the demand is going to be so great."
Over the short term, Fox and other dispensary owners expanding into the recreational market stand to benefit from the shortage that is expected to last at least until marijuana from the first plants grown for general consumption is harvested this spring. "The medical marijuana prices have been cut unfairly in the for-profit market, because of the competition," she said. "When recreational opens up and there's a limited supply, I don't have a problem resetting my prices to street value and hopefully making a profit finally." Under state law, dispensary owners have a three-month head start in the licensing process. Denver, which is where most of the pot shops will be located, has banned new competitors until February 1, 2016, so the existing dispensaries have a lock on the market until then. So far 102 retailers in Denver have received state licenses.
Although the Justice Department has indicated that it will leave the pot shops alone as long as they are strictly regulated, banks continue to worry about the legal consequences of accepting deposits from cannabusinesses, which could be viewed as money laundering. When she opened her dispensary, Fox persuaded the bank she had used for her construction business to serve her new venture, but most marijuana retailers are not so lucky. Many are forced to deal exclusively in cash. "I cannot help but be concerned about the safety and security threats caused by outdated federal banking regulations," Fox says in a press release from the National Cannabis Industry Association (NCIA). "The widespread perception that cannabis retailers hold large amounts of cash, despite top-notch security and monitoring, creates an inherent danger for businesses owners, employees, and communities alike."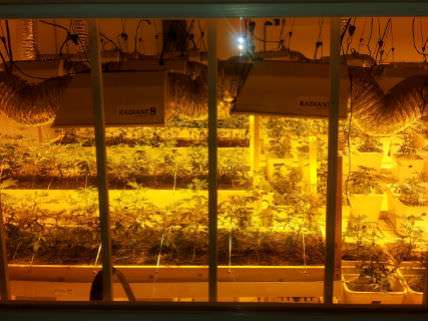 Deputy Attorney General David Cole has said the Justice Department is talking to officials at the Treasury Departmentment's Financial Crimes Enforcement Network (FinCEN) about how to address this problem, but so far no solution has emerged. "Members of Congress, state regulators, community leaders, cannabis business professionals, and even many local banks are calling for reform to the absurd interpretations of law that inhibit banking services for cannabis-related businesses," says Betty Aldworth, the NCIA's deputy director. "There is absolutely no justifiable reason to allow this threat to public safety to continue in those states where the regulated sale of marijuana has been made legal. A lack of access to banking services is, quite frankly, the single most dangerous thing about the legal sale of marijuana for medical or social use. It is long past time for FinCEN and the Justice Department to catch up with the American public and answer the call for safe, regulated markets by allowing banking services."
Despite all the hardships involved in growing and selling a product that the federal government continues to treat as contraband, Fox is excited about Colorado's pathbreaking experiment. "I am so grateful to be a pioneer and to be able to change people's perceptions of this plant and change the world," she says. "We're going to change the world by ending prohibition."
More on what to expect when the pot shops open here.
Addendum: Sunil Aggarwal points out that Indian cannabis sellers were licensed by municipal and provincial governments prior to prohibition, a system described in the 1894 Report of the Indian Hemp Drugs Commission. So Colorado's recreational cannabis licenses are the first in modern times, not the first ever.