Philadelphia Police Department Adds Police Shooting Statistics, Statistics to Defend Shootings, to Website
59 police shootings total this year through September, according to the department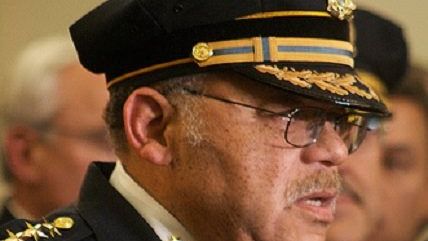 (TaraGiancaspro/Foter.com)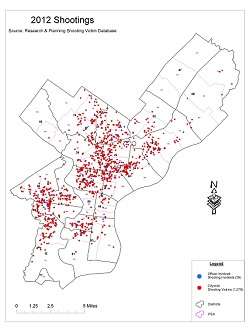 Earlier this month, the Philadelphia Police Department added information on officer-involved shootings to its website, something the police commissioner, Charles Ramsey, spoke to the local CBS affiliate about yesterday, explaining that it was an "inside look" that he thought was "long overdue," insisting that "[w]hatever the situations may be, we're not ashamed or afraid to put out that information." Earlier this year, Ramsey asked the Department of Justice to review the department's use of deadly force incidents and policies.
The information on police shootings on the department website is, of course, presented within a context that tries to justify the practice as a whole. "Officer involved shootings do not occur in a vacuum. They occur in neighborhoods where pockets of violence exist," the website explains, presenting two maps of police shootings, one integrated with non-police shootings and the other with "gun crimes." The website also provides a chart of "police discharge statistics" that includes how many police units are dispatched in a given year (more than 2.5 million through September this year), how many criminal offenses occur in a given year (125,479 through September this year), how many people have been shot, excluding "justifiable citizen/police shootings, suicides, accidentals" (854 through September this year) and how many firearms the department seized ("recovered") in a given year (2,666 through September this year). It also includes how many police officers the department says were assaulted in a given year (589 through September), as well as how many were assaulted by someone using a weapon (169 through September). The latter number is broken out further for injuries (32 this year) and deaths (0 this year). In the last seven years, 6 officers were killed. The department doesn't provide a similar break down of injuries and deaths for the 589 purported assaults not involving a weapon so far this year.
Actual police discharge statistics in the "police discharge statistics" chart include "police shooting incidents at offender" (34 through September of this year), broken down further to how many killed (11 this year) and how many injured (19 this year). It's not clear whether the department treats all police shooting victims as "offenders," or whether there are more shootings involving non-offenders (the summaries of the shootings provided on the website indicate all police shooting victims are considered offenders). The website also, perhaps most importantly, provides a brief summary of the 34 police shootings involving shooting at offenders. Of those 34, the DA declined to take action in 8 and is still considering the other 26. Not one shooting involves any injury to the police officer. One of the shootings that did not involve fatalities also did not involve an arrest of the "offender," in that case police shot at someone with a "bulge" in their sweatshirt pocket that turned out not to be a weapon. Unsurprisingly the DA declined to take action against the officers. The 34 shootings are provided numbers going up to 57; the website explains they're non-sequential because the department didn't include "accidental shootings or animal incidents" (so much for transparency). We can infer, then, that there have also been at least 23 shootings that were either identified by police as accidental or involved the shooting of animals.
Peruse the data, which the Philly Police Department promises to update quarterly, here.